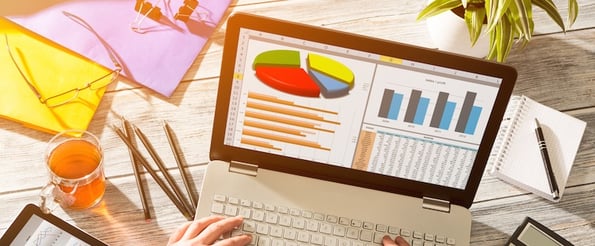 On our path to embracing a new era of marketing and sales, HubSpot discovered something important. Relevant data is the heartbeat of good inbound marketing and sales. In order to make sure we stay on top of trends, information, and the goals of our customers, we decided to launch HubSpot Research.
The goal is simple: we have analysts and contributors gather data and create thought leadership that ultimately helps people transform their businesses for the better. All business professionals need high quality data in order to make strategic decisions, and we want to share what we've gathered. Below are a few of my thoughts on why it's so important to make our research available.
Why We're Making Our Research Available to Everyone
1) All companies should have the resources they need to make strategic decisions.
Information is more valuable than ever. Marketing, sales, and business professionals need high-quality, data-backed findings regardless of their budget. HubSpot Research brings people quality information free of charge, ensuring that all companies have the right resources to make strategic decisions.
Traditionally, smaller companies are at a disadvantage if they are unable to pay for research reports or conduct large-scale surveys. By making our findings free for all, we're ensuring that all professionals are on an equal playing field.
2) Actionable insights can change the way we build strategies and plan for the future.
What makes information so valuable? Insights into market trends can inform not only how you optimize your efforts today, but also help you better plan for the next big thing. For example, our most recent research report on advertising revealed that the majority of consumers have grown accustomed to ads, but very few people have a positive opinion of them. Unsurprisingly, telemarketing calls are the least popular, but knowing that newsletters are, by and large, viewed favorably can help people invest in interesting vehicles for content.
There's no need to make blind decisions when data on customer usage and market trends is readily available. By launching HubSpot Research, we are bringing our insights to the surface so everyone can take advantage of them.
3) Informed teams provide better experiences.
As I mentioned before, high-quality data is key to inbound marketing and sales. At its core, inbound is about creating a better experience for everyone -- including the buyer. The only way to build a remarkable interaction is to have an informed, human connection with the person on the other end. For instance, our new ads report shows that most consumers will actively leave a website if they encounter a pop-up ad or auto-playing video. Knowing this reinforces what many inbound marketers instinctively know: the only way to attract picky buyers is by providing them with relevant information, not chasing them down while they browse the web.
By incorporating relevant data such as this into inbound efforts, marketers and salespeople ensure that they're optimizing their team's time. At the same time, they can be confident that they're approaching buyers in the way they want to be approached, with information that they will find most useful. HubSpot Research looks to solve an old problem: instead of guessing and checking, marketers and salespeople can now use data to make informed inbound decisions the first time around.
As we continue to expand our offerings and efforts, we're excited to bring the best insights forward for everyone to use through our new HubSpot Research platform. Data is a critical component of smart inbound marketing and sales strategies, and we can't wait to see how these insights can help transform businesses and people for the better.
Interested? Check out our new HubSpot Research platform today.