Gone are the days when social media publishing and engagement could be tacked onto the daily responsibilities of an intern -- as were many of the first roles in social media.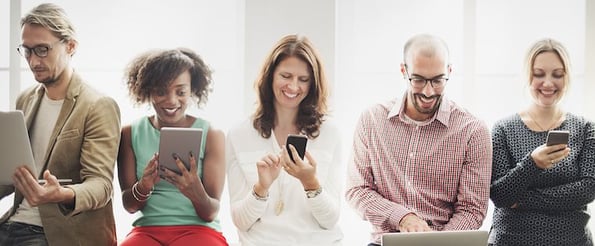 Today's growth-minded organizations need a team of people ideating, creating, publishing, and promoting content on social media to drive meaningful returns on investment -- and this requires time, effort, and creativity.
Marketers are realizing this and dedicating more time, resources, and staff headcount to social media. In the 2017 State of Inbound report, more marketers said they planned to add social channels like Facebook, Instagram, and YouTube to their marketing efforts than in the previous year's survey.
Here at HubSpot, we're constantly evaluating and changing the way we create content on social media to adapt to the way people want to stay connected. As our audience's preferences for social media content evolve each year, so does our strategy.
In our survey, nearly half of respondents said they wanted to see more social media content -- and more videos, especially. So we've run a few experiments digging into what our audience wants to see, how they want to engage, and where they want to interact on social media.
We have our strategies, process, and results to share that might inform your strategy, but our greatest piece of advice for any social media team -- no matter the size -- is to always experiment. The social media space changes so much every month -- it's important to figure out what works, but it's also important to remain agile so you can try new things whenever you can.
How We Increased Video Views 20X by Creating Native Social Media Content
Social media has changed.
That might read like the biggest understatement in the world, but hear me out.
As part of our previous social media strategy, our posts were connected to lead generation goals -- and most had a strong tie to our brand and promoting our content. Now, our content is all about our audience -- and not all about us. We needed to refocus and remember that our audience members are people, just like us. If we wouldn't want to see a piece of content in our Facebook News Feeds, why would our audience? We wanted to test the effect of focusing our content on our audience -- what they want to learn about, what their goals are, and even what struggles they face.
In short, we wanted to be more social, and less promotional.
This doesn't mean we recommend doing away with sharing blog content or ebooks on social media entirely. After all, it's hard to come up with new ideas for creating social media videos to share every day of the week. We're just saying you shouldn't post a link to a blog post or ebook on Facebook and call it a day. Instead, get inspired by the ideas and salient points, and repurpose your content into Facebook videos, Instagram albums, or Snapchat Stories. You can still use the good ideas -- but use them to create native social media content that performs better for the medium.
If your current social media strategy sounds like our previous, all-about-us approach, don't worry -- read on to learn how we've changed things up.
1) Different Video Topics
The Goal:
We examined our audience and learned what they did engage with in our previous social media strategy. Then, we researched the broader social media and digital landscapes. We wanted to learn what marketers and salespeople were already engaging with and finding relevant, and how we could create content more specifically for them, instead of distributing our content on social media channels for our goals.
The Experiment:
We created a list of topics and headlines we believed our audience would respond well to -- that were more lifestyle and culturally-oriented -- and immediately started creating content. Then, we started brainstorming culturally relevant and popular topics and saw how we could creatively present them to this audience in a way that makes sense for our audience and their world.
Our audience is made up of marketers and salespeople who want to learn how to grow and get better at their jobs -- so instead of using our social media channels to simply push out content we were producing on our blogs, offers, and external channels, we've started creating content specifically for our Facebook audience based on what we know about what they like (like this video about making coffee to improve productivity -- two things busy people love):
The Results:
We went from an average of 50,000 video views per month to 1 million views in our first month performing these experiments. Our engagement rate also shot up as the content resonated with our audience and they started liking, commenting, and sharing our posts.
Take a look at our engagement rates from our previous social strategy (orange indicates reach, and pink indicates clicks):
And here's what our views and engagement rate looked like under our new strategy:
Pretty big jump, huh?
Key Takeaway for Marketers:
When you start evaluating how to generate more Likes, comments, and shares from your Facebook audience, think about how you yourself use the platform. You might not be as interested in sharing a post that's highly specific to one brand or organization, but you might engage with a post that's highly relevant to you, right?
Conduct some detailed persona research, analyze your Facebook audience insights, and learn more about how they're spending time on the platform instead of simply using Facebook as a means to only promote what you're doing. Create social media content specifically for your audience, and you'll get better results.
2) Different Video Design Devices
The Goal:
We wanted to test our videos to see if different designs and formats would lead to different engagement rates.
The Experiment:
We tested the effects of some new design devices. These included starting videos with a human face, putting title bars throughout the duration of our videos, ensuring there were captions throughout, adding a "Best with Sound on" animation, and providing a CTA with the goal of audience engagement.
The Results:
In January 2017, the average Facebook view earned 4,500 views. By May 2017, our average number of Facebook video views had increased to 56,000 per new video. Additionally, our average number of video engagements (Likes, comments, clicks, and shares) during this time period increased from 100 to 496. Finally, our percentage of Facebook viewers who watched videos with the sound off decreased from 95% to between 60-70% per video.
Key Takeaway for Marketers:
The design devices we added are designed to make for an easier viewing experience for the audience and crafted based off how people are using social these days. We are serving up videos to our audience how our audience wants to see them, and the results show that it's working. Use different devices and tools, such as the ones we tried, to make your videos easier to consume for your audience -- no matter where or how they're watching.
3) Different Video Sizes
The Goal:
We want to create videos that are eye-catching and attract our audience's attention in the Facebook News Feed to increase our video views and engagement on the platform.
The Experiment:
We've started experimenting with different video sizes and formats to improve engagement and increase video views. The default Facebook video size has an aspect ratio of 16:9 (a rectangle), like the video below. When viewers click the video to watch on mobile devices (where roughly 90% of Facebook users access the platform), it only takes up part of the center of their screen in the News Feed:
And when viewers click in to watch the video, it takes up so little space that Facebook queues up another video for them to watch next -- or potentially navigate away to if they get bored with the original video:
Conversely, when we post Facebook videos with a 1:1 aspect ratio, the video takes up 78% more space on the mobile News Feed -- and it takes up more space when the viewer clicks to watch it, too.
The Results:
We haven't experimented with mobile Facebook video sizes enough to report on it -- yet. Luckily, our friends at Buffer have us covered -- they partnered with Animoto to experiment with optimal Facebook video sizing for mobile earlier this year.
Buffer and Animoto found that square videos (1:1) outperformed landscape videos (16:9) in both views and engagement. Over the course of the experiment, square videos achieved 30-35% more views and 80-100% more engagement than the landscape format. You can dig into all of the results in Buffer's blog post for all of the findings -- including the interesting note that landscape videos outperformed square videos for desktop users.
Since the odds are that most of your Facebook fans will access your content on mobile devices, filming videos in a square aspect ratio will most likely drive more engagement and more video views for your content on the platform. But, if you're specifically targeting desktop users for a campaign or ad, landscape videos might be a better choice.
Key Takeaway for Marketers:
Film videos in 1:1 aspect ratios to take up as much space as possible on your audience's mobile phones -- because that's where they're interacting with you the most. Next, we'll be trying to film in 9:16 aspect ratio to take up the entire screen -- like an Instagram or Snapchat Story -- and we'll keep you posted how those perform in future posts.
Tl;dr: Native Social Media Content
Overall, we averaged 50,000 total Facebook video views per month last year, and this year so far, we're averaging about 1 million total video views per month. Some of these additional views may be attributable to Facebook ad spend on another video campaign (more on that in a subsequent post), and although using paid ads and sponsored posts on social media is part of the game, creating good content matters too. And we think our overhaul of how we create Facebook videos was the primary growth lever.
Think about creating content for social media the way you think about optimizing blog posts with on-page SEO elements.
You know all about on-page SEO -- how to create titles, headers, meta descriptions, and URL structures that help your blog posts and webpages rank in search engines. Think about these video devices and strategies like on-page SEO -- but for social media.
Subtitles, title bars, animations, and video sizes all work together to make it easier for your audience to view your videos and interact with them the way they want to -- primarily on mobile devices, and without turning up the volume. And of course, engaging topics get viewers interested in clicking and watching something on their News Feeds in the first place.
Next Steps
We're going to keep iterating on what works, scrap what doesn't, and brainstorm more ways to keep our audiences engaged and entertained by our content. The ultimate goal of social media is to be just that -- social -- and we want to hear from our audience, learn what they like and dislike, and keep creating cool stuff for them to enjoy.
What experiments is your social media team running? Share with us in the comments below.