In 2019, the HubSpot Social Media Team set out to evaluate new opportunities for the brand to create and engage with the specific user communities on Facebook.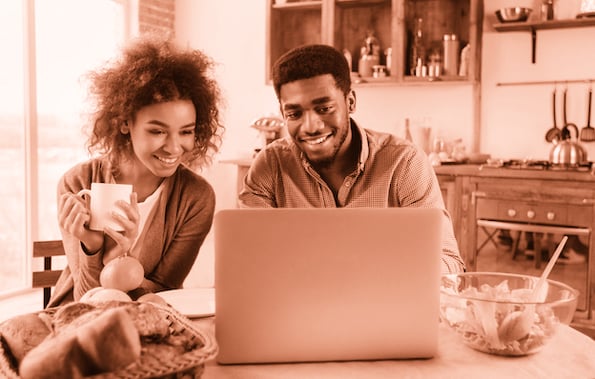 We know that today's Facebook user behavior is shifting. While people still value video, image, and text content, they are finding authentic connections in shared interest groups instead of in their existing personal networks.
These community groups on Facebook are a major opportunity for HubSpot to provide value to our target personas around the world. This would not only help us foster connections and growth for our current, future, and potential growing audience, but it would also provide us with a unique insight into the various communities of people and their experiences today.
Since then, we have launched our first Facebook Group, Marketer to Marketer … because nobody knows marketing like marketers do.
Why a Facebook Group, and why now?
Facebook Groups allow our audience to connect with each other and have valuable discussions. Businesses who center a Group around their brand or industry can build a community around it — making our brand and products even more valuable to potential customers.
Groups also give us the chance to showcase our industry expertise and dedication to our members, especially since questions asked by members (and answers provided by us) are visible to others.
And what's better than gathering a group of people who love you and the industry in which you're the thought leader?
Organic reach for Facebook posts has been steadily declining. Facebook Group posts are a different story. At Facebook's F8 conference in 2019, Mark Zuckerberg announced their plan to really focus on supporting and promoting Groups going forward. They've been explicit in their desire to prioritize meaningful content in people's feeds.
That being said, we wanted to take this opportunity to create a Group as they are the perfect way to spark meaningful discussions with an audience.
How We Created the HubSpot Marketer to Marketer Facebook Group
When building out our Facebook Group strategy, we followed a number of steps to get our team aligned and working.
1. Research
To start, we researched the value of Facebook Groups and why businesses should create them. We did this to determine if this would be an opportunity for social growth and a benefit to our social audience.
Determining the value of this Group — not just for our audience, but also for HubSpot — was key in helping us identify the purpose of the Group.
One way we conducted this research was by gathering feedback from our audience across all social channels to see what topic they considered to be the biggest "missing link". This was helpful because it showed us that marketing was the biggest topic in which they had an interest.
We also connected with other teams internally to see how they leveraged their Facebook Groups (like HubSpot Academy) and piece together their research. Lastly, we listed out all the potential risks of our Facebook Group. This helped us be prepared for any red flags if they were to come up.
2. Planning
Once in the planning phase, we outlined what resources were needed to create and maintain a Group. This included any header or profile images and what a daily workflow would look like for managing Marketer to Marketer. We also reviewed what steps we needed to take to create the Group, such as the smaller details for building it.
We put together a brief that compiled all the research and best practices we learned in order to map out the launch of this Facebook Group. This included a proposed timeline, necessary resourcing, and an overview of what the Group would look like.
We also crafted two months' worth of content ideas for the Group. This content wasn't set in stone but has helped create conversations when Group activity has lulled.
3. Reporting
In order to understand how we'd track and grow Marketer to Marketer, we defined how we would report on the data provided by the Group. This also helped us understand how it creates value for our audience and for HubSpot.
Lastly, we used that data gathered to inform future content areas in which to expand as well as other audiences to support through Groups.
The Impact of the Marketer to Marketer Facebook Group
We examined the impact of Marketer to Marketer in a few different ways.
In terms of the Facebook platform, our Marketer to Marketer Group hasn't really had a significant impact on the broader HubSpot Facebook Page — the Group is probably too small to make a difference there.
The HubSpot Facebook Page has almost two million followers and Marketer to Marketer has just over 2,000. In this case, the pool of people in our Group is simply too small to impact such a large audience.
Instead, the Group gives us a more direct way to interact with a more engaged audience. The Group content gets preferential placement in followers' news feeds, whereas our normal Page content is a different content angle — we share brand awareness content related to different areas of Marketing, Sales, and Customer Service. (View examples here and here.)
In short, we consider our Group followers as our VIPs.
The Facebook Group also gives our members an outlet for more niched conversations, providing security and privacy to open up about any struggles, techniques, opportunities, or new information they've discovered about their industry.
Learnings, Discoveries, and Next Steps
Since launching the Group in March 2020, it's been successful. Due to the depth of the conversations we're seeing there as well as the fact that the group has become a self-sustaining community, it's continued to grow with a higher than expected average of posts per week — while only doing organic promotion.
During this tumultuous time for marketers, we've seen that people can use the Group as a resource to gather ideas or help from other marketers to work through their business needs. The first 90 days were specifically challenging due to national and global events, but even with the odds stacked against it, the Marketer to Marketer Facebook Group is still thriving with members participating in conversations and helping marketers along the way.
Our learnings on Facebook Group growth have shown that it's important to do ongoing promotion to reach an audience that could benefit from the conversations — now more than ever. From there, establish a consistent admin posting cadence with questions of the week or thought starters for marketers.
We've established a dedicated day of the week to be "question day," which has allowed the Group to function on its own while making our presence known and drumming up engagement. Since the Group started, it's grown 2,000 members, and we plan to push it larger and larger for more marketers to take advantage of this outlet of community.