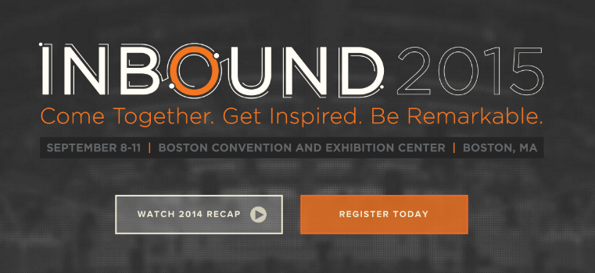 My decision to attend a conference usually comes down to one thing: The agenda.
(Unless it's somewhere warm. When there's sun and sand I care way less about agendas.)
The HubSpot events team has had a light version of the INBOUND agenda up on the website for some time now, but I'm very pleased to share that as of today, that light version got some meat on its bones. If you've been waiting to see some more session-level or speaker details before registering, head on over to the INBOUND site and peruse the session list now.
We'll continue to add even more speakers and sessions to what you already see. Just think of it as more goodness.
This year, there will be several different tracks and subject matters customized to the ever-widening swath of attendees, including (but not limited to):
Keynote Addresses: Inspirational speeches that'll light a fire under your toosh
Ideas & Experiences: Higher level, forward-thinking content about inbound marketing and sales trends
Hacks, Tips & Tricks: Practical, tactical sales and marketing content that'll leave you with something actionable to take home with you
Grow With HubSpot: HubSpot demos and case studies that let you dig into the software first-hand
BOLD Talks: Short but powerful talks from exciting people that will both challenge and educate
Executive Track: Executives talk strategy and share how their roles have evolved in an inbound world
Partner Track: Agency leaders and HubSpot partner agencies explore strategies to grow and scale agency business
Training: HubSpot Academy training that will get you or your employees up to speed on any and all parts of the inbound methodology (Note: There is an additional cost for this. You can learn more here.)
You can identify which track is best for you and go full force down that path, mix and match along the way, or if you're attending with colleagues, consider splitting up for a few sessions so you can soak in different sessions and compare notes later. Or just hang out by the food trucks and ask other people what they learned. Expense the food and call it networking.
We hope to see you in Boston from September 8-11. You'll know you're at the right place when you see the flaming orange signs. Can't miss it.
(P.S. Have no idea what INBOUND is? Click here to learn all about the event. Or, if you prefer the tl;dr version: It's HubSpot's annual marketing conference, hosted in Boston, with lots of intelligent speakers and attendees from all over the world. You should come.)