2016 marks HubSpot's 10th anniversary. When my co-founder Dharmesh Shah and I first started talking about the concept of inbound marketing, it wasn't an evolution -- it was a revolution. Instead of big brands beating small companies with expensive TV commercials, massive billboards, and other types of outbound campaigns as a foregone conclusion, content and search marketing equalized the playing field. Marketing became much more about the width of your brain than the width of your wallet.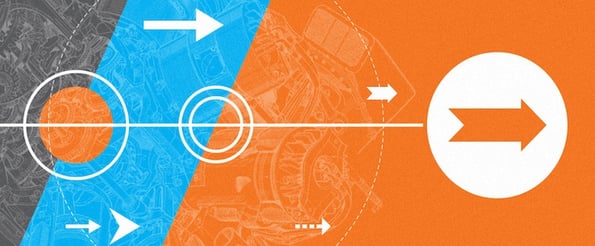 Fast forward to today. While the fundamental tenets of inbound marketing still ring true, many of the specific channels and methods prospects are using to find, evaluate, and purchase products are different than 10 years ago.
Even the supply and demand dynamics have changed. In 2006, prospects had an average of four to five choices for any product or service they were looking to purchase. In 2016, I've found that that number has spiked to approximately 14 or 15 different vendors -- and this holds among most industries. Choices that once occupied a few inches on a shelf at a retail store now expand endlessly on the infinite shelf of ecommerce sites.
Supply is way up, and demand is relatively flat. The increased competition means understanding how your prospective buyers research and buy is even more critical.
I've spent the last year studying the changes in prospect behavior, and I've come to the conclusion that we're looking at another revolution -- which heralds the second act of inbound marketing.
Here's what that means for you, your prospects, your business, and your 2017 marketing plan.
The Second Act of Inbound Marketing
How to Get Found in 2016 (or, Why Google Is Now Ask Jeeves)
Back in 2006, Google helped buyers find the answers to their questions by serving up links to relevant information. Increasingly today, there's no click needed -- Google just gives searchers the answer directly through a rich answer box. The numbers vary on this but research has found that between 20 and 35% of searches performed today result in a quick answer box populated on the SERP itself.
Need an answer fast? Just ask. That's right, Google has finally fulfilled the original Ask Jeeves promise. In our own research we've found that clickthrough rates from these answer boxes are also higher than traditional links. RKG Merkle saw a 516% increase in sessions when a client's page captured the snippet box.
To adapt, companies should start to create content not just intended to rank in search, but also to be pulled into Google's quick answer box, and educate your buyer directly on the SERP. Here's a blog post on how to do this.
Quick answer boxes are not the only way Google is changing. Ten years ago, paid AdWords results took up about 50% of the screen "above the fold." Today, because of a layout shift Google introduced earlier this year, AdWords ads have moved from the right column to the center and take up nearly 100% of the "above the fold" space on both desktop and mobile.
All of which means: If you have the budget, it's worth integrating ads into your inbound strategy. But how do you run ads in an "inbound" way? Well, bad ads are still useless. If you have a piece of content, however, that's taken off organically, that's a good indication it could be even more useful if amplified by some paid budget. I'd suggest using your ad budget to boost quality content that has already done well on social media.
Speaking of social media, Facebook's Lead Ads product, which enables buyers to complete a form directly in their newsfeeds, is opening up new opportunities and levels of transparency into an ad campaign's effectiveness. Whereas once we had PPC, we're now seeing the early days of PPL: Pay Per Lead.
The ad industry is at a significant precipice. On the one hand we're seeing a drastic rise in usage of ad-blocking technology; according to the 2016 State of Inbound report, mobile ad blocking has increased 90% year-over-year. On the other, ads are getting more space in search engine results and offering better clarity around their cost per lead ratios. All of this will inevitably influence the way prospective customers find your company.
How to Create Compelling Content in 2016 (or, Why the Silent Movie Is Back)
The way people find answers and discover companies is changing, but so is the format of content itself. Here's what I've noticed about the types of content working well today.
In short: Reading is out, watching is in. Ten years ago, the power content marketing move was search + written content. Now, it's social media + video content.
And these aren't the hyper-produced, long-form videos from years past. The marketing teams winning the video game today are mastering live, off-the-cuff video. Additionally, Charlie Chaplin would likely raise an eyebrow to learn we've tƒurned away from talkies: A full 85% of videos today are watched without audio.
Increases in mobile usage have fueled much of this growth in video popularity. For content marketers, the takeaway here is simple. While text is still important, you may want to stop looking for that next blogger, and start looking for a video producer. At least 50% or more of your marketing content next year should be in video format, either hosted natively on social or created with social distribution in mind.
The other thing to know about content consumption is much of it is now happening away from the bounds of your website on social media. Social media has evolved from a promotion channel alone to a platform for content. Buyers aren't just stopping by social media sites during work breaks anymore -- they never leave.
Facebook in particular has started to dominate how we spend our free time. Four of the apps consumers use most -- Facebook, Instagram, Messenger, and WhatsApp -- are owned by Facebook. Today's buyers are plugged into Mark Zuckerberg's universe all day long. If you're not meeting them there, you risk losing them.
How Buyers Buy in 2016 (or, Why Uber Wrecked Your Website)
Ten years ago, your website augmented your sales rep. Buyers would browse the website to get the basics, and then hop on the phone with a salesperson to get into the nitty gritty.
Today, it's the opposite: Your sales rep augments your website. Buyers want a self-service experience, making a purchase directly onsite or contacting Sales when they're ready, not the other way around. Indeed, only 19% of buyers in a HubSpot Research study said they wanted to talk to a salesperson during the "awareness" stage of their purchase process.
And the website of 2006 won't cut it. Your prospects have been trained in every industry to expect automation, personalization, and self-service. They have been spoiled by Uber to expect a consumer-grade, on-demand buying experience. A website that doesn't enable viewers to get on-demand information or instantly chat with Sales or Support frustrates your buyers and will send them into the arms of your competition.
Throughout the entire buying process -- from your ads, to your website (mobile and desktop), to your live chat service -- buyers expect personalization. They expect you to remember them, give them fantastic service, and enable them to serve themselves through automation.
My Advice For Marketers in 2017 and Beyond
Here are the four things I think every marketer should do next year:
Invest in video. Diversify your content playbook to include social + video in addition to text + search.
Live in social. We're not B2B or B2C marketers -- we're business to human marketers. Humans live in Snapchat, Instagram, Messenger, and a host of other social apps. Find them there.
Accelerate your content. Combine content marketing and paid marketing. Repurpose your most successful content for multiple channels and boost it with budget.
Automate your buying process. Buyers expect to be able to buy on their timeline with either minimal or no human contact.
2017 marks the second act of inbound marketing. Are you ready?