Advertising can help create a direct connection between consumers and your brand, and is a critical component of marketing.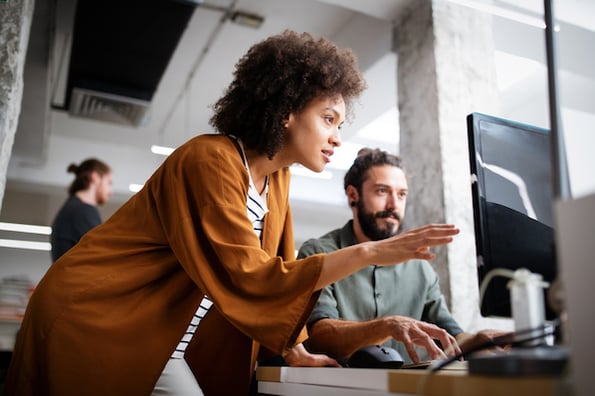 And inclusive advertising can yield dramatic results and increase brand trust, loyalty, and better overall brand perception. In fact, 64% of people said they are more trusting of brands that represent diversity in ads, and 85% of consumers said they will only consider a brand they trust.
Advertising that works hard for your company has never been more important as we come off the heels of a challenging year affecting all businesses. However, there is one concept that rang true for us all that can inform our approach in advertising for 2021 and beyond – that is, we are all interconnected and interdependent, both as consumers and as advertisers.
In this post, we'll provide eight tips curated from Microsoft's Marketing with Purpose Playbook to help you create more inclusive advertising, reach more customers, and grow your business.
1. Showcase human diversity in your campaigns.
Inclusive advertising means having diversity authentically represented in your ads and promotions, while aligning it to your local market's composition of diversity. It also means considering the many dimensions of human diversity, including (but not limited to) age, gender, ethnicity, sexual orientation, location, language preference and gender expression.
Additionally, you'll be able to expand your ability to connect and tailor ad creative and promotions with your audience when you consider experiential diversity like ability, parental status, marital status, military status, affinities, and job function.
Ultimately, inclusive advertising is understanding with empathy who your customers are, representing them accurately, and more importantly, recognizing who you're excluding in your marketing materials.
2. Perform a landing page and website audit for audience diversity.
Inclusive advertising doesn't end with the ad. In fact, half of the customer experience with your advertising resides where you send them after they click — which means it's critical you demonstrate diversity in your landing pages or website, as well.
Considering 64% people are more likely to consider or purchase a product after seeing diversity or inclusion in advertising, it's critical you ensure your landing pages and website represent true diversity.
Does your website's collection of photos and images match the audience representation you created across your entire ad campaign? Does each inclusive advertisement point the customer after the click to the landing page that matches the inclusive spirit of the image creative? If not, it should.
However, while it's relatively easy to spot-check a landing page with the corresponding ad creative, how can you collectively evaluate your entire website for the right amount and variety of diversity?
For an easy way to review what images are across your site's web pages, simply use Bing.com and type in the search bar the command, "site:" and then add your website's URL after the colon.
For example, let's search Bing for the clothing brand Tommy Hilfiger, which looks like this in the search bar: "Site:https://usa.tommyhilfiger.com". Then, hit "Enter". Bing will produce a search engine results page indexing all your web pages:
Then click on the "images" in the search engine results page for your "site:" search in the navigation bar:
This will produce all the images found on the website. You can quickly scroll through to get a sense of the diversity — or lack of diversity — in the collection of images on your website.
Your audit can be used as a general website check, or a search for specific dimensions of diversity that you feel are underrepresented in your upcoming advertising campaign.
3. Align your advertising messaging to the nine feelings of inclusion.
Emotions are becoming increasingly linked with brand outcomes. As Maya Angelou once said, "I've learned that people will forget what you said, people will forget what you did, but people will never forget how you made them feel."
Feeling included so that a person feels that this brand is for me is at the heart of brand trust, love, and loyalty.
There are actual identified feelings of inclusion in advertising, which can create connection and drive trust. Inclusive advertising can conjure two major feelings: joy, and trust. As a marketer, it's critical you look for brand connection points in product or features that can create these two main feelings.
However, there is more to it than that – there are actually nine feelings that make up joy and trust, which is great news for advertising. If you can find a genuine and authentic way that your product creates any one of these feelings, this can convey inclusion, which – you guessed it, builds trust, brand love, and loyalty.
This product marketing approach facilitates connections with people, making them feel like part of a community. Here are some marketing ideas to evoke feelings of joy and trust:
Celebration: Of people, their successes, honoring of holidays, etc. How does your product celebrate them?
Zest: For life (for ours, theirs, and that of the planet). Convey enthusiasm and energy. How does your product create a zest for life?
Hope: Bringing hope to conquer challenges and/or societal issues. How does your product give your consumers' hope?
Relaxation:Instead of portraying the need to be on guard, remove tension or anxiety for your customers. How does your product produce relaxation?
Relief: From concern or worry, removing something distressing or oppressive. How does your product bring relief?
Safety: Create experiences or highlight how your brand extends safety to all people. How does your brand experience make someone feel safe?
Confidence: Instill a sense of confidence—the belief that we strive to act in the right way. How does your product give your consumers' confidence?
Acceptance: Of others' differences, typically to be included as part of the group. How does your product make someone feel accepted or demonstrate you are accepting of others?
Clarity: Bring a sense of certainty, clarity, and transparency in ambiguity. How does your product bring clarity to a confusing situation?
4. Incorporate three metaphors of inclusion.
Another customer touchpoint that can help your brand emotionally connect with people in your advertising is language cues and context, which evoke positive feelings.
Discovered in our research, The Psychology of Inclusion and the Effects in Advertising at Microsoft Advertising, we uncovered the following fifty language-based cues that signal inclusion, as well as three metaphors of inclusion which are inextricably tied to emotions.
If used in context and in a genuine and authentic way in your ad copy, website, or digital content marketing, these metaphors can help convey inclusion and drive brand performance.
5. Practice inclusive and authentic image selection.
Authentic representation in advertising is important. It drives trust and brand support — so the images you choose matter. It is worth noting that from the Microsoft Advertising research around trust, we found that there is a strong tie between trust, love, and loyalty.
Once trust is established as the baseline, a brand can begin to build love and loyalty. To do this, brands must go the extra mile to make someone feel understood through inclusion, and that means authentic imagery, too. Inclusion was found to be a key brand attribute that creates loyalty.
The same story threads are woven through our inclusive advertising research. Our research uncovered that authentic representation in advertising builds trust and brand support, with 72% of people saying they're more likely to support brands with authentic advertising.
Choosing imagery is an important part of the process in constructing a meaningful and inclusive customer experience. Inclusive advertising isn't just about representing everyone — it's also about making everyone feel your products or services are for them.
Here are some tips to help identify and select inclusive imagery:
Tips to illustrate "Connection":
Have more than one person in an image
Include realistic diversity: use authentic and genuine imagery, which is best conveyed using real people being themselves, that reflect everyday life, not actors hired to play a part
Create a visible relationship between people that is positive
Include people in photos rather than featuring the product only
Tips to illustrate "Openness":
Include people with disabilities
Feature non-traditional dimensions of diversity like people with larger bodies
Include unique subsets of diverse populations
Include multiple people of color
Have people with intersectionality in diversity
Tips to illustrate "Balance":
Everyone is featured with the same prominence
Equity is conveyed
Ensure multiple dimensions of diversity are represented in an image
Within your campaign, have the creative represent the spectrum of people that your potential customer base could be
Lastly, it's good practice to include a diverse representation of people in the review of your creative to uncover blind spots, such as non-obvious negative connotations, stereotypes, cultural inaccuracies, or negative associations.
6. Perform an accessibility audit on your ads, content, and landing pages.
Would you want to turn away one in four people from buying your product simply because your ad or website was not in the right format for them?
Conversely, wouldn't you want to increase your reach by 25%? I hear you saying, "Yes, of course!"
Without accessible advertising, no matter how perfect your product or offer is for someone, one in four people in Europe or the United States might not get your message. This is the ratio of people with disabilities to the general population. According to the United Nations, more than one billion people globally live with disabilities.
Digital inclusion is important because it provides access to services, products, data, information, and education for everyone. We, as advertisers, can recognize these exclusions, solve for them, and make a difference for the one in four people — and also in our business performance.
Download the plug-in for your browser https://accessibilityinsights.io/ and begin to learn how to make your landing pages for your campaigns accessible. This free open-source tool by Microsoft will highlight what accessibility issues are present and how to fix them. It could not be more turn-key, it's free.
Use the Accessibility Checker in Microsoft 365 to make any media or content more accessible.
Learn the ten accessibility principles to building accessibility into your advertising from the start.
7. Develop an inclusive keyword library.
Nothing replaces the value of first-hand customer experience as you develop an inclusive keyword library for your brand. Begin with customer focus groups with the audience you are trying to reach, and you'll be surprised what you uncover. You can even start by sourcing this information from your internal Employee Resource Groups.
To develop an inclusive keyword library, you'll want to consider the consumer decision journey for the product or service you offer. Next, layer on the journey for the consumer with a physical disability, cognitive difference, military status, age consideration, gender expression, or other dimensions of diversity.
Include their lived experience and map the unique keywords that they might use to seek out your product. By understanding the consumer decision journey from their perspective, you will develop your own inclusive keyword strategy for your business.
One simple example is understanding gender differences. In Microsoft Advertising's Inclusive Automotive Marketing webcast, we shared the difference between men and women in the consumer decision journey when shopping for a car. An inclusive keyword strategy can inform not only your search engine marketing (SEM) but could shape you content marketing, as well.
As suggested earlier, don't stop at the usual dimensions of diversity — go further and see what you can uncover to help you connect and give people the feeling that you're "a brand for someone like me."
8. Root out bias in your ads and your data.
Contending with and working towards eliminating bias applies to all of us. As marketers, our job is to understand and identify potential bias that can live within our datasets and our marketing models. Bias in data produces biased models, which can be discriminatory and harmful. Bias can lead to missed opportunities in marketing, or even damage your brand's reputation.
There is a long list of bias types, and it's good to become familiar with many of these. A great resource is the Harvard Implicit Bias Tests, which you can use to explore and learn about the variety of biases.
For instance, a marketer might conclude that a luxury accessories brand should target women, because gender appears to correlate with a higher purchase probability. You might assume that only women buy luxury handbags. However, gender may just be a red herring. Income could correlate to a much higher degree with conversion.
The resulting bias of only targeting women, then, would limit your opportunity. I invite you to have deliberate curiosity about long-held beliefs, because you might be accidentally leaving out other buyer personas.
Additionally, it's critical you're cognizant of gender-neutral pronouns in your marketing materials. Refer to "they" or "them" when writing about people (rather than "he" or "she"), and ensure you offer at least a third option when asking for gender in customer profile forms.
As we start 2021 and work to find new ways to drive business impact while making a positive impact in the world, we hope these eight tips for inclusive advertising help get you there. Let's work together to build a more inclusive world today.