In the 1970s, you couldn't watch an episode of Monday Night Football without seeing the Big Mac commercial and trying to sing that catchy jingle.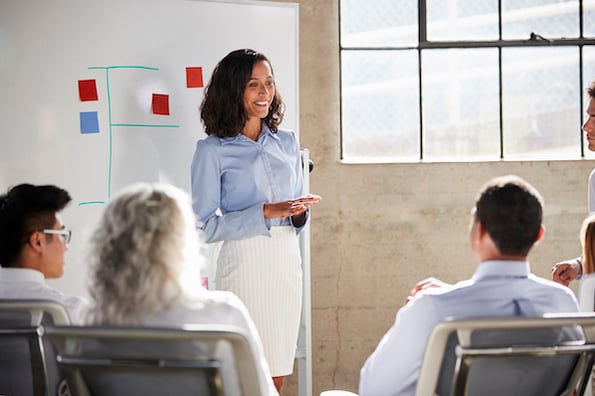 For those who don't know, the Big Mac jingle was a fun way to market McDonald's newest sandwich while getting a song full of ingredients stuck in your head.
Don't believe me? Check it out, here:
With this commercial, McDonald's used informational marketing to their advantage. Even if you didn't know what the Big Mac was, if you had a TV in the 70s, you knew what was in it -- two all-beef patties, special sauce, lettuce, cheese, pickles, and onion on a sesame seed bun.
If you're not sure what informational marketing is, or are wondering how you can use it for your own marketing purposes, keep reading.
What is Informational Marketing?
Informational marketing displays details about a product or service. Simply put, it educates your audience about the basics -- including how you stand out from competitors, where your product is sold, and your product's core features.
Think of informational marketing as showing the specs of a product. It provides factual details, right there in the campaign -- like the Big Mac song.
You've most likely interacted with informational marketing before, even if you've never heard the term. Ebooks, "How-to" videos, blogs, and brochures are all types of informational marketing because they present you with an exact explanation of a service or product, and what sets it apart from other products or services in the industry.
This method of marketing shows your audience the nitty-gritty so they won't have to leave your website to find out what your product or service is. It can be especially useful for products with a lot of specs, like phones or cars.
For instance, consider the advertisement above, from Keurig. Keurig's website takes advantage of informational marketing by providing specs and comparison details for their brewers, as well as information about their products, like the now infamous K-Cup.
By telling you how it works and why you'll love it, Keurig leaves a memorable impact on someone looking for an alternative to coffee machines. Additionally, since they provide this information directly on their website, Keurig ensures potential customers don't have to search on Google to learn about K-Cups or compare K-Cups to competitors' products.
Next, let's look at some other examples of informational marketing.
Informational Marketing Examples
1. HubSpot's infographic.
Let's look at this infographic from HubSpot. It provides details of how customers want to receive marketing, and the caption gives advice on how to put the customer first. In other words, it gives information on how HubSpot's CRM is useful.
2. Yelp's infographic.
When people need professional help with their homes, they turn to Yelp to search for the types of services that are distinctively indicative of their local region & climate. Do you have a popular home service in your city? Tell us your Yelp story! https://t.co/QW6C6tmWcB #Yelp15 pic.twitter.com/K4b2GKn1Nz

— Yelp For Business (@yelpforbusiness) October 7, 2019
Yelp took market research and user-generated specs to create this brilliant infographic. The illustration gives audiences in the U.S. a state with which to identify, and shows them Yelp categories they might not have known existed based on "most popular categories" per state.
Ultimately, it's a hidden tutorial on how to use Yelp to maximize your shopping trips.
You can use an infographic to take a large portion of data and make it easier to swallow for visual-oriented audiences. If you're looking for a new way to present data other than an Instagram gif, why not try an infographic?
3. Cars.com website specs.
Like the Keurig example, above, website specs give consumers details on the business's website so consumers don't need to conduct any additional research. Popular car shopping website Cars.com does just that, providing tons of information about cars on one website so you don't have to have a million tabs open when researching cars.
Because cars are such a big purchase, car websites benefit greatly from having all the specs car buyers are looking for in one place. If you're marketing products that are considered big purchases, having specs on your website might be a good idea.
3. Tasty videos.
This commercial features Tasty's most popular content creators, Alix and Rie, who both develop and film recipes for Tasty and vlog about their daily activities in the Tasty office. When fans of Alix and Rie see the two content creators on the YouTube thumbnail, they'll likely immediately click. (As a big fan of Rie, I absolutely did).
Additionally, Tasty presented the products' specs in a relatable way. Rather than having Alix say, "This is a nonstick pot," she said, "I made a sticky sauce in this pot and it slid right out," demonstrating the product's quality. This is an example of informational marketing that's casual, and more personable.
Remember, the point of informational marketing is to help your audience find what they're looking for through the content you create. If someone wanted to know how K-Cups worked but Keurig didn't provide that information, prospects might be hesitant to purchase the product, especially if they'd never heard of it.
4. Colourpop's eyeshadow video.
What better way to market a visually-aided product than to provide a video tutorial? This video by cosmetics brand Colourpop takes full advantage of informational marketing by creating a look using most of the colors in their new eyeshadow palette.
By doing this, prospective buyers are educated about how the colors look and how pigmented they are. Additionally, prospects can learn about other Colourpop products that work well with this palette.
5. Adobe's logo video.
Create your own animated logo in #AfterEffects with this simple 2-minute tutorial. pic.twitter.com/HN2FLcKUib

— Adobe After Effects (@AdobeAE) October 9, 2019
Adobe's take on informational marketing comes in the form of a logo tutorial. With this video, Adobe customers and potential customers can learn how to use Adobe's software to create a logo.
This short, impactful video goes in-depth regarding Adobe's capabilities. Video length is important here, because it suggests that making a logo can be easy and time-effective.
The next time you are drafting your upcoming campaign, think about how you can educate your target audience about your product.
Additionally, pertaining to the interest of your audience is a critical component of any informational marketing strategy. If your marketing doesn't relate to your product, it probably won't interest your audience, either. Keeping this in mind will help your next informational marketing tactics shine.