Nowadays, Instagram is often someone's initial contact with a brand, and nearly half of its users shop on the platform each week. If it's the entryway for half of your potential sales, don't you want your profile to look clean and inviting?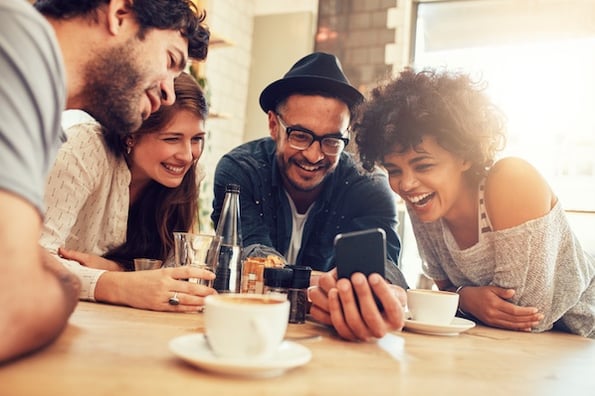 Taking the time to create an engaging Instagram feed aesthetic is one of the most effective ways to persuade someone to follow your business's Instagram account or peruse your posts. You only have one chance to make a good first impression — so it's critical that you put effort into your Instagram feed.
Finding the perfect place to start is tough — where do you find inspiration? What color scheme should you use? How do you organize your posts so they look like a unit?
We know you enjoy learning by example, so we've compiled the answers to all of these questions in a list of stunning Instagram themes. We hope these inspire your own feed's transformation. But beware, these feeds are so desirable, you'll have a hard time choosing just one.
What is an Instagram theme?
An instagram theme is a visual aesthetic created by individuals and brands to achieve a cohesive look on their Instagram feeds. Instagram themes help social media managers curate different types of content into a digital motif that brings a balanced feel to the profile.
Tools to Create Your Own Instagram Theme
Creating a theme on your own requires a keen eye for detail. When you're editing several posts a week that follow the same theme, you'll want to have a design tool handy to make that workflow easier. Pre-set filters, color palettes, and graphic elements are just a few of the features these tools use, but if you have a sophisticated theme to maintain, a few of these tools include advanced features like video editing and layout previews. Here are our top five favorite tools to use when editing photos for an Instagram theme.
HubSpot uses the information you provide to us to contact you about our relevant content, products, and services. HubSpot will share the information you provide to us with the following partners, who will use your information for similar purposes: Mention. You can unsubscribe from communications from HubSpot at any time. For more information, check out HubSpot's Privacy Policy. To unsubscribe from Mention's communications, see Mention's Privacy Policy.
2023 Instagram Engagement Data Report
New data to help you shape your Instagram strategy
Posting Strategy
Hashtag Use
Global Trends
And more!
Loading your download form
Creators look to VSCO when they want to achieve the most unique photo edits. This app is one of the top-ranked photo editing tools among photographers because it includes advanced editing features without needing to pull out all the stops in Photoshop. If you're in a hurry and want to create an Instagram theme quickly, use one of the 200+ VSCO presets including name-brand designs by Kodak, Agfa, and Ilford. If you'll be including video as part of your content lineup on Instagram, you can use the same presets from the images so every square of content blends seamlessly into the next no matter what format it's in.
FaceTune2 is a powerful photo editing app that can be downloaded on the App Store or Google Play. The free version of the app includes all the basic editing features like brightness, lighting, cropping, and filters. The pro version gives you more detailed control over retouching and background editing. For video snippets, use FaceTune Video to make detailed adjustments right from your mobile device — you'll just need to download the app separately for that capability. If you're starting to test whether an Instagram theme is right for your brand, FaceTune2 is an affordable tool worth trying.
You know Canva as a user-friendly and free option to create graphics, but it can be a powerful photo editing tool to curate your Instagram theme. For more abstract themes that mix imagery with graphic art, you can add shapes, textures, and text to your images. Using the photo editor, you can import your image and adjust the levels, add filters, and apply unique effects to give each piece of content a look that's unique to your brand.
Have you ever used Adobe Illustrator to create interesting overlays and tints for images? You can do the same thing to develop your Instagram theme. Traditionally, Adobe Illustrator is the go-to tool to create vectors and logos, but this software has some pretty handy features for creating photo filters and designs. Moreover, you can layout your artboards in an Instagram-style grid to see exactly how each image will appear in your feed.
Photoshop is the most well-known photo editing software, and it works especially well for creating Instagram themes. If you have the capacity to pull out all the stops and tweak every detail, Photoshop will get the job done. Not only are the editing, filter, and adjustment options virtually limitless, Photoshop is great for batch processing the same edits across several images in a matter of seconds. You'll also optimize your workflow by using photoshop to edit the composition, alter the background, and remove any unwanted components of an image without switching to another editing software to add your filter. With Photoshop, you have complete control over your theme which means you won't have to worry about your profile looking exactly like someone else's.
Instagram Themes
Transition
Black and White
Bright Colors
Minimalist
One Color
Two Colors
Pastels
One Theme
Puzzle
Unique Angles
Text Only
Checkerboard
Black or White Borders
Same Filter
Flatlays
Vintage
Repetition
Mix-and-match Horizontal and Vertical Borders
Quotes
Dark Colors
Rainbow
Doodle
Text
Lines
Angles
Horizontal Lines
1. Transition
If you aren't set on one specific Instagram theme, consider the transition theme. With this aesthetic, you can experiment with merging colors every couple of images. For example, you could start with a black theme and include beige accents in every image. From there, gradually introduce the next color, in this case, blue. Eventually, you'll find that your Instagram feed will seamlessly transition between the colors you choose which keeps things interesting without straying from a cohesive look and feel.
2. Black and White
A polished black and white theme is a good choice to evoke a sense of sophistication. The lack of color draws you into the photo's main subject and suggests a timeless element to your business. @Lisedesmet's black and white feed, for instance, focuses the user's gaze on the image's subject, like the black sneakers or white balloon.
3. Bright Colors
If your company's brand is meant to imply playfulness or fun, there's probably no better way than to create a feed full of bright colors. Bright colors are attention-grabbing and lighthearted, which could be ideal for attracting a younger audience. @Aww.sam's feed, for instance, showcases someone who doesn't take herself too seriously.
HubSpot uses the information you provide to us to contact you about our relevant content, products, and services. HubSpot will share the information you provide to us with the following partners, who will use your information for similar purposes: Mention. You can unsubscribe from communications from HubSpot at any time. For more information, check out HubSpot's Privacy Policy. To unsubscribe from Mention's communications, see Mention's Privacy Policy.
2023 Instagram Engagement Data Report
New data to help you shape your Instagram strategy
Posting Strategy
Hashtag Use
Global Trends
And more!
Loading your download form
4. Minimalist
For an artsier edge, consider taking a minimalist approach to your feed, like @emwng does. The images are inviting and slightly whimsical in their simplicity, and cultivate feelings of serenity and stability. The pup pics only add wholesomeness to this minimalist theme. Plus, minimalist feeds are less distracting by nature, so it can be easier to get a true sense of the brand from the feed alone, without clicking on individual posts.
5. One Color
One of the easiest ways to pick a theme for your feed is to choose one color and stick to it — this can help steer your creative direction, and looks clean and cohesive from afar. It's particularly appealing if you choose an aesthetically pleasing and calm color, like the soft pink used in the popular hashtag #blackwomeninpink.
6. Two Colors
If you're interested in creating a highly cohesive feed but don't want to stick to the one-color theme, consider trying two. Two colors can help your feed look organized and clean — plus, if you choose branded colors, it can help you create cohesion between your other social media sites the website itself. I recommend choosing two contrasting colors for a punchy look like the one shown in @Dreaming_outloud's profile.
7. Pastels
Similar to the one-color idea, it might be useful to choose one color palette for your feed, like @creativekipi's use of pastels. Pastels, in particular, often used for Easter eggs or cupcake decorations, appear childlike and cheerful. Plus, they're captivating and unexpected.
8. One Subject
As evident from @mustdoflorida's feed (and username), it's possible to focus your feed on one singular object or idea — like beach-related objects and activities in Florida. If you're aiming to showcase your creativity or photography skills, it could be compelling to create a feed where each post follows one theme.
9. Puzzle
Creating a puzzle out of your feed is complicated and takes some planning, but can reap big rewards in terms of uniqueness and engaging an audience. @Juniperoats' posts, for instance, make the most sense when you look at it from the feed, rather than individual posts. It's hard not to be both impressed and enthralled by the final result, and if you post puzzle piece pictures individually, you can evoke serious curiosity from your followers.
10. Unique Angles
Displaying everyday items and activities from unexpected angles is sure to draw attention to your Instagram feed. Similar to the way lines create a theme, angles use direction to create interest. Taking an image of different subjects from similar angles can unite even the most uncommon photos into a consistent theme.
11. Text Only
A picture is worth a thousand words, but how many pictures is a well-designed quote worth? Confident Woman Co. breaks the rules of Instagram that say images should have a face in them to get the best engagement. Not so with this Instagram theme.
The bright colors and highlighted text make this layout aesthetically pleasing both in the Instagram grid format and as a one-off post on the feed. Even within this strict text-only theme, there's still room to break up the monotony with a type-treated font and textured background like the last image does in the middle row.
12. Checkerboard
If you're not a big fan of horizontal or vertical lines, you might try a checkerboard theme. Similar to horizontal lines, this theme allows you to alternate between content and images or colors as seen in @thefemalehustlers' feed.
13. Black or White Borders
While it is a bit jarring to have black or white borders outlining every image, it definitely sets your feed apart from everyone else's. @Beautifulandyummy, for instance, uses black borders to draw attention to her images, and the finished feed looks both polished and sophisticated. This theme will likely be more successful if you're aiming to sell fashion products or want to evoke an edgier feel for your brand.
HubSpot uses the information you provide to us to contact you about our relevant content, products, and services. HubSpot will share the information you provide to us with the following partners, who will use your information for similar purposes: Mention. You can unsubscribe from communications from HubSpot at any time. For more information, check out HubSpot's Privacy Policy. To unsubscribe from Mention's communications, see Mention's Privacy Policy.
2023 Instagram Engagement Data Report
New data to help you shape your Instagram strategy
Posting Strategy
Hashtag Use
Global Trends
And more!
Loading your download form
14. Same Filter
If you prefer uniformity, you'll probably like this Instagram theme, which focuses on using the same filter (or set of filters) for every post. From close up, this doesn't make much difference on your images, but from afar, it definitely makes the feed appear more cohesive. @marianna_hewitt, for example, is able to make her posts of hair, drinks, and fashion seem more refined and professional, simply by using the same filter for all her posts.
15. Flatlays
If your primary goal with Instagram is to showcase your products, you might want a Flatlay theme. Flatlay is an effective way to tell a story simply by arranging objects in an image a certain way and makes it easier to direct viewers' attention to a product. As seen in @thedailyedited's feed, a flatlay theme looks fresh and modern.
16. Vintage
If it aligns with your brand, vintage is a creative and striking aesthetic that looks both artsy and laid-back. And, while "vintage" might sound a little bit vague, it's easy to conjure. Simply try a filter like Slumber or Aden (built into Instagram), or play around with a third-party editing tool to find a soft, hazy filter that makes your photos look like they were taken from an old polaroid camera.
17. Repetition
In @girleatworld's Instagram account, you can count on one thing to remain consistent throughout her feed: she's always holding up food in her hand. This type of repetition looks clean and engaging, and as a follower, it means I always recognize one of her posts as I'm scrolling through my own feed. Consider how you might evoke similar repetition in your own posts to create a brand image all your own.
18. Mix-and-match Horizontal and Vertical Borders
While this admittedly requires some planning, the resulting feed is incredibly eye-catching and unique. Simply use the Preview app and choose two different white borders, Vela and Sole, to alternate between horizontal and vertical borders. The resulting feed will look spaced out and clean.
19. Quotes
If you're a writer or content creator, you might consider creating an entire feed of quotes, like @thegoodquote feed, which showcases quotes on different mediums, ranging from paperback books to Tweets. Consider typing your quotes and changing up the color of the background, or handwriting your quotes and placing them near interesting objects like flowers or a coffee mug.
20. Dark Colors
@JackHarding's nature photos are nothing short of spectacular, and he highlights their beauty by filtering with a dark overtone. To do this, consider desaturating your content and using filters with cooler colors, like greens and blues, rather than warm ones. The resulting feed looks clean, sleek, and professional.

21. Rainbow
One way to introduce color into your feed? Try creating a rainbow by slowly progressing your posts through the colors of the rainbow, starting at red and ending at purple (and then, starting all over again). The resulting feed is stunning.
22. Doodle
Most people on Instagram stick to photos and filters, so to stand out, you might consider adding drawings or cartoon doodles on top of (or replacing) regular photo posts. This is a good idea if you're an artist or a web designer and want to draw attention to your artistic abilities — plus, it's sure to get a smile from your followers, like these adorable doodles shown below by @josie.doodles.
HubSpot uses the information you provide to us to contact you about our relevant content, products, and services. HubSpot will share the information you provide to us with the following partners, who will use your information for similar purposes: Mention. You can unsubscribe from communications from HubSpot at any time. For more information, check out HubSpot's Privacy Policy. To unsubscribe from Mention's communications, see Mention's Privacy Policy.
2023 Instagram Engagement Data Report
New data to help you shape your Instagram strategy
Posting Strategy
Hashtag Use
Global Trends
And more!
Loading your download form
23. Content Elements
Similar elements in your photos can create an enticing Instagram theme. In this example by The Container Store Custom Closets, the theme uses shelves or clothes in each image to visually bring the feed together. Rather than each photo appearing as a separate room, they all combine to create a smooth layout that displays The Container Store's products in a way that feels natural to the viewer.
24. Structural Lines
Something about this Instagram feed feels different, doesn't it? Aside from the content focusing on skyscrapers, the lines of the buildings in each image turn this layout into a unique theme. If your brand isn't in the business of building skyscrapers, you can still implement a theme like this by looking for straight or curved lines in the photos your capture. The key to creating crisp lines from the subjects in your photos is to snap them in great lighting and find symmetry in the image wherever possible.
25. Horizontal Lines
If your brand does well with aligning photography with content, you might consider organizing your posts in a thoughtful way — for instance, creating either horizontal or vertical lines, with your rows alternating between colors, text, or even subject distance. @mariahb.makeup employs this tactic, and her feed looks clean and intriguing as a result.
How to Create an Instagram Theme
1. Choose a consistent color palette.
One major factor of any Instagram theme is consistency. For instance, you wouldn't want to regularly change your theme from black-and-white to rainbow — this could confuse your followers and damage your brand image. Of course, a complete company rebrand might require you to shift your Instagram strategy, but for the most part, you want to stay consistent with the types of visual content you post on Instagram.
For this reason, you'll need to choose a color palette to adhere to when creating an Instagram theme. Perhaps you choose to use brand colors. HubSpot's Instagram, for instance, primarily uses blues, oranges, and teal, three colors prominently displayed on HubSpot's website and products.
Alternatively, maybe you choose one of the themes listed above, such as black-and-white. Whatever the case, to create an Instagram theme, it's critical you stick to a few colors throughout all of your content.
2. Use the same filter for each post, or edit each post similarly.
As noted above, consistency is a critical element in any Instagram theme, so you'll want to find your favorite one or two filters and use them for each of your posts. You can use Instagram's built-in filters, or try an editing app like VSCO or Snapseed. Alternatively, if you're going for a minimalist look, you might skip filters entirely and simply use a few editing features, like contrast and exposure.
Whatever you choose, though, you'll want to continue to edit each of your posts similarly to create a cohesive feed.
3. Use a visual feed planner to plan posts far in advance.
It's vital that you plan your Instagram posts ahead of time for a few different reasons, including ensuring you post a good variety of content and that you post it during a good time of day.
Additionally, when creating an Instagram theme, you'll need to plan posts in advance to figure out how they fit together — like puzzle pieces, your individual pieces of content need to reinforce your theme as a whole. To plan posts far in advance and visualize how they reinforce your theme, you'll want to use a visual Instagram planner like Later or Planoly. Best of all, you can use these apps to preview your feed and ensure your theme is looking the way you want it to look before you press "Publish" on any of your posts.
4. Don't lock yourself into a theme you can't enjoy for the long haul.
In middle school, I often liked to change my "look" — one day I aimed for preppy, and the next I chose a more athletic look. Of course, as I got older, I began to understand what style I could stick with for the long haul and started shopping for clothes that fit my authentic style so I wasn't constantly purchasing new clothes and getting sick of them a few weeks later.
Similarly, you don't want to choose an Instagram theme you can't live with for a long time. Your Instagram theme should be an accurate reflection of your brand, and if it isn't, it probably won't last. Just because rainbow colors sound interesting at the get-go doesn't mean it's a good fit for your company's social media aesthetic as a whole.
When in doubt, choose a more simple theme that provides you the opportunity to get creative and experiment without straying too far off-theme.
HubSpot uses the information you provide to us to contact you about our relevant content, products, and services. HubSpot will share the information you provide to us with the following partners, who will use your information for similar purposes: Mention. You can unsubscribe from communications from HubSpot at any time. For more information, check out HubSpot's Privacy Policy. To unsubscribe from Mention's communications, see Mention's Privacy Policy.
2023 Instagram Engagement Data Report
New data to help you shape your Instagram strategy
Posting Strategy
Hashtag Use
Global Trends
And more!
Loading your download form
How to Use an Instagram Theme on Your Profile
1. Choose what photos you want to post before choosing your theme.
When you start an Instagram theme, there are so many options to choose from. Filters, colors, styles, angles — the choices are endless. But it's important to keep in mind that these things won't make your theme stand out. The content is still the star of the show. If the images aren't balanced on the feed, your theme will look like a photo dump that happens to have the same filter on it.
To curate the perfect Instagram theme, choose what photos you plan to post before choosing a theme. I highly recommend laying these photos out in a nine-square grid as well so you can see how the photos blend together.
2. Don't forget the captions.
Sure, no one is going to see the captions of your Instagram photos when they're looking at your theme in the grid-view, but they will see them when you post each photo individually. There will be times when an image you post may be of something abstract, like the corner of a building, an empty suitcase, or a pair of sunglasses. On their own, these things might not be so interesting, but a thoughtful caption that ties the image to your overall theme can help keep your followers engaged when they might otherwise check out and keep scrolling past your profile.
If you're having a bit of writer's block, check out these 201 Instagram captions for every type of post.
3. Switch up your theme with color blocks.
Earlier, we talked about choosing a theme that you can commit to for the long haul. But there's an exception to that rule — color transitions. Some of the best themes aren't based on a specific color at all. Rather than using the same color palette throughout the Instagram feed, you can have colors blend into one another with each photo. This way, you can include a larger variety of photos without limiting yourself to specific hues.
A Cohesive Instagram Theme At Your Fingertips
Instagram marketing is more than numbers. As the most visual social media platform today, what you post and how it looks directly affects engagement, followers, and how your brand shows up online. A cohesive Instagram theme can help your brand convey a value proposition, promote a product, or execute a campaign. Colors and filters make beautiful themes, but there are several additional ways to stop your followers mid-scroll with a fun, unified aesthetic.
Editor's note: This post was originally published in August 2018 and has been updated for comprehensiveness.