This past summer I managed the largest acquisition campaign in my company's history. I work at HubSpot, a marketing software company that popularized lead-gen campaigns and the whole idea of "inbound marketing," so this is no small feat (we've run massive campaigns over the years).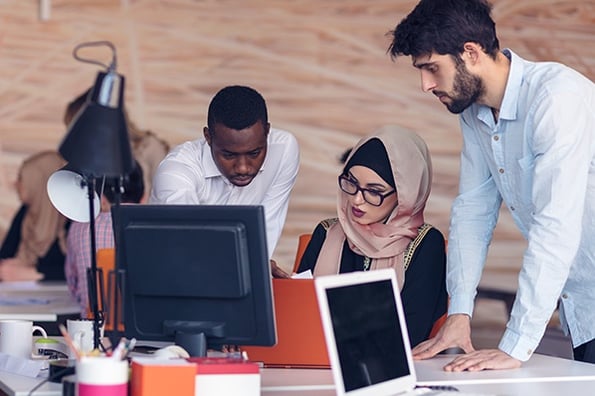 The campaign, Four Days of Facebook, drove 10x the number of average leads of a typical acquisition campaign and 6x the lifetime value of projected customers.
But I didn't do it alone. This campaign involved 11 teams and 33 people who directly contributed to the work.
Cross-functional campaigns like this can be big, complicated, and challenging which is why they so often take a boss or recognized leader to make them happen.
So I wanted to share my experience as a "non-boss." I hope it encourages other individual contributors out there to get their co-workers in other departments excited about working on high-impact, cross-functional projects.
Pre-Planning: Create Alignment
You won't have all the answers on day one, but make sure every conversation you're having at this stage focuses on one thing: impact. You'll be asking a lot of people to work hard on something outside of their normal day-to-day, make it clear that your asks will translate into business results.
Meet with senior leaders of each team before you ask for their employees commitment on helping. Again, make it clear that you won't be wasting anyone's time, you're out to generate big results.
Have a kickoff meeting with the team who will be responsible for delivering the work. At a high-level, you want to let everyone know that you have senior leadership buy-in and the project will be worth their time. On a more tactical level, you'll also want to get people up-to-speed on the tools you'll be using to manage the project.
Go the extra mile to develop a team culture for your team. You know how developers name their projects crazy-sounding names? It's surprisingly effective! Give your temporary team a name that makes people feel like they're a part of something, set up an email alias, and create a Slack channel. Get people excited!
Throughout the pre-planning stage, keep your vision front and center. For Four Days of Facebook we were partnering with Facebook, a fact I repeated constantly.
If people are excited and engaged with your vision, they'll put up with the inevitable bumps as you achieve lift-off.
During: Maintain Momentum
The Progress Principle is the idea that humans love the satisfaction of wins, even if they're small. It's your best friend as you seek to keep multiple teams and dozens of people aligned and moving in the right direction–constantly show (and celebrate) forward progress.
Display it: I put together a registration goal waterfall chart that was updated everyday to show progress. It's motivating to close-in on and cross that goal line.
Never shut up about it: I linked to information about this campaign in my email signature, Slack rooms, wherever I had the attention of my co-workers. And that information was short, sweet, and up-to-date.
Be a good partner: You're not technically the manager of the people on a cross-functional team, but you should implement some management best practices: give people autonomy, figure out how they like to work and what kind of support they need from you.
Ask for feedback: I asked questions constantly– Is this system or process working for you? Can I set up these reports in an easier way? At one point during this campaign I asked the senior manager of a few folks working on the project if she had thoughts on how I could run it better, she told me she would love to see weekly updates sent to her and other senior managers. I was avoiding this as I didn't want to clutter inboxes, but it ended up being one of my best tools for building internal momentum around the campaign.
Don't overlook the fundamentals of good project management. A framework like DARCI makes roles & responsibilities super easy so you the project lead can just say, "This meeting is for people who are Responsible and Accountable only, we'll be covering deadlines for next week", or "This meeting is for people that need to be Informed, it'll be a milestone check-in."
Find a project management framework, and stick to it.
Wrapping Up: Close-The-Loop
I run four to five acquisition campaigns at HubSpot every quarter and running a campaign of this size and impact was a complete rush and I can't wait to do it again. But before jumping into the next big project, it's important to do a clean wrap-up, I want people to be excited to work with me and my team again in the future.
Say thank you: Do it publicly via a company announcement or email, and privately. I wrote handwritten notes to every person who contributed to this campaign.
Share results soon: Share the quantitative results, but don't miss Twitter comments from attendees, feedback from partners, or the accolades of your co-workers. This is your chance to make it clear that you promised impact and delivered it.
Look for improvement opportunities: Because no matter how successful your campaign was, there are opportunities to do better. Were any deadlines missed? Why? Did any team members not work well together? Can this be addressed?
It's easy to get stuck in a rut of executing one marketing campaign after the next, and it's scary to think about leading a big cross-functional project that could potentially fail publicly.
But so often the answer to higher impact is better collaboration. Learning how to lead across teams 10x'ed the impact I was having at my company, I hope it does the same for you.