While you might have been going live on both Facebook and Instagram since 2016, LinkedIn has recently decided to join the live streaming platforms.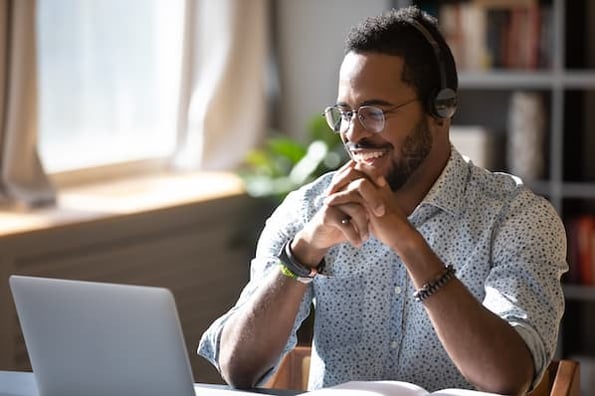 In fact, in February 2019, LinkedIn Live was launched to individual users. It was just recently announced that LinkedIn Live would also become available to business pages.
While your business page might not have live capabilities yet, once it's available you can use it to launch new products, demonstrate thought leadership, and boost your content strategy.
In this post, we'll look at how seven brands have been doing that with LinkedIn Live.
LinkedIn Live Examples
Vimeo's Working Lunch
MIT's Commencement Ceremonies
BCG's Advice for the Graduating Class
Hootsuite's Brand Partnership Announcement
Thrive Global's AMA with Ariana Huffington
Gong.io's Interactive Blog
PwC Sweden's Recruitment Panel
When Vimeo received access to LinkedIn Live, the brand started to showcase a weekly show called "Working Lunch."
With this series, Vimeo used the popular "lunch and learn" format. They sat down with experts in business, tech, and communications to educate their audience.
In fact, this is a great example of how to use LinkedIn Live to reach your audience with serialized content. A series gives your followers something to look forward to on a regular basis. It'll keep them coming back for more.
Additionally, Vimeo's series is a great example of educating your audience. Inbound marketing focuses on being helpful and providing educational content, and you can use LinkedIn Live to support those efforts in an interactive way.
Celebratory events, like graduation ceremonies, are a great way to connect your audience and attract new talent.
MIT did this on a brand new scale by live-streaming its commencement ceremonies in 2019. This helped the brand celebrate a big moment, while also transporting its audience who couldn't be there to a live celebratory event.
Boston Consulting Group (BCG), a management consulting firm, partners with leaders in business and society to tackle their most important challenges and capture their greatest opportunities.
LinkedIn, in general, is a great place for them to inspire young professionals and engage with their community.
BCG decided to do this on LinkedIn Live by live streaming advice for the graduating class from Elliot Vaughn, its partner & managing director.
This was also a great way to demonstrate experience, foster a relationship with its audience, attract new talent, and promote brand awareness.
Hootsuite is an excellent example of using LinkedIn Live to reach its audience in an innovative way.
In this example, Hootsuite went live to educate audiences on Google My Business, while also announcing a strategic partnership that showcased innovation.
In this discussion, a panel discusses how to improve your Google My Business listing. They also announced that you can now do all of this through Hootsuite.
Using LinkedIn Live, Hootsuite's expert panel discussion was used as a way to announce a strategic partnership to its audience.
Thrive Global is a brand that offers companies and individuals sustainable, science-based solutions to enhance both mental and physical well-being and performance.
At its core, interacting with its audience is one of the most important elements of Thrive Global's LinkedIn strategy.
To interact with its audience on LinkedIn Live, the brand decided to host a live AMA with its founder, Arianna Huffington.
In this video, they discussed effectively communicating at work, while also answering questions from its audience.
Additionally, live video allowed them to educate their audience and foster real communication.
As we mentioned before, LinkedIn Live is a great tool to boost your content strategy. You might be wondering, "How?"
Let's look at Gong.io for this example.
Gong.io decided to host a weekly live show on LinkedIn Live that was inspired by existing content.
This meant that they repurposed previous blog content by adding live video, which made it more interactive.
Additionally, this was an excellent way to promote their content. When a brand goes live on LinkedIn, a notification is sent to its followers, which lets them know that something is happening right now.
LinkedIn is one of the top tools for recruiters, so you might be wondering, "How can we use LinkedIn Live for our recruitment efforts?"
It's a great question.
In this example, PwC Sweden, a global consulting firm, hosted a casual panel discussion with its employees on what it's like to work there.
Employees discussed why it's an awesome place to work, and were able to authentically showcase why.
This conversation helped promote its talent brand in an interactive way.
Additionally, you can also use LinkedIn Live to showcase your office space or interview hiring managers about how to get hired by your company.
Ultimately, LinkedIn Live is a great tool to reach your audience. You can educate, interact, inspire, and promote your own brand through this medium.