If Google were a person, it would be standing at the front door of your home, asking, "Can I come in?"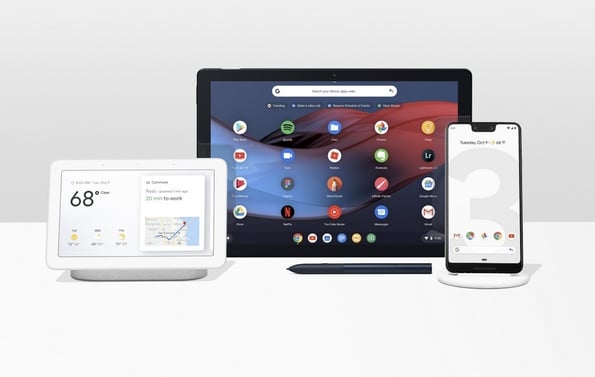 In a way, that was one of the chief takeaways from today's Made by Google event: an annual product unveiling hosted by Google where it formally announces the launch of its new hardware, like mobile devices and smart speakers.
In previous years, all eyes have been on the Google Pixel: the company's own smartphone that, when first launched, was seen by many as its answer to Apple's iPhone.
But seeing as the weeks leading up to the event were plagued by a cascade of product leaks regarding the Pixel 3 (of which Google tried to make light with an opening video montage of leaked video), putting the spotlight on this one product would have been anti-climactic, to say the least.
And while the event didn't stray from the Pixel 3 entirely, any talk of it was part of a broader focus shift -- to how to Google-fy your home, and your life.
Here's how to do just that -- and the three biggest takeaways from this year's Made by Google event.
The Rise of the Ecosystem
Let's have a look at three of the biggest companies within the tech sector: Amazon, Apple, and Google.
All three of these companies started out known for one, core product or service: buying books online, computers, and a search engine. But now, they're all known for so much more -- many of them within the same product category.
All three make tablets. All three make smart TVs, or accessories to support them. And all three make smart speakers, each one powered by the brand's own voice assistant (Alexa, Siri, and Assistant, respectively). And each brand's hardware products are built to work in tandem with each other -- and not work as well with similar products with other brands.
That's what we call a product ecosystem.
Google Hub works with Nest, which Google owns. Amazon's Echo Show works with Ring, which Amazon owns. Battle between Google and Amazon is more than just for hardware, it's for the whole platform in your home. #MadeByGoogle pic.twitter.com/COtO99DUyB

— Eli Blumenthal (@eliblumenthal) October 9, 2018
3 New Products Announced at Made By Google
The Google Home Hub, its video-equipped smart speaker, which seemed to dominate a good chunk of time at the event.
The Pixel Slate, its tablet.
The Pixel 3.
The Google Home Hub is arguably at the center of the company's product ecosystem. It's powered by Google Assistant, and allows users to both see and hear responses to queries (ranging from "What's the weather?" to "What's a recipe for banana bread?").
But the Hub is also equipped to control other Google-owned or branded devices, including those that are made specifically for the Home (such as Nest, a company owned by Google that makes "smart" devices like thermostats and security cameras).
Owners of these Google-made devices have always been able to control them through Assistant. But depending on what they're using to prompt Assistant, it may have been a fragmented experience. For instance, if you don't own a Google Home smart speaker or a Google phone, you'd have to open a separate app to use Assistant.
One of the goals of the Hub, it seems, is to make that process more seamless, and create a single hardware destination where users can control every device in their home, and get information in an audio-visual way. They can play music on their Google Homes. They can cast a TV show to their smart TVs using Google Chromecast. They can turn their Nest cameras on and off.
This particular product has the potential to make longtime iPhone users finally jump into a fully Google-branded home ecosystem. As a stubborn iPhone user myself, I can also admit to owning a Google Home, Nest cameras, and a Google Chromecast. So why not own add a device to the collection that can cohesively manage all the others?
Then, add the Pixel 3 to the equation. Sure, its official debut today was preceded by an unprecedented number of leaks. But it serves as another channel or platform to seamlessly manage many of the devices I already own in one place. Plus, it's equipped with a feature that lets you screen for telemarketers and automatically ask them not to call you again -- without even picking up. (And how cool is that?)
Source: Google
Google Knows It Started as a Search Engine -- and That Will Bleed Into All of Its Products
One of the first statistics cited at today's event paid tribute to Google's origins as a search engine. Search queries made on Google Home, said Google's VP of Product Management Diya Jolly, have gone up 400% over the past year.
In many ways, the evolution of Google's foray into hardware is rooted in its position as a leader in search. Many of these devices, while equipped with multiple functionalities, serve as physical distribution channels for users to find information through Google.
These aren't just simple links with possible answers to questions like, "Who was the 26th president of the U.S.?" For a while now, Google has shown signs of potentially (and eventually) removing a list of links from its search results completely, by way of surfacing quick answers in a featured snippet at the top of the results page.
Source: Google
Devices like the Hub serve as yet another way to get those quick answers, but in a variety of formats. A search for how to do something could yield an instructional video result from YouTube (also owned by Google), which can be immediately played on the Hub, the Assistant app, or on Google phones that come equipped with Assistant (similar to how iPhones are equipped with Siri, Apple's voice assistant).
Even the Pixel 3 plays a part here. Not only is Assistant built into it, it automatically equipped with assistant, but its camera will come equipped with Lens: Google's artificial-intelligence (AI)-powered image recognition technology that allows the camera to recognize objects and text.
For example, if a camera with Lens capabilities hovers on a takeout menu, it can recognize the restaurant, Google says, and pull up its phone number. If your friend is wearing a shirt you like, the camera will recognize its brand and tell you where to buy it.
Source: Google
Lens serves as another way for users to find information, albeit a quasi-futuristic one that has yet to be proven by public use. But information-finding is at Google's core -- and it seems that it will continue to be for future generations of its hardware to come.
Putting the User First
What Google will tell you about the connected nature of these products is that they're all designed with one thing in mind: making life easier for the user.
Does that mean permeating all facets of the user's home and life? Maybe. But it also means making sure that the user can quickly and seamlessly find the information she needs across the suite of these devices and the technology that powers them -- whether it's a question about history, a flight reminder, or a question about the weather.
What's more, is that information-finding mission is paired with personalization. Many of Google's historical search algorithm updates, for example, have been made with the purpose of making search results more relevant to the user. That's underscored by the company's VP of Hardware Rick Osterloh calls a "deep responsibility to provide you with a helpful, personal Google experience ... that guides the work we do."
Now, that personalization will surface in more places. Call it what you will -- commercialization, or an effort to sell more products under the same company's umbrella. But here's the thing: It could work.
Convenience, relevance, and personalization more important to consumers than ever. And those three things are connected. Information that isn't relevant seems like a waste of time. And if it's not personalized, that sends the message that it was conveyed by someone who doesn't care about what we want or need -- also not a good use of our time.
So maybe we can all observe a lesson from Google here -- despite its missteps. Make life easier for your audience through whatever product, service, or content you offer. If that comes in multiple forms, make sure life is even better when they're used in tandem (but that they still function just as well on their own). And above all else: Solve for the humans at the other end of everything you do.