As a rule, San Francisco is beautiful in October.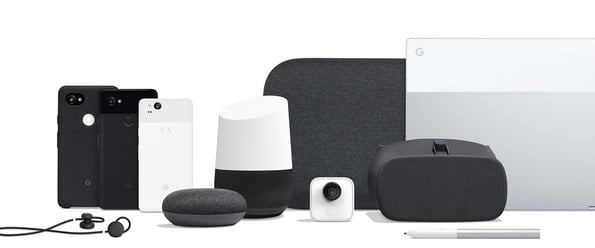 Yesterday was no exception. Outside of the famed SF Jazz venue, it was sunny, with a just-right amount of crispiness in the air.
But inside the venue, there was shade -- lots and lots of shade.
The event had many names, ranging from the "Google Hardware Event" and "Pixel 2 Event," to simply, "Made By Google." By any other name, it was a large-scale unveiling of the latest generation of Google hardware products, ranging from phones to virtual reality (VR) headsets.
And coming on the heels of similar events from both Apple and Amazon, that's where the shade came in: Google wanted to make sure that the audience knew its new products were easier to use, more competitively priced, and not ruined by advance leaks.
Jabs were thrown. There was talk of the "other" guys, so to speak. And I have to admit: the things unveiled were really cool.
But mirror, mirror, on the wall: which product release is the most fly of all? Naturally, I have my own opinions on the matter -- but I want to let you decide. That's why I recapped everything that was unveiled at the event, along with some of my own thoughts on each new release and what it indicates for future developments in tech.
Everything Unveiled at the #MadeByGoogle Event
1) Pixel Buds (My Vote for Coolest Product Reveal)
Price: $159
Bear with me, as I know that earbuds are, traditionally, far from the "neatest" thing to premiere at events like these, especially since -- unlike Apple's, for example -- these aren't completely wireless. But watch this live demo from yesterday's event, and you'll see what I mean:
Come on. How cool is that? And how helpful might it be in a time when businesses have a growing international presence and relationships? That is -- if the technology functions as it was designed, as USA TODAY'S Eli Blumenthal put it:
Pixel Buds promise real-time translation, which if it works in real life as well as it does in this demo would be incredible.

— Eli Blumenthal (@eliblumenthal) October 4, 2017
The Pixel Buds -- as with most of the devices debuted yesterday, which you'll see below -- also come equipped with Google Assistant, which can be activated by pressing the right earbud. And, like many of Assitant-ready devices, it can remind you about calendar items and let you know if you've received a new text message.
Sound familiar? That's because these features are, in a way, drawn from both the Apple Watch and AirPods.
2) The Phones: Pixel 2 and Pixel 2 XL
Price: Pixel 2 -- $649 | Pixel 2 XL -- $849
Here's where some of the shadiest remarks (to the delight of the audience, I might add) began to appear. During the product demo and explanations of the latest generation of Pixel phones, Google's VP of Product Management casually uttered:
"We don't set aside better features for the larger device."
It was a jab, of course, at Apple, whose iPhone X comes with somewhat significantly better features (and a higher price tag) than its smaller iPhone 8 and 8s.
But as for the Pixel's own new features, the spotlight seemed to be on its continuously impressive camera. It comes with portrait mode capabilities -- which, yes, also apply to selfies -- with a single lens. That also contrasts from the "other guys," like the latest Apple device cameras, which require two camera lenses to pull off the same photo quality.
But perhaps an even more significant feature of the latest Pixel generation is Google Lens: an AI-powered visual recognition system that recognizes objects like art, landmarks, and local businesses just by having the camera pointed at them. This technology had been alluded to earlier this year, and now, Pixel owners will be the first to preview it.
Source: Google
"But wait -- there's more!" as the saying goes. Those who buy a new Pixel model will be treated to a Google Home Mini, which I'll get to next.
3) Google Home Mini and Max
Price: Mini -- $49 | Max -- $399
First, let's go over some of the new features of the Google Home and the Assistant technology that comes with it.
Google Home and Assistant Features
This portion of the event made it clear that Google has followed the recent trend of making in-home personal assistant technology a family affair. With more of these devices boasting the ability to recognize and maintain accounts for multiple users, at some point, there has to be a kid-friendly option.
That was the inspiration behind a host of new features, like telling a bedtime story. But it's not all fun and games -- with the new Broadcast feature, you can also push a daily morning reminder to devices placed in kids' rooms, for example, that "it's time to get ready for school."
(Anyone else really glad that wasn't a thing when they were in school?)
The efforts to make features more seamless across various Assistant-equipped devices seem to be progressing, as well. Many of these fall under the category of helping users maintain a routine using the Made By Google family of tools -- for example, one presenter spoke of a feature that allows users to remotely send a voice message via their phones that will then be broadcasted on Home devices. It's a great way to let your family know that you're on your way home with a pizza, or to freak them out.
Plus, it sounds like a great way to freak out anyone standing near your Home device -- just in time for Halloween. pic.twitter.com/QGct2UdTWt

— HubSpot (@HubSpot) October 4, 2017
What didn't come as a surprise, but was still nice to see, was the Google Home and Assistant's integration with Nest, a manufacturer of smart home and automation devices. Now, among other tricks, you can ask Assistant to display video from a security camera feed if you've been alerted that there's movement in your home. (The Nest CTO used the extremely lovable example of using this feature to find out that the movement near her front door was not an intruder, but rather, her pet pig.)
Mini
The Home Mini is essentially Google's response to the Echo Dot. (The prices are just about equal, with the latter priced at $50.) There isn't really much to say about its features, as I covered most of that with the Assistant recap above, but in my humble opinion: It's a bit prettier than its Amazon competitor. According to the presentation, the design team tested about 157 shades of gray before selecting the one that will go to market, along with two other color options. Plus, it's covered with durable fabric, giving it a bit less of an industrial look-and-feel than the Echo Dot.
Max
It was only a matter of time before Google threw its hat into the compact home speaker ring. Enter Google Max: the first speaker powered by Smart Sound, an AI-powered learning system that helps users play and identify songs. For example, if you hum the tune of a song that you don't know the name of, Smart Sound is designed to recognize -- a feature that I'll believe when I see (and hear) it for myself, despite DJ Diplo's successful experience with it.
Max can be paired with a number of music streaming services. In fact, music seemed to be at the center of several product features unveiled yesterday -- including the Pixelbook, up next.
4) Pixelbook
Price: $999
A note on the price: We'd like to point out that this price tag is, while a bit higher than some might like, the same one that's been assigned to the iPhone X. What seems different between the two, however, is that the Pixelbook is a bit of a hybrid of many of the products unveiled yesterday. First, let's go over some of the new features of the Google Home and the Assistant technology that comes with it.
To state the obvious: Yes, it's equipped with Google Assistant, which is really its primary appeal. It streamlines the Assistant features so that they can be seamlessly accessed from one's laptop or tablet -- however you wish to define it.
That's also where the Pixelbook Pen comes in: a stylus device that allows users to draw on their devices, whether for note-taking or circling words and items that they want to look up. While it's not exactly the first of its kind, it does happen to come with handwriting recognition. Like so much else that was demonstrated at the event, at its core is machine learning and AI -- a reflection of one of CEO Sundar Pichai's opening remarks:
"In an AI-first world, I believe that computers should adapt to people in their everyday lives."
The Pixelbook Pen is priced at $99.
5) Daydream View
Price: $99
If I'm being honest, this portion of the event was a bit more lackluster than others. While the new Daydream View content library will come with more games and videos -- including IMAX films -- the focus here was really on the Pixel's augmented reality (AR) features, and how, in some instances, they can be paired with the headset. Similar to some competing product reveals earlier this year, the AR technology can be used to test how furniture will look in home spaces, for example.
Plus, new AR experiences have been created in partnership with media companies like Netflix, to help users bring characters from their favorite TV shows to life. And here's a unique twist: Instead of the user just interacting with and controlling these characters, the technology is designed to allow the characters to interact with each other.
Source: Google
6) Clips
Price: $249
Here's another moment of truth: This product is ... bizarre. I'm not alone in that assessment:
This is a very deeply weird product https://t.co/CWCHPRMtYY

— Sean O'Kane (@sokane1) October 4, 2017
It seems like no one is entirely sure what Clips -- essentially a square-shaped camera -- is supposed to do, or what sets it apart from other devices in its category. Its main boasting point, according to the presentation, is that it allows users to capture moments while also experiencing them.
What?
Yeah, we thought you might as that. Okay, so here's how I understand it: It's a camera, but it's not on your phone, which means that it'll capture moments like a baby's first steps without you being preoccupied with trying to catch it on your mobile device. You can place it on a surface where these moments can be recorded, but it conspicuously lights up so that those around it know that it's currently capturing visuals.
So, what makes it different than, say, any other camera? Tada! It comes with machine learning capabilities and self-adjusts according to familiar faces and subjects that you capture the most and, therefore, the device has learned to recognize.
Source: Google
And so concludes our selection of highlights from Shade -- I mean -- Made by Google. Did I miss your favorite moment? Feel free to tweet me to let me know.