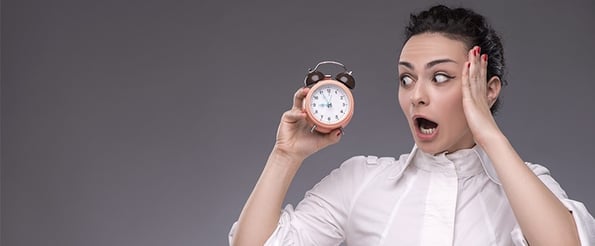 Fear of missing out, or FoMO, is a very real emotion that has gripped the world. From the ability to keep up with live news and friends' social feeds to making purchases from wherever we are, the internet has both created that fear and given us ways to appease it. As annoying as the term may be by now, the fact is the phenomenon is here to stay—this in spite of blog after blog giving tips on how to beat the fear.
You can use that fear to encourage sales on your ecommerce site. We've seen several popular ecommerce companies implement new and ingenious ways to encourage sales, simply by pointing out how close buyers may be to missing out on great deals. Want to know how you can do the same on your ecommerce site? Here are a few of the best ways.
Show Limited Quantities
Hotels.com gives a perfect example with this hotel in New Orleans. Take a look to the right of this screenshot, where a glowing yellow button tells buyers how many rooms are available at that particular hotel. This notice only shows up for hotels that have a limited number of rooms, which makes the warning more believable for buyers. If they're determined to get a room at that particular hotel for their selected dates, they have to act quickly—otherwise, they'll miss out.
ModCloth does the same with their most popular designs. Take a look at this dress, which was found on the category page. Under the photo, the company warns that a limited amount is still available. It's important to note that this warning came on the category page and not only on the product page. That means buyers see this warning among all the other styles available and immediately know two things: it's a popular dress (and therefore a pretty safe choice) and it's probably going to be gone soon.
Old Navy provides an even clearer picture of the limited quantities, but only on the product pages themselves. These yoga pants are obviously pretty popular, as you can see many of the sizes have already sold out. If a buyer is lucky enough to fit the sizes that are left, they're probably going to make a quick purchase so they don't miss out completely.
While Supplies Last
Even without an exact number to give buyers, you can prompt a sense of urgency. Take a look at this hero image from the Walmart.com site. They offer "thousands" of products at roll-back prices, which gives the impression you'll find something you like if you take the time to look.
Then they let you know there's not a lot of time to look. See, under the CTA "Save Now," they also let you know that the sale runs out when the products do. Could you take a chance on missing out? They're betting you won't.
Give Limited Time for Purchase
Wine.woot.com (and other woot.com sites) make use of time limits to encourage purchases. This site makes one special offer per day. Once the product is gone, it's gone forever. That's the premise of the site, so buyers know what they're up against the moment they visit.
The company goes one step further and lets buyers know how many hours are left in each sale, too. At the moment this screencap was taken, I had 12 more hours to make a purchase. But they also let me know that ample time left in the sale shouldn't make me comfy. There next to the time limit is the caveat: it's only available until it's sold out. I don't want to wait 12 hours to buy and still miss out, do I? They're counting on that.
Tommy Hilfiger makes great use of limited time warnings in their email marketing. Take a look at this email, which introduces warm-weather clothes at a very special price. First, we have the warning that the clothing is only for warmer weather, which puts the first time limit in place. Then, they tighten the screws a little further by stating the sale is only in place for a short time. With an ambiguous time limit, buyers consider making a purchase immediately, just in case.
With so many different ways to tap into that fear, you can certainly find a tactic that works for you. If you've tried one of these (or an option of your own), let us know how it works. We love to learn new things.