Time management is one of the hardest parts of a manager's job.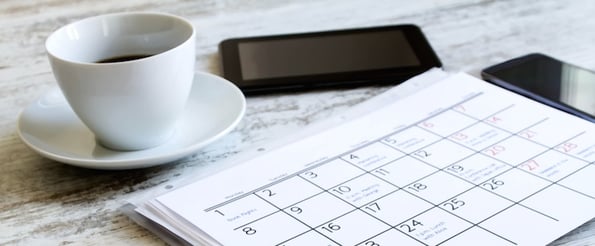 Whether you're managing a team, an asset of the company, or both, it's difficult to balance your own output and the needs of your team.
Finding this balance has a lot to do with prioritization. Do you have time to make yourself available to help your team today? Or do you need to lock yourself in a conference room and work on a big project? If something urgent comes up, what can be moved first? It's all about staying on top of your short- and long-term goals.
But that's easier said than done. How do effective managers manage their time? Here are some top tips from great managers here at HubSpot.
How Great Managers Organize Their Time
1) They have a system for email.
We all know email can be one of the biggest time sucks, but it's also still one of the best ways for others -- including members of your team -- to reach you with questions and information. As a manager, it's especially important to be on top of what's coming into your inbox and to prioritize effectively.
Different systems work for different people, but the point is that you have to have one.
"My biggest challenge used to be email," admits Nataly Kelly, HubSpot's VP of Localization Marketing. "But I've radically simplified my inbox to a point where I only have three folders: 1) Action needed 2) Read later 3) Reference. Everything in my inbox gets moved into one of those folders, and I have filters set up to automatically route certain messages into the proper folder so I can read them when I have time," she says.
Another way to organize your inbox is using Andreas Klinger's method for Gmail -- which is my personal favorite for prioritizing email and getting to (and maintaining) inbox zero. Learn how to set that up here.
Amanda Sibley, HubSpot's demand generation manager, suggests setting aside specific time for email -- and trying not look at it in between, especially if you have a lot of your own work to get done that day. "I try to do an hour in the morning and an hour in the evening," she says.
Finally, there are some great email tools that can help streamline your emailing efforts. Boomerang for Gmail is a favorite of Melissa Miller, who manages HubSpot's marketing operations team. It's a Gmail plugin that lets you archive emails that will later reemerge in your inbox as an unread message, among other things. Miller uses it to make sure she follows up on emails that require a response in a specific amount of time.
If you haven't found a system that works for you, it's time to find one. Here are 11 inbox organization tools to try, as well as four solutions to getting "inbox zero," depending on your personality.
2) They block off time to get s*** done.
At HubSpot, we call this time "GSD time": Get S*** Done. Managers often find themselves pulled in a lot of different directions at once, and it can be borderline impossible to find time to work on your own projects if you don't block off time to do so.
HubSpot's Director of Marketing Debbie Farese literally puts blocks of time in her calendar that she labels "GSD" so folks know not to schedule anything during those times.
Our VP of Marketing Meghan Anderson does the same. "I want my team to feel comfortable booking me for whatever they need. As a result, any unbooked space on my calendar tends to fill up pretty quickly. In order to have time to myself, I make sure to 'book' myself."
Kelly finds that working from home on some days helps her focus better when she needs to. "When I work in the office, my days are fairly jammed with meetings," she says. "When I work from home, my days are far more productive. Those are the days I typically do video meetings or hangouts with our offices in other time zones."
Another method? Physically close yourself off from distractions. "I always want to be available for my team when they need me at any point in the day, so I try to be at my desk a lot," says Sibley. "But if there is something I must get done in a day -- a deck due to our CMO, for example -- then I turn off email and shut myself in a room for an hour or so until it's done."
The key, explains Sibley, is being transparent. "Be clear with your team if you need to be heads down," she says. "It adds a level of understanding and will make it easier to fully concentrate on what needs to get done."
3) They book one-on-ones in chunks.
Here's a quick hack: At the same time you're booking GSD time on your calendar, book your one-on-ones one after the other. This will help keep you on schedule, and won't break up other parts of your day.
"I hold all my one-on-ones on Tuesdays and Thursdays," says Farese. "That way, no one day is completely booked with them, and on the other hand, they're not completely spread across the week."
4) They carve time to work when others aren't.
For some managers, the best way to block off GSD time is to do it when others aren't working. That's exactly what Nathaniel Eberle, HubSpot's director of PR and brand, does: On packed days, he uses early mornings and evenings to get writing done, get a slue of emails out the door, or do some critical thinking and planning.
"Whether you're an early morning person or a night owl, carve out some time to sit down and get work done while the rest of your world is asleep," he suggests. "Or, if you're more on the average for the waking day, putting blocks on the calendar is a fail-safe way of carving out that time. Just disconnect the internet and put the phone on airplane mode."
Kelly feels the same way. "Some people think you should disconnect from work in the evenings, but that actually stresses me more," she says. "I normally catch up on email and social media in the evenings, and plan the day ahead."
5) They reprioritize effectively throughout the day.
When you're a manager, every day is different -- and that's what keeps it exciting. But needing to reprioritize as things come up is the nature of the job. The most effective managers are able to recognize which tasks need to be done immediately and which can wait -- and for how long.
So, how do you triage effectively? Ginny Soskey, who manages content strategy for HubSpot's Marketing blog, likes to think of this matrix:
Image Credit: Mind Tools
"The stuff that I should be focusing on are those in the top half: the important goals and critical activities," says Soskey. "I try to minimize the time I spend on the low importance and low urgent tasks."
To keep herself on track, she tries to assign her to-do list items to each of those buckets at the beginning of the day. When things crop up, instead of jumping head-first into fixing them, she uses this matrix to evaluate how quickly she needs to respond.
Emma Snider, who manages the Sales blog at HubSpot, emphasizes the need to put the people who report to you first when you can. "I never want to be the roadblock for my team to get anything done," she says. "I don't want them to have to say they're waiting on me for guidance or for an edit. I try to be reactive when things come in."
That's where balancing your team's needs and your own gets tricky. "Know what your goals are," suggests Sibley. "Ask yourself at a given time: Are you 100% there to help your team? Or do you also need to be heads down to edit, for example? Plan out your days accordingly based on what you must get done in that day."
6) They make time for physical exercise.
It's all too common for people to put business first -- even above family, friends, and especially health. But you aren't doing yourself or your team any favors by slacking on your health. When you stop exercising, you put your physical and mental health at risk. With the loss of both, your productivity and effectiveness as a manager can easily go downhill.
"I start nearly every morning very early -- at around 4:30 A.M. -- with a workout," says Kelly. "That's my #1 tip for balancing the day, even though it's hard to fit it in. On the days I don't exercise, the day just isn't as productive, no matter what."
Bonnici has a similar approach, except he blocks from 12:00–1:00 P.M. every day for a run, a swim, or catching up with a friend. "I need to do this," says Bonnici. "If I don't, I'm far less effective throughout the rest of the day."
7) They keep meetings action-focused.
Nothing's more frustrating than an unproductive meeting. We could all use fewer ineffective meetings and more time we're able to spend, you know, doing actual work. As a manager, you'll often find yourself running these meetings -- and it's up to you to make sure everything you talk about has a purpose.
Ryan Bonnici, HubSpot's Director of Marketing for Asia Pacific and Japan, suggests preparing a meeting agenda and sending it to attendees in advance. "I don't like doing meetings without having context in advance, an agenda of what we're discussing, and so on," he says. "That way, we can all make the most of our time."
Kelly suggests preparing for meetings by creating a simple, three-column table in a Google Doc or other template.
"When the meeting starts, in the left column, jot down the topic," she says. "In the middle, jot down major discussion points. In the right column, add action items. This ensures that there is never a discussion without a clear action item." When the meeting's over, you can send the meeting notes in an email.
Read this blog post for more tips on running effective meetings (and only effective meetings).
8) They practice gratitude.
Think this is a random addition to the list? Turns out keeping a gratitude journal increases productivity, according to a slue of academic studies out of Harvard, Yale, Stanford, UC-Berkeley, and Columbia.
Here's how it works: Writing down what you're thankful for increases happiness. Happiness increases productivity. So, practicing gratitude is one of the most underrated tools for increasing productivity.
"Believe it or not, I really find that gratitude creates a more balanced day," says Kelly. "I like using Postagram app for iPhone. I use it to snap a quick photo, type a quick thank-you note to someone, and then they receive an actual, physical card. In a world where everything is digital, it helps make a message as important as a thank-you really stand out."
9) They use productivity tools.
Every person and team has their own style, but every team should be using some sort of project management tool. The HubSpot blogging team uses Trello, for instance, which lets you drag, drop, color-code, and manipulate to-do list items in a way that many of the other tools don't.
Here are just a few great tools for personal and team to-dos. You can find many more by reading this list of the best to-do list apps and this blog post on project management tools.
Google Drive is a simple, yet very powerful tool for managers. Anderson says she relies heavily on it -- for everything from taking notes during your one-on-one meetings, to tracking goals and budgeting spreadsheets. The best part? You can access it on any device. (Here are some Google Drive tips to get you started.)
Asana is Bonnici's go-to personal and team productivity tool. It's a user-friendly app created by Facebook co-founder Dustin Moskovitz that lets you create tasks, assign them to team members, set due dates, add notes, attach files, create internal checklists, and communicate with others through comments.
Bonnici uses it for everything from project management to one-on-one tasks. "It keeps everything contextual to a project or group of tasks," he says. "Compare that to prioritizing based on random emails, which can be disorganized and hard to follow and triage."
ClickUp is an all-in-one productivity platform that helps you manage projects, track goals, create to-do lists and tasks, and seamlessly collaborate with your team — all in one place.
With ClickUp, you can manage your team's time with its time tracking features, chat with your coworkers with its in-app chat feature, proof and annotate images, and create reports and dashboards for stakeholders.
Finally, most managers find that teams benefit from using an internal messaging service, like Slack or HipChat. "As a team, we use Slack to keep global offices connected, cut down on emails, and stay in-sync," says Anderson.
Slack has a particularly simple and flexible platform that works across many different devices. Plus, it has a strong search capability and management of uploaded files, making it the go-to choice for many teams.
What tips do you have for managing your time as a manager?