In some circles, market research is a catch-all term for asking the industry what it wants. "Do we know what the demand is for this product? Who's even looking for our services? Let me do some market research to find out," someone might say.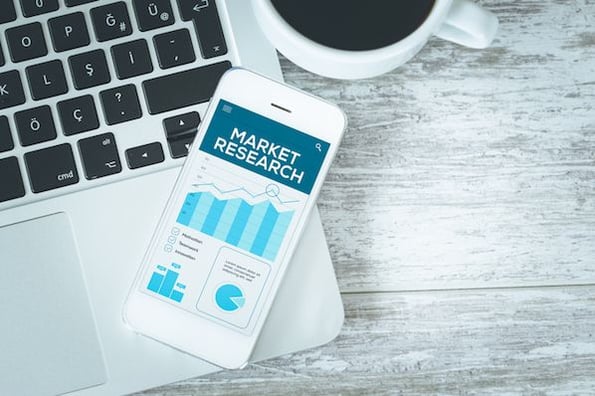 But what does that actually mean?
Here's a simple definition of market research that encompasses all the possible goals of this practice, in fewer than 100 words:
Market Research Definition
Market research is the process of examining an industry's buyers, the product these buyers want, and where they're currently getting it. By engaging the right people and data, a business can use this research to position itself in the market and predict where the market will go in the future.
Market research can answer various questions about the state of an industry, but it's hardly a crystal ball that marketers can rely on for insights on their customers. Market researchers investigate several areas of the market, and it can take weeks or even months to paint an accurate picture of the business landscape.
However, researching just one of those areas can make you more intuitive to who your buyers are and how to deliver value that no other business is offering them right now.
Certainly you can make sound judgment calls based on your experience in the industry and your existing customers. However, keep in mind that market research offers benefits beyond those strategies. There are two things to consider:
Your competitors also have experienced individuals in the industry and a customer base. It's very possible that your immediate resources are, in many ways, equal to those of your competition's immediate resources. Seeking a larger sample size for answers can provide a better edge.
Your customers don't represent the attitudes of an entire market. They represent the attitudes of the part of the market that is already drawn to your brand.
Why is market research important?
Market research allows you to get information from a larger sample size of your target audience, eliminating bias and assumptions so that you can get to the heart of consumer attitudes. As a result, you can make better business decisions from knowing the bigger picture.
Here are some examples of insights you can gain from market research:
Consumer attitudes about a particular topic, pain, product, or brand
Whether there's demand for the business initiatives you're investing in
Where to advertise or sell to (geographically or online)
Unaddressed or underserved customer needs that can be flipped into selling opportunity
Attitudes about pricing for a particular product or service
Getting answers to these questions based on real data can help you make sound business decisions and minimize risk.
Types of Market Research
To give you an idea of how extensive market research can get, consider that it can either be qualitative or quantitative in nature -- depending on the studies you conduct and what you're trying to learn about your industry. Qualitative research is concerned with public opinion, and explores how the market feels about the products currently available in that market. Quantitative research is concerned with data, and looks for relevant trends in the information that's gathered from public records.
Let's talk about four different types of market research studies you can conduct, a potential goal of each one, and how these studies help you better understand your market.
Interviews
Qualitative information
Interviews are the personal, one-on-one conversations you can have with the buyers in your industry. You can conduct interviews in person or over the phone.
Your interviewees can answer questions about themselves to help you design your buyer personas. These buyer personas describe your ideal customer's age, family size, budget, job title, the challenges they face at work, and similar aspects of their lifestyle. Having this buyer profile in hand can shape your entire marketing strategy, from the features you add to your product to the content you publish on your website.
Focus Groups
Qualitative information
Focus groups are similar to interviews, but in this case, you're assembling a large group of people for one shared interview. A focus group consists of people who have at least one element of your buyer persona in common -- age or job title, for instance.
This type of market research can give you ideas for product differentiation, or the qualities of your product that make it unique in the marketplace. Consider asking your focus group questions about (and showing them examples of) your services, and ultimately use the group's feedback to make these services better.
Surveys
Quantitative information
Surveys are a form of quantitative research, and you can distribute them over the phone, via email, or through an online survey. A survey could cater to people who've downloaded content from your website or interacted with a member of your business.
Enough completed surveys can help you determine your customer satisfaction level. This denotes how happy your customers are with what you're selling them. You might include questions like, "How well did we solve your problem?" and "Would you recommend our product to a friend?"
Secondary Data
Quantitative information
The interviews, focus groups, and surveys are all sources of primary data. Secondary data, on the other hand, is the public information -- online and offline -- that characterizes your industry. This includes competitor websites, social media business pages, trade magazines, market reports, and even census data published by the government.
If you examine enough secondary data, you can learn how much brand awareness you have in the marketplace compared to the companies that provide the same product or service as you.
The market research you perform doesn't have to include every source of information described above. What data you collect will depend on the needs of your business and what you might be most interested in at the moment.
Editor's note: This post was originally published in July 2018 and has been updated for comprehensiveness.