If you're in the business of content marketing, there is a 100% chance you need marketing statistics.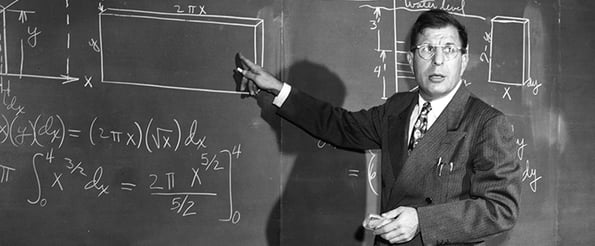 Statistics lend authority and weight to your blogs, ebooks, and social media posts. Using accurate data in your original content is powerful way to communicate that you've done your research. However, not all statistics are worth citing. Your research could have a negative effect on your online reputation if you fail to verify the source, accuracy, or recency of the statistic.
Your organization's reputation is built by the information you publish online. As content marketer Britt Brouse points out, it's crucial to become something of a "data authority" in your niche. You need to know who's publishing the most accurate and up-to-date information, so you can cite it accordingly.
To help you get a leg up on creating content that will help you establish thought leadership, I've compiled a list of 9 of the most reputable and reliable resources for fresh marketing statistics. Use these sources for insight discovery, professional education, and adding some intellectual weight to your content marketing:
A search engine exclusively for inbound marketing and consumer statistics? Sounds almost too good to be true. Self-described as a "research discovery engine," Factbrowser compiles the latest power stats on business and technology from reputable sources, like Nielsen, Forrester, Gartner, Google, and more.
It's easy to search statistics by recency, category, and type of research. Use this as a tool for discovering stats for your content and opportunities to dig deeper into the latest high-quality research.
HubSpot's Not Another State of Marketing report features data and trends from over 3,400 marketers. Covering topics from Account Based Marketing to SEO to Email. This state of marketing report not only provides marketers with data, but includes 9 articles from HubSpot strategists and partners. Helping marketing leaders navigate tough strategic decisions.
It's a must-read for anyone considering changes to their marketing strategy to exceed their goals.
Need some quick inspiration, or an overview of what's going on in the industry? Marketing Charts is designed exclusively as an informative tool for busy marketing professionals. Their graph and chart-rich blog posts reveal some of the latest and most significant findings culled from major research reports and surveys.
The site aims to present the latest data in an easy-to-consume format "devoid from...hype and silliness." Take advantage of this site's search functionality, or become a regular reader for content calendar inspiration.
One of the industry's best-respected and most-beloved research reports, Content Marketing Institute (CMI)'s annual report includes actionable insights culled from their audience of 100,000+ inbound marketing professionals.
The annual research includes serious insight into challenges, successes, and methodologies that are taking hold in the industry, as well as some honest truths about what your more effective peers are doing differently. Best of all, the research is demarcated by B2B and B2C marketers, as well as along industry lines for highly specific information.
If there were such a thing as a brain trust of the world's best marketers, it would be the CMO Council. This organization represents more than 8,500 marketing and advertising executives worldwide, many of whom work at enterprise organizations.
Their free research reports, which include a special focus on digital advertising and mobile marketing, are pretty much a goldmine of information about the cutting edge of marketing. Culling these research reports and the council's blog for fresh research is a seriously effective way to infuse your content marketing with authoritative stats
Need a relevant figure or fact, and need it fast? HubSpot's great big list of marketing statistics is pretty much a poorly-kept industry secret among content marketers.
Not only does this massive list of accurate and trustworthy facts and figures include convenient categories like "SEO" and "lead generation" for convenient access, all statistics are linked to the original source. Bookmark this web page, and rely on it often, especially when you're on deadline and in a bit of a pinch.
This platform is a data-conscious inbound marketer's best friend. eMarketer operates by compiling data from "thousands of sources" into super-accurate, easy-to-consume reports, dashboards, and insights.
While access to the platform requires a paid subscription, there's plenty of value to be gleaned at no cost from the company blog. Not only does it offer some of the same fascinating statistics at no-cost, the eMarketer team's analysis of breaking trends is pretty top-notch.
Hoping to dig deep into some high-quality statistics about the state of content marketing, especially curation? Curata's annual report is an absolutely top-notch resource for statistical insights on the staffing structures, processes, priorities, and technology choices of 500+ content pros around the world.
The report is free to access, and well worth digging into as a professional development tool or statistic source.
A research firm dedicated exclusively to tracking what's "works in all aspects of marketing?" Count me in. Long considered a highly reputable source for specific insights, Marketing Sherpa's library of free resources includes plenty of granular reports that can fuel your hunger for fresh statistics for days. Or more accurately, weeks.
Dig deep with this resource if you're looking for statistics on eCommerce benchmarks, paid search, email marketing, or the "lessons learned" shared by some of your sharpest pro marketer peers.