You might assume young people don't hear what you have to say, but they do — they just choose not to listen. Because a filter isn't just for Instagram. The up-and-coming generation filters everything in the world around them because they have to, and that includes your marketing messages.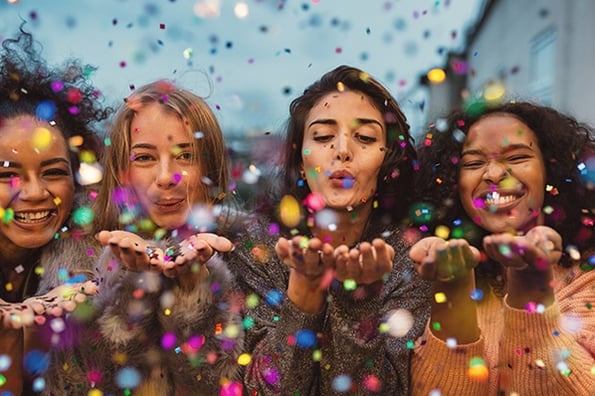 I admit it. I'm guilty of making assumptions about Gen Z. I think back to my own adolescence and casually project my experience onto them, but I'm wrong. The world is different now.
When I scrutinize the decisions young people make online every day, I'm surprised by what is revealed.
If you want to reach Gen Z, you're going to have to rethink some of your marketing strategies. Here, we'll explore the various ways you can shift your marketing tactics to appeal to a Gen Z audience.
Digital natives have a different perspective.
How many technology devices are you surrounded by right now? They're everywhere, like a supply of digital oxygen. It's all young people have ever known. Yet, in some ways, growing up with the internet is not that different from growing up without it.
Kids have to deal with hate on and offline. They see things they can't un-see. At the same time, they're trying to figure out what feels safe and how to navigate trust.
It's tough.
But the difference is, everything is amplified online.
Hundreds of thousands of people lurk in your digital space, littering it with messages from their own agendas. Offline, you can go hide. Online, it takes willpower to put your hands to your ears and deliberately shut out the noise. Filtering becomes a lifeline.
If you want to reach Gen Z, you better have a convincing reason for them to let you in.
Your purpose is key.
A recent study from Google found that teenagers want brands to be "a representation of their values, their expectations of themselves and their peers."
If they adopt the brand, what does it say about them as a person?
Are they part of something cool?
"When I think 'cool' I imagine companies that do great things for customers/employees or beautiful/unusual products." ~ Female, 17, It's Lit report
Gen Z use brands to help shape their world.
Take a look at YouTube. Teens love it, but it's also one of the Top 100 brands in the world. YouTube's mission? To "give everyone a voice" and "show them the world."
According to YouTube, there are "four essential freedoms" that define who they are:
1. Freedom of Expression
We believe people should be able to speak freely, share opinions, foster open dialogue, and that creative freedom leads to new voices, formats and possibilities.
2. Freedom of Information
We believe everyone should have easy, open access to information and that video is a powerful force for education, building understanding, and documenting world events, big and small.
3. Freedom of Opportunity
We believe everyone should have a chance to be discovered, build a business and succeed on their own terms, and that people—not gatekeepers—decide what's popular.
4. Freedom to Belong
We believe everyone should be able to find communities of support, break down barriers, transcend borders and come together around shared interests and passions.
Do teenagers seek out a video hosting platform, or do they want to connect with people who express creative freedom, share information, want them to be successful, and share their passions?
There are loads of alternatives to YouTube (who knew?). But teenagers aren't looking for a more stable platform or a superior layout. They want to hang out in the place they feel they belong. Their choice of platform points to where that is.
How to communicate more effectively
Be careful of your words, for your words become your actions. Be careful of your actions, for your actions become your habits. Be careful of your habits, for your habits become your character. Be careful of your character, for your character becomes your destiny. — Chinese proverb, unknown author
In our emotionally-charged existence, and for every generation, words hold power. Words are part of what pushes us in one direction over another, influencing our moods.
In the Google study mentioned above, a few clear themes emerge. It seems the most popular brands all share the same outlook when marketing to Gen Z.
Here are three quick tips to instantly adopt their approach:
1. Speak human
When Apple promotes their watch, you'll notice they don't talk about time. They talk about freedom:
"Answer a call from your surfboard."
"Stream your favorite songs on your run."
"Run your day. Right from your wrist."
Think about how it feels to use a product or service and lead with that, rather than focusing on how the technology works. Nobody cares about that. Not when they're about to ride the biggest wave, or listen to a song that reminds them of someone special.
2. Use inclusive language
YouTube wants to "give everyone a voice."
Apple has "a watch for everyone."
Spotify has "music for everyone."
Whilst those who grew up writing letters to pen pals worry that technology drives us apart, young people appear to respond best when it brings people together. Celebrate the good in this community spirit because it's this bond that counts when technology inevitably changes and moves on.
3. Show, Don't Tell
Cold and inflexible brands are a turn-off for youngsters. They're on the lookout for a more meaningful exchange. Like this one, described by Starbucks on their About page:
"It happens millions of times each week – a customer receives a drink from a Starbucks barista – but each interaction is unique.
It's just a moment in time – just one hand reaching over the counter to present a cup to another outstretched hand.
But it's a connection.
We make sure everything we do honors that connection – from our commitment to the highest quality coffee in the world, to the way we engage with our customers and communities to do business responsibly."
Any brand can make a promise.
But Gen Z wants to see you keep it.
So to further delight people on the other side of the counter, Starbucks teamed up with Powermat.
They do away with "dependency on cumbersome cables" in celebration of freedom – something we already know makes teenagers froth with delight.
Mobile charging points in-store mean the young can roam free without fear of being disconnected from their friends and family. This is Starbucks' way of "honoring the connection," but, in less flowery terms, is simply a case of knowing what your younger clientele wants (me too, to be fair), and finding a way to make it happen. We know it's the basis of all good marketing, but the most successful brands live by what they say.
Don't hide your extra-curricular activities from your audience. If you do something besides sell coffee, include it in your marketing message. It gives young people an extra rope to swing from.
The Meaning Behind the Brand
According to a study by The National Retail Federation and IBM, young people are more inclined to follow brands that support a cause. They're "more serious about this" than any other generation, so being able to communicate a strong sense of purpose should be top of your list.
"What do you plan on contributing to our future?" they demand to know.
Young people don't want to hear brands say they'll do better.
They want to see them do better, or the brand will be filtered out.
Companies have to stop treating customers like lab rats thinking, 'how can we just get a click,' and then stalking them around the internet endlessly with no shame. - Adam Kleinberg, CEO of Traction
Great companies are adopting smarter strategies than this.
Do better by doing your research.
It doesn't matter who you're marketing to: regardless of the age group, product, or location, words have always had the most impact when they echo what your listeners need to hear.
Nobody ever says jargon out loud (besides maybe that one deluded salesperson). People talk about things in a totally human way.
Consider cosmetics. I knew about make-up before I learned joined-up writing. Older buyers have been looking for a miracle cure for wrinkles for an eternity, yet marketers still don't know how to sell them the solution. Andrea Leigh, a former category manager at Amazon, advises people to stop with the marketing spiel.
They're not searching for "glowing, radiant skin" or "look younger in seven days," which is the type of copy most brands put on their product detail pages on Amazon. Customers are searching based on needs - wrinkles, dark spots, acne, etc. - Andrea Leigh, former category manager at Amazon
Perhaps the younger generation are turned off from this kind of marketing, as well.
Gen Z wants you to get to know them a little better before they'll turn your way to listen.
Start with a quick analysis.
If you want to know how young people respond to a brand, you've only got to ask.
Find out why they make the decisions they do
Recognize all the other things that influence their lives
Know where they hang out online and why
Consider why they do things the way they do, rather than absent-mindedly watch behavior
The result is being able to think more like the customer and less like a marketer.
This web copy for the Domino's Easy Order service is evidence they did their research -- they know who they're talking to: "Setting up your Easy Order means I have your favorite order at the ready. All it needs is one click from you. Handy for when you're exhausted from killing it at the gym, re-inventing the wheel or in the unlikely case that you are just CBA typing." I bet from this one clip alone you can pinpoint three people you know who fit their target market.
Sharpen up your dialogue.
If you don't want to be shunned by a younger audience, do things their way:
- Set up a survey on your website to ask about their experience.
- Interview real customers to find out what they're thinking. (I'm sure an incentive wouldn't go amiss – a voucher for their time or a gadget they can remember you by.)
The point is not to get a series of answers you can throw into a spreadsheet and forget about. You want answers that uncover emotions. Find out how young people feel about the brand. Because if they're not convinced by the cause or are indifferent to the idea, it's time to do better.
Give young people a reason to listen.
Only then might you be so bold as to suggest they try something new.