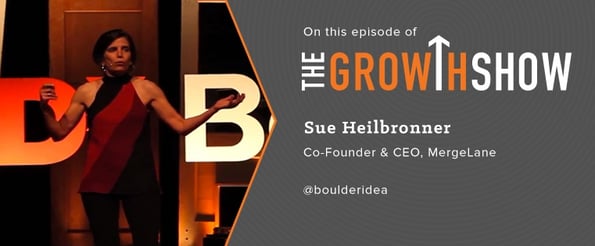 Despite the tech industry's reputation for being a community of early adopters, one very important thing has remained stuck in the past: gender equality.
Working in the industry for years in a handful of executive roles, Sue Heilbronner saw this first-hand: "For a lot of my career, I've been the only female in the room. That was true when I was a federal prosecutor, and it's been true as an investor and startup executive. But it never really bothered me until recently."
So, Sue did what exceptional leaders do: She set out to make a change.
Enter MergeLane: a startup accelerator based in Boulder, CO. Startup accelerators set out to provide early-stage companies with the funding and mentorship they need to get up and running (the two best-known examples are Techstars and Y Combinator). But unlike most accelerators, MergeLane focuses exclusively on companies that have a female founder or executive.
Sue joins me this week on The Growth Show to talk about MergeLane, their mission to work with women-led companies, her career change from being a federal prosecutor, and lessons from great leaders.
Here are a few highlights from this episode (click on the time-stamp to jump to that part of the podcast):
Click the play button below to listen to this episode in your browser, or subscribe on iTunes to download episodes from your mobile device:
Want more recaps of the latest episodes of The Growth Show? Check 'em out here.