Google Assistant -- the search engine giant's digital personal assistant that can answer questions, set alarms, play music, and more -- turned two earlier this month.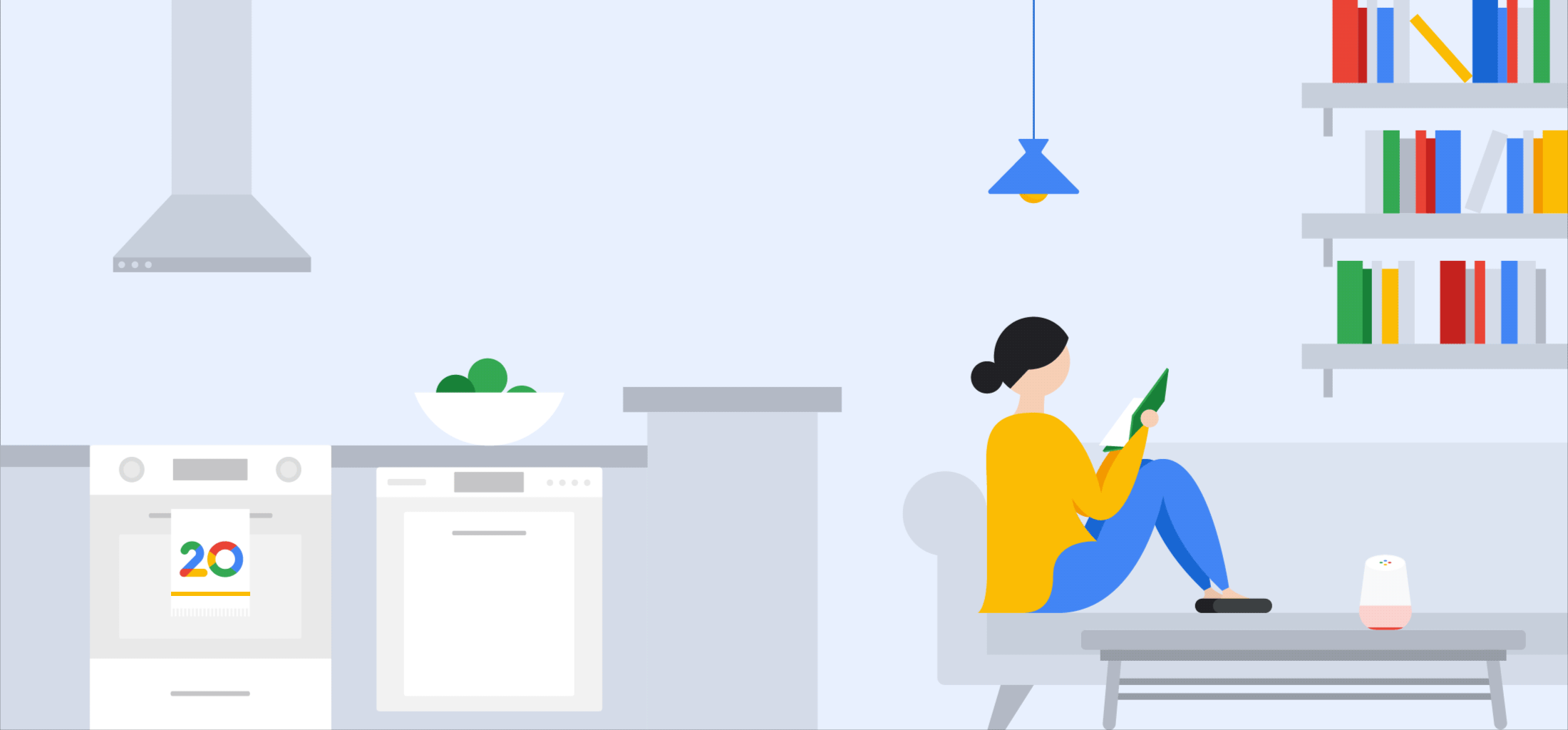 And to celebrate its birthday, Assistant got what Google is calling "a makeover": a refresh of its core mobile app that seeks to strike a fair balance between both voice commands and those done by touch or text.
As is the case with most voice assistants, Assistant's capabilities -- or "Actions," the name Google has ascribed to the things it can do -- were built around what the name suggests: verbal user commands made either through its core mobile app, or the "smart" hardware equipped with Assistant technology (like the Google Home smart speaker, as well as certain smart headphones and TVs).
But Google found that "nearly half" of all Assistant engagements somehow included both voice and touch -- and it's refreshed the core Assistant app to make it easier to use both.
Source: Google
These changes weren't just made with consumers in mind, though. The "makeover" also includes new tools and use cases for brands and marketers. Here's a look at them.
Better Personalization
According to Google, there's an experiential gap that causes users to abandon interactions with third-party brands on voice assistants.
In order to complete these transactions, users usually have to log into their accounts with these brands, or create a new one -- which, when doing so through a voice assistant, typically "requires the user to open a web browser and manually log in to a merchant's website," writes Google Product Manager Mikhail Turilin.
That one an extra step, says Turilin, is often enough to make the user drop the process completely. After all, can you remember your passwords for all of your ecommerce or online retail accounts? I can't.
That could explain the appeal of voice assistants -- like Amazon's Alexa -- that make these transactions more seamless. It's also why some users prefer to use single sign-on options that allow them to log into multiple sites or apps using their credentials from networks like Google or Facebook.
To help brands combat this fragmented login experience, Google has introduced Google Sign-In for the Assistant, which allows users to sign into their third-party brand accounts (or create new ones) within the Assistant app, while engaging in a brand Action.
This sign-in integration allows brands to personalize interactions with users on yet another channel. By logging into their accounts on a voice assistant platforms, users are also importing their preferences there, like previous orders, saved forms of payment, and loyalty program memberships.
Source: Google
Google recently made some changes to the way third-party app requests for permissions are displayed for users, which can be reviewed here. Meanwhile, check out Google's guide to getting started with this integration.
Creating Visual Experiences
Sometimes, it's not enough for an Assistant experience to be truly personalized -- it also has to be engaging. We've written before about how factors like like good copy and visual content make for a positive, engaging messaging experience. Interacting with a brand on the Assistant platform, it seems, is no exception.
Luckily, Assistant's makeover also includes new tools for brands to create and pre-load visual content that can be used in their Actions; for example, responding to different user inputs with animated GIF images, or supplementing answers to user queries with photos and videos.
Here's a great channel where brands can position themselves as knowledgable sources of content pertaining to a given topic in a way that delights users -- even if it isn't a direct extension of their products or services.
A local car dealership or garage might not necessarily use Assistant to sell automobiles or oil changes, but it can use these visual experience tools share a "virtual test drive" video, or share helpful, tactical content like a video on how to change a tire in an emergency.
Source: Google
Selling Digital Products and Services
It's possible that your business doesn't sell physical products -- or that it sells digital items to complement them (like product bundles or service subscriptions sold online).
Google has introduced new tools for digital product and service transactions, as well. Within Assistant Actions, brands can sell "digital goods" like product upgrades, which is particularly helpful if your product is something like an app, game, or software. Now, if a user wants to purchase a paid add-on or subscription, that can be done through a brand's Assistant Action.
Here's a look at how meditation app Headspace uses Assistant to offer plan subscriptions:
Source: Google
You may have noticed that the transaction in the image above was completed with Google Pay. Assistant now also allows users to make in-app purchases with Google Pay within a brand's Action, once again making the experience more seamless. Instead of fumbling for a credit card, users can complete the purchase with Google Pay, where payment information is already stored ( if they have accounts set up).
Learn more about building these transactions here.
The Bottom Line
When evaluating these news tools and features, it's important to remember why voice assistants were created in the first place: "For removing the friction of daily in-the-moment activities," says HubSpot VP of Marketing Meghan Keaney Anderson, like "finding a place to get an oil change on the way to your next appointment."
By introducing these new marketing resources, Assistant is making it easy for brands, too, to reduce this type of friction -- to make it easier to engage with and buy from them on a platform they might already be using for other tasks or activities.
I've written before about using my Google Home smart speaker -- which is powered by Assistant technology -- as an all-in-one stereo, alarm clock, and white noise machine. So why haven't I used the app more, especially to engage with some of the brands whose products and services I prefer?
The answer, and the missing piece: Those brands weren't on Assistant. There was no way for me to engage with them there.
But now that Google has introduced this suite of tools for businesses, it's entirely possible that those brands will have a presence on Assistant, and create new ways for me to engage with them through a platform (my Google Home) in a way that wasn't previously available.
As for where brands can begin, Keaney Anderson advises marketers to think about how (and if) Assistant might make sense as a distribution channel for their expertise, products, or services.
"If you're a B2B company, the first step would be to think about whether you have a good in-the-moment use case for Assistant, and then address how to systematically reduce friction in that use case," she says. "Let's say you're a subscription product that allows people to store contacts in a CRM. Using Google Assistant, users could add contacts by voice after meeting them at a network event."
This particular in-the moment use case also shows the value of being able to seamlessly upgrade through a single platform, too. "What happens when a user finds that they've reached their limit of contacts they can add without upgrading? That's friction," Keaney Anderson notes. "Google's latest expansion would enable users to upgrade, all without ever leaving that flow."
And even if Assistant isn't necessarily the best platform for your particular brand, the lesson stands: Remove friction. Make life (and engagement with you) easier for your audience. And, as always -- meet your audience where they already are.
Featured image credit: Google