Your agency cannot survive on referrals alone.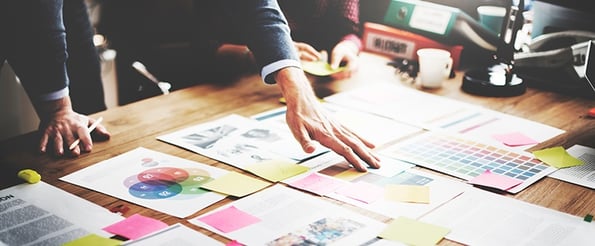 Don't get me wrong -- referrals are great (really great), but your agency's new business program needs to span a more diverse range of new lead sources in case your referral pipeline ever hits a dry spell.
According to The Agency Pricing & Financials Report conducted by HubSpot Research, a whopping 90% of agencies cite referrals as their top source for new leads.
Data from The Agency Pricing & Financials Report
But while it's clear referrals represent a big portion of agency new business, it's not necessarily a safe bet to rely on referrals as the default new business option.
Lee McKnight, vice president of sales at RSW/US, warns that referrals aren't always as scalable, reliable, or targeted as other new lead sources, and agencies that ignore other inbound and outbound sources do so at their own peril.
"There's a reason insurance exists," McKnight writes in The Agency Pricing & Financials Report. "If you're crushing it on the referral front, look at the outbound/inbound component as your insurance policy; it's not the easiest part, but it's absolutely necessary to your success."
To help your agency start exploring new lead sources, we've examined a few underutilized new business channels and explained how agencies can better use them to their advantage. Read on to learn how your agency can start tapping these new lead sources and building up a more sustainable new business program.
6 New Lead Sources Your Agency Should Tap
1) Blogging
"Oh great -- Another article with blogging as a marketing tip."
Look, I hear you. Marketers love to talk about blogging, and it often gets thrown around as a default inbound marketing strategy. But with only 12% of agencies reporting blogging as a top lead source, it seems like agencies still aren't fully taking advantage of this powerful channel for new business.
The reason blogging doesn't work is usually a bandwidth issue, not a talent gap. And we get it: You're busy, your client work comes first, and everyone on your team is already juggling roughly 10,000 responsibilities on a daily basis.
But many agencies fail to see results from blogging simply because they don't devote the time and patience to cultivating a meaningful blog presence. They just whip up a few generic posts every now and then, post them to social media, and then decide it isn't worthwhile.
If your agency wants to start seriously using blogging as a new business channel, it can't be seen as a sometimes project. It needs to be a core part of your marketing strategy.
Even if you don't have a dedicated new business employee, designate a member of your team to manage the blog and produce content that target's your agency's desired niche (click here for a free guide on creating an ideal client profile).
Blogging doesn't have to be their core responsibility (and others can and should help out), but there needs to be someone held accountable for your blog's performance. Otherwise, you can't reasonably expect buy-in from the rest of your team.
2) Guest Blogging
Agencies put guest blogging at the very bottom of their priority list, with just 1% of agencies surveyed reporting the tactic as a valuable new business source. But this overlooked marketing strategy can actually be a great way to build authority, get important eyes on your content, and start generating some targeted buzz for your agency.
Start by finding industry publications and media outlets that share the kind of content your ideal prospects are interested in. You want to target the websites where your prospects are most likely to come across your content.
Next, sit down and develop a list of topics you think would bring value to your prospects. Examine the previously published content on the publications you plan to submit to, and try to locate content gaps: topics that haven't been covered yet, or new angles on topics that you can offer a fresh perspective on.
Once you know what you want to write about, read up on how to pitch your story idea to the editors. Make sure you read up on your desired publication's guidelines and rules. You can find HubSpot's agency content submission guidelines here.
3) Webinars
Webinars are an opportunity to offer potential prospects a glimpse at your expertise, and help them get an idea of what you can bring to the table. Only 2% of agencies currently say that webinars serve as a valuable new lead source, but when done right, this tactic can be a powerful component of your lead generation program.
Many agencies balk at the idea of putting on a webinar at first. And while it can seem like a massive undertaking with an uncertain chance of return, hosting a webinar doesn't have to be complicated or overly time-consuming. In fact, with the right tools, it can be an easy way to start building an online reputation and cultivating meaningful relationships in your industry.
Services like GoToWebinar and WebEx make it simple to plan, broadcast, and record webinars. And if your agency doesn't currently have the budget for a paid service, consider recording your webinar with Google Hangouts or another free service like Join.me.
4) Paid Online Marketing
Adding a budget for paid or sponsored media to your new business development plan can give your content a much-needed boost with some targeted amplification. Most agencies ignore paid marketing altogether, with only 7% reporting it as a valuable lead generation channel.
But if your agency has gone through the time and effort to produce valuable content offers, introducing paid content can dramatically increase your impressions and ensure your content gets noticed by the right people.
Figure out where your potential clients are most likely to spot you on the web, and devote your funds to these channels. To promote your agency on social media, consider LinkedIn Sponsored Updates, Promoted Tweets on Twitter, and Facebook Ads.
5) Public Relations and Earned Media
It's pretty simple: If you don't pitch stories, they won't get covered. Only 7% of agencies report public relations as a top lead source. To make earned media part of your agency's new business plan, you'll need to focus on finding the right journalists to cover your story.
So how do you craft the perfect pitch? It's all about targeting the right publications with the right stories, and differentiating yourself. Journalists see 26,000 pitches a year, so it's easy to get lost in the shuffle. But don't fret -- despite what you might think, journalists actually want to find a great story in their inbox. They don't enjoy sifting through a mass of irrelevant pitches.
Targeting is key. Don't pitch anything you think is a stretch. Set up news alerts for topics in your industry and use them to find journalists who are already writing the kind of stories you want to share. If you aren't sure how to write a stellar pitch, click here for a few free email pitch templates tailored to agencies.
6) Networking Events and Conferences
Old school face-to-face networking isn't dead yet. In fact, 37% of agencies reported that networking at events and conferences brings in new leads. But that means the majority of agencies still aren't fully taking advantage of networking and the new business potential it can bring in.
I'll be the first to tell you that networking in person can be hard, and it doesn't always come naturally to everyone. But that doesn't mean your agency can afford to shy away from the conference and event scene altogether.
You shouldn't feel foolish if you need to brush up on some networking skills and ice breakers. With INBOUND 2016 right around the corner, you can bet that all of us here at HubSpot have been practicing our small talk skills. Unsure where to begin? Try browsing this list of 100 conversation starters for virtually any situation.
What under-utilized lead sources is your agency planning on trying out?