If it's not clear by now, allow us to be the first ones to tell you: Artificial Intelligence [AI] is here to stay. There have been some mixed responses to this phenomenon. Forrester reports that AI will eliminate 16% of U.S. jobs by 2025, which understandably freaks some people out. But that same report also says it will provide some job creation, so the news isn't all bad. In fact, we've found AI to be pretty helpful in certain situations, especially when it comes to boosting productivity.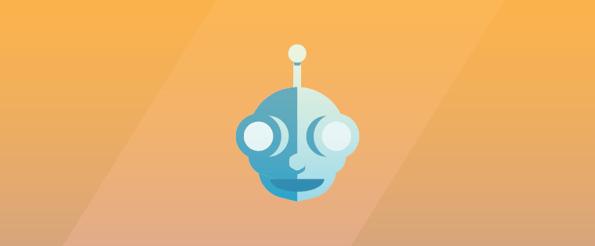 Bots are becoming increasingly popular in this realm. Built to integrate with existing platforms -- usually those used for messaging -- many of them now automate tasks for which marketers have long lamented the time-consuming nature. Think: Scheduling and keeping projects on track.
We rounded up some of our favorite productivity-boosting bots and compiled them into a directory. Here's what we have, organized alphabetically, following some helpful information about how this all works.
A Bit About Bots
What Bots Do
A bot is a type of automated technology that's programmed to execute certain tasks without human intervention. That is, it might be prompted by a human to perform an action, but it can carry it out on its own.
Bots are one form of AI, and many of them answer questions like a human being would. For the purposes of this post, we're covering the bots that work within platforms like Slack -- a real-time messaging platform that many companies use for internal communication -- and Facebook Messenger.
Slack
These bots are actually referred to as a type of app, in that they integrate with Slack to respond to commands and execute subsequent tasks. For example, the Giphy bot responds to keyword commands to pull up a carousel of animated GIF images that you can send to other Slack users, instead of making you search for them yourself:
Messenger
Here, Bots typically serve the purpose of answering questions or responding to customer service requests. With the HealthTap bot, for example, users can send a medical inquiry and receive an automated response that's likely to answer your question. Plus, if you need to, you can speak with a doctor after your questions been answered, as prompted by the bot:
In other words, bots like these were developed to carry out otherwise human tasks, to save you time from doing them yourself. We developed a directory of those that have been proven to be some of the most helpful to marketers.
Directory of 18 Productivity-Boosting Bots for Marketers
1) Crashlytics
A self-described "powerful and lightweight crash reporting system," Crashlytics is designed to help users save the time they would normally spend figuring out where crashes come from, and what causes them -- down to the exact line of code where a crash originates. It can serve as a stand-alone app on iOS or Android, but we love that its bot can integrate with Slack, to send these reports and crash updates in real-time.
2) Dbot
Source: Botlist
Dbot was made for seamless security, and automatically monitors Slack conversations -- quietly, in the background -- for instances when users need to be warned about malicious content. That usually comes down to two functions:
Scanning files shared within these conversations.
Scaning URLs and IP addresses within these conversations.
Typically, many users would have to visit multiple sources to verify the safety of both things. Dbot makes it easier, by performing security checks from a platform you might already be using -- when you ask it to, and when it discovers something potentially malicious in existing conversations.
3) Driftbot
Source: Drift
Drift, a real-time messaging app for connecting marketers with customers and website visitors, is a master of integrating with other platforms -- because "we don't want to change the way you work — we just want to be a part of it." That's why its bot was designed to work with many of the other tools you might use to manage or reach contacts, like Shopify for retail, or in your HubSpot software. In the video below, Drift Product Manager Matt Bilotti explains how it works with the latter.
4) Growthbot
Meet GrowthBot, your personal sales and marketing research assistant. Integrating with both Slack and Messenger, this chatbot also connects with both Google Analytics and your HubSpot software to help you find the information you need in realtime -- traffic data, company information, or even prospecting. Plus, if you need it to do so, it'll tell you a joke. Have a look:
5) Jarvis
As much as I love to write about time management and productivity, I'll admit it -- I still occasionally fall victim to checking Facebook throughout the work day. But it's not just that. As marketers, many of us do our work within Facebook, anyway, to update social media pages or work on campaigns. That's why Jarvis is so helpful. It's a personal assistant bot that can set and send you reminders within Facebook. Like so many other bots, it integrates with a platform that many of us are already using, to help us get more done and make life a little easier.
6) Kayak
Source: Kayak
Finding a great deal on airfare is something that's enjoyed by many, but mastered by few. That's why there are sites out there like Kayak -- a one-stop-shop that scans across dozens of airlines to find the best price for a flight. Now, with the Kayak chatbot, it can be used for the same purpose on Slack and Messenger. It's like having your very own travel agent, but without the fee.
7) Leo
Source: Kayak
Employee satisfaction is no laughing matter. A scant 32% of people are actually engaged at work, and there are ongoing efforts to improve and measure those numbers. One of them is Leo, a bot designed to help employers survey employee satisfaction, without asking them to stray from tools that they're already using. Questions and response choices can be customized, ranging from a star-rating system to user-specified text. Plus, like most bots, it does its job in real-time, helping employers "spot trends before they become problems."
8) Lyft
Attention, Slack users -- wouldn't it be nice if you could use Slack to request a ride from, say, a on-demand car service app like Lyft? Without reaching for your phone and opening the app, that is. Now, you can, with a simple "/lyft" command. After you connect your Lyft account to Slack, you can use the bot to get an ETA, request pickup, and more -- right from a platform you're already using.
9) MarketSpace
Free to install | Fee per company followed | Slack
Source: MarketSpace on Medium
This app was created to help marketers follow the companies they care about the most. Whether they're existing customers, prospects, or just brands that pique your interest, MarketSpace alerts you when these companies secure funding, make important new hires, or launch products. Plus, it's got a bot to send you these alerts through Slack.
10) Meekan
Source: MarketSpace on Medium
Sometimes, it seems like scheduling a meeting can take more time than the appointment itself. That's why apps like Meekan are so helpful. It syncs with everyone's calendars to find a time when all parties are available. Plus, since it's a bot, you know what that means -- Meekan integrates with your existing programs to help you get this task done, without opening a separate app. But its capabilities aren't limited to meetings; It's automated to let users reschedule existing meetings, and can also help you search for flights.
11) Mya
Source: MarketSpace on Medium
Finding the best talent for your team is never an easy task. In fact, 84% of HR professionals report a noticeable shortage of the right skills from job applicants. In other words, it's one area where all of us could use as much help as we can get. Enter Mya, "your recruiting AI," which is programmed for users to engage and qualify prospective employees by asking applicants the right questions -- so you don't have to.
12) Nikabot
Free for first 30 days | $4.99 per Tracked User Each Month | Slack
People tend to favor jobs with a high degree of autonomy. But when teams become busy, keeping track of what everyone is working on can be a challenge. Apps like Nikabot exist to address that very problem, by automatically pinging employees each day to ask what they're working on, then synthesizing that data into a single report for review. What do you have to do? Integrate the app, let Nikabot go to work, and read the report when it's done. Yup -- that's it.
Source: Nikabot on Vimeo
13) Nurtz
$0.02 per word | Slack
Source: Nurtz
Even the most experienced writers need their work to be proofread -- after all, that's why we have editors. But interrupting an editor every time you need, say, an email to be looked over for typos isn't exactly an efficient process. And that's why there's Nurtz, the proofreading bot. Just paste the text you need to be proofread into your Slack conversation with Nurtz, and it'll send back your typo-free copy. It's worth noting, however, that there are humans behind the bots who do a lot of the proofreading, so results from Nurtz take a little longer to return than many of the other bots we've listed here.
14) Simple Poll
The marketer's workplace is full of important decisions, and multiple options to go with them. What's the best title for this blog post? What's the best choice for our next seasonal promotion? Where should we get lunch today? Enter SimplePoll -- the friendly bot that lets you pose these questions and answers to your colleagues within Slack, and allows them to select their choices with the simple click of a button.

Source: Simple Poll
15) Standup Bot
$20 - $40 per Month | Slack
If you work in an office setting, chances are, you're familiar with the "Monday Morning Standup" -- the weekly check-in meeting in which everyone fills the team in on their projects, questions, and concerns. Now, with apps like Standup Bot, you can do just that, but virtually. Similar to Nikabot, this bot is programmed to collect this information from employees and compile it into one report, making it especially helpful for teams that work remotely.

Source: Simple Poll
16) Tettra
Free for 15 Days | $5 per User, per Month | Slack
Source: Tettra
These days, many companies have an internal wiki -- a place where employees can share knowledge, how-tos, and other helpful information with colleagues. The problem is that, with enough of it, this information can become overwhelming, and it might be tricky for everyone to find what they're looking for. Tettra was designed to avoid that, and to help users contribute and find information right from Slack. Find entries with the "/tettra find [search]" command. Add them with the "/tettra new [title]" command. Yes, it is that easy.
17) Todoist
Source: Todoist
Scheduling meetings with others is one thing. Scheduling time for yourself? Well, that's a separate issue entirely. There are apps like Todoist for that very reason -- they use "smart scheduling" to automatically suggest times to work on projects and due dates for them based on your habits, task urgency, or upcoming tasks. But how does it know? It's able to observe what you tend to do at a given time of day, or day of the week. Its bot can integrate with platforms you're already using -- like Slack -- and helps you manage your own schedule, by finding the most optimal times for you to get things done.
18) Tomatobot
Source: Slack API
Studies say that the most productive employees take 17-minute breaks for every 52 minutes of work they put in. But there's a problem -- how many of us actually remember to take these breaks? I can say that I, for one, struggle with that. Luckily, there are apps like Tomatobot that set timers for this very purpose. Once you start work with the command "/startwork", you'll receive a message from the bot (via Slack) to let you know when it's time to take a break. It also allows users to record their distractions and what they've been working on during these breaks, to help you review certain patterns and improve the way you work.
There's a Bot for That
Once upon a time, we used to go around stating in unison, "There's an app for that." And while that proclamation still holds true, it seems that there's a new productivity boss in town -- and it belongs to AI.
The market for bots is already quite crowded -- just look at how many are listed in Slack's full directory. We're eager to see how bots continue to aid in the productivity of marketers, and will keep you posted on what we observe.
What are some bots that boost your productivity? Let us know in the comments.