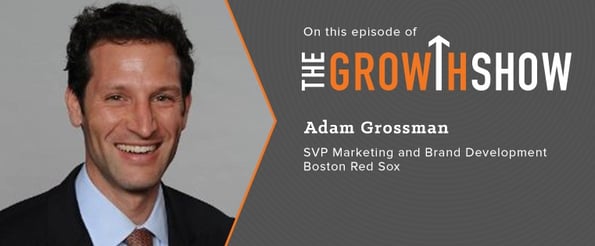 The concept of growth is a little different when you're a marketing executive for a professional sports team.
For Adam Grossman, SVP of marketing and brand development for the Boston Red Sox, success is often dictated by two things that he can't actually control: the team's wins and losses. But he still has to do his job and fill seats, sell merchandise, and drive revenue for the organization.
That presents a unique challenge for his marketing team: How do you measure success, exactly? How do you know if you're doing a good job? How do you make an impact when a huge part of your success (the team) is something you can't control?
Adam joins Mike on this episode of The Growth Show to talk about his experience running marketing for the Red Sox -- and, previously, as the SVP of public affairs for the Miami Dolphins. If you've ever wondered what life is like for an executive in the sports world, you won't want to miss this episode.
In this episode, Adam talks about:
How he measures marketing success outside of the team's wins and losses.
How the Boston Red Sox use customer feedback and data to drive some of their drive in-stadium decisions.
Creating a great experience night in and night out for fans, regardless of whether the team is winning.
The importance of staying agile as a marketer and taking advantage of what's in the news.
The differences between his experience in Major League Baseball versus the National Football League.
Subscribe to The Growth Show in iTunes and never miss a new episode.