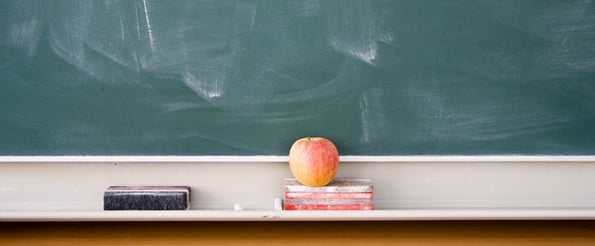 The way people buy has changed, so the way businesses market themselves has also needed to change. And as an educator prepping students to enter the workforce, this means that your job has changed, too.
Truthfully, this change can be tough. There are so many marketing strategies, tools, and tactics out there, and you need to assess them all and then learn them yourself so you can knowledgably educate your students.
To help make this transition easier, below are some free resources you can use when you're teaching your class and even some tools you can pass on to your students.
This Inbound Methodology Syllabus template is a guideline for a 15-week class. It's a fully editable Google Docs file you can download and customize to fit the needs of your class. It includes goals and class objectives, course overview and requirements, and a list of required readings. It's been created and vetted by other marketing professors, so it's chock-full of information that professors actually care about.
2) An Email Template for Reaching Out to Guest Lecturers
Especially when you're teaching tactical, "real-world" concepts, it can help to bring in outside talent. How should you go about finding (and securing) the right guest speakers?
Try to find a connection with the person you are reaching out to. Ask friends of friends, or do a little research on LinkedIn. If you can find a connection, ask for a warm introduction from someone you already know. A request from a friend is always easier to accept.
If you need to send a cold email, play up any prestige or connection your school has to the person you are reaching out to. Did they attend your university for undergrad? Will they be speaking to 2,000 students? Are you teaching material the speaker created? This type of information could be just what you need to convince a guest speaker to attend your class.
Below is an example of an email you could use as a framework to ask someone to speak in your classroom:
Hello Amy,
I teach at Boston University and am looking for an expert content marketer to speak to my 1,000 student marketing class at the end of May. We've been using HubSpot's Inbound Certification for our class, and I recently read your article on Inc.com about how content marketing helped you grow your Boston startup 10X. You were one of the first people who came to mind and I wanted to reach out. Would you be interested in guest speaking in my class about content marketing?
Best,
Lauren
Design can go a long way to aiding student comprehension and retention -- but the truth is, designing PowerPoint decks may not always be a teacher's strong suit. To help you get to the good stuff (the substance of the lesson), here are a few free, gorgeous PowerPoint templates you can download for your next class.
This is a basically a search engine for facts and stats. It runs quite the gamut in regards to content topics: social networks, gaming, specific industries, holidays, coupons, marketing, and so many more. For instance, you'll find stats such as 53% of US digital marketers plan to prioritize mobile ads in 2015 over social media (Forrester Research) and 40% of women like strawberry flavored alcoholic drinks (Nielsen). Sources for their data includes Deloitte, Nielsen, TechCrunch, and Forrester Research (among others). If you're ever in a pinch for stats for class, Factbrowser.com is just what you need.
Moz Academy is a resource created by Moz that's full of short, comprehensive lessons about inbound marketing. Specifically, Moz Academy focuses on SEO, link earning, social media, and content marketing. Videos on their site as the time of this writing include how to recover link equity, keyword research, and using Moz analytics.
Note: You need to be a Moz Pro subscriber to take advantage of this resource.
6) LinkedIn Groups
If you're looking for a virtual place to gather ideas, brainstorm topics or connect with other educators, join a LinkedIn group. Here are a couple Groups that are private and only available to educators (yes, they you will be manually added to this group should you choose to join, by an actual human!), so they're full of helpful, relevant content:

Canva is a free tool our marketing team uses daily to creating beautiful, simple designs. You can create an account in seconds and start designing something right away. The software features stock photography, custom graphics, fonts, and pre-sized templates for sizing. Users can also upload their own photos or designs. It's perfect for students who need to design presentations, social media cover photos for a campaigns, blog graphics, business cards, and more.

Crayon is a marketing design search engine. This powerhouse of a database has over 11 million real marketing designs that are searchable and organized. For example, you can use filters to search for landing page examples from automotive industry. Other filters include traffic level, device type, and page type (such as jobs pages, team pages, or 'about us' pages.) If you are looking for case studies or your students are searching for examples, Crayon is a gold mine.

Whether it's for a student's end-of-semester marketing project or for a lecture you're creating for your students, beautiful visuals can make a big difference in improving a piece of content. Unsplash.com is a completely free stock photography website. Ten new photos are uploaded every ten days, so there are always new photos to download. And, the photos are drop-dead gorgeous. You can even subscribe to their email mailing list and you'll be the first receive the new photos.

Want another hands-on ways to critique real companies' marketing? Run a free Marketing Grader report for a quick snapshot about how a company's marketing is doing. The report critiques and suggests ways to improve a company's blog, social media accounts, SEO tactics, lead generation methods, and mobile optimization. You could use these takeaways for examples in your lecture or even assign your students to run a Marketing Grader report and analyze the results themselves.

Want even more free resources for your curriculum? HubSpot is giving away thousands of free marketing and business books all summer long. All you need to enter to win is an email address. You can enter to win here.