Here I am, on my fourth day at CES 2018, and man -- there has been a lot of content on emerging technologies.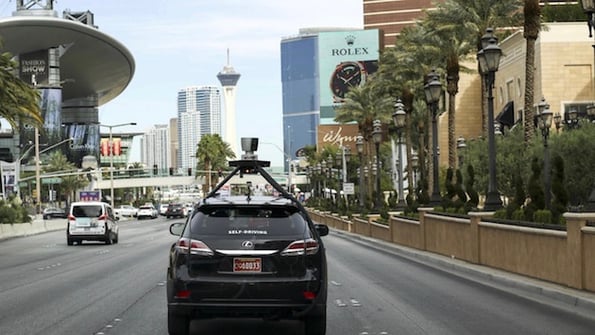 If I'm being completely honest, it's been an interesting challenge to figure out which topics would be the most helpful to those of you reading. Emerging trends? Check. Brand loyalty and connected ecosystems? Check. Self-driving cars? But, of course.
Hold up. What? What does autonomous vehicle driving technology have to do with the broader world of marketing?
As it turns out -- the answer to that question is, "A lot."
Here's why.
Why Self-Driving Cars Matter to Your Business
Emerging Tech Is Changing the Landscape for Marketers -- Fast
Autonomous vehicles serve as shining examples of how quickly and significantly emerging technology can disrupt an entire industry.
As the Consumer Technology Association informed us earlier this week, the in-vehicle technology that will become more prevalent with the rise of self-driving cars accounts for one of the top trends for 2018, with a forecasted revenue of $15.9 billion.
On top of that, it's predicted that driverless cars have the potential to save 1.2 million lives per year from traffic accidents, and 157 hours of commute time per person every year, according to Intel CEO Brian Krzanich's opening keynote on Monday night.
Where marketers enter the picture, however, is where the rise of this technology causes a ripple effect on other industries.
"We're shifting from a transportation model that is built on the private car ownership model to a transportation-as-a-service model," says Mike Blasky, Media Relations Specialist at AAA Northern California, Nevada & Utah (which recently launched the first driverless shuttle in the U.S.), to one that could leave businesses within private car ownership -- such as auto dealerships and the like -- nearly obsolete.
Source: AAA
But fear not. Blasky also believes that it will generate greater opportunities for marketers.
The Self-Driving Opportunity for Marketers
That could come, for example, in the form of something like a subscription to a transportation-as-a-service provider. Even if autonomous vehicles completely penetrate the market, it doesn't equate to accessibility -- meaning that those who can't afford to own such a vehicle will have to rely on self-driving ride-sharing companies.
Let's say, for example, "you subscribe to a Lyft, and you always get a Starbucks at 8:30 am before work," says Blasky. "Nearby coffee companies would love to pitch you coffee deals … and they'll have access to that data" on every user's commute.
That might raise some questions about user and rider privacy. As marketers begin to shift away from email and move toward other promotional content models -- like ride-sharing "infotainment systems," as Blasky calls them -- they'll also need to explore the new model of letting users opt-out.
But should marketers become privy to this data on user behavior and preferences, it does, in fact, create new areas of opportunity, just as Blasky suggested.
There are the self-driving vehicles themselves serving as a content distribution channel (e.g., sending a user a branded or personalized briefing during her ride), as well as the opportunity for businesses to create and offer the aforementioned promotions based on each user's riding habits.
How Businesses Are Already Adapting
In fact, that's quite parallel to what AAA itself is doing, Blasky says. "Our club recognizes consumers' changing habits, which is a reason we launched GIG Car Share in Oakland and Berkeley last year" -- which is a one-way car share program that doesn't require users to return the vehicle to a designated spot.
But remember this: AAA's long-held model of emergency roadside service relies heavily on private car ownership model. And as we move away from that, the organization is adapting to the shift by identifying new opportunities with a brand fit.
That's not to say, however, that the need for something like emergency service will be diminished with the permeation of autonomous vehicles -- it's just that the process of alerting the necessary parties that it's needed will be digitized, and hopefully, become more seamless and efficient.
We wrote a bit earlier this week about how LG is using AI to help its home appliances proactively detect and repair potential problems before they happen. Here, a similar opportunity exists for something like vehicular safety and maintenance.
In fact, AAA Northern California Nevada & Utah (NCNU) today announced its partnership with Torc Robotics to develop safety criteria for self-driving cars. Like so many of the other emerging technologies we've heard about this week, this program begins with a machine learning program to collect data Torc's self-driving system Asimov, and use it to train autonomous vehicles how to react to various traffic issues.
(CES 2018 attendees looking to learn more about this should check out tomorrow's session on Developing Safety Criteria for Self-Driving Cars.)
There's also the idea of partnering with autonomous driving service providers to deliver products -- much in the way that Toyota announced on Monday it would be doing so with Uber to create a fleet of driverless shuttles with to deliver goods from Amazon and Pizza Hut, among others.
Source: Toyota
The Key Takeaway
I know that I harp a lot on the importance of marketers staying ahead of the curve on emerging trends. And if you're getting sick of hearing me emphasize it, that's understandable -- but also, I'll continue to do so.
Self-driving technology is an area where I really want you to pay attention, and begin thinking of the ways your business -- regardless of the industry -- could not only be impacted by it, but could also use it as an opportunity.
How can use it as a content distribution channel? What types of content could you potentially create for in-vehicle experiences? What sort of promotions could you create based on predicted user and rider behavior?
The possibilities are great. And, as always, I'm open to your take on them. Feel free to reach out to me with your thoughts and questions on Twitter -- and to see more insights and announcements from CES 2018.
Featured image credit: Torc