In simplified terms, a SERP (which stands for Search Engine Results Page) contains two types of content: organic and paid results.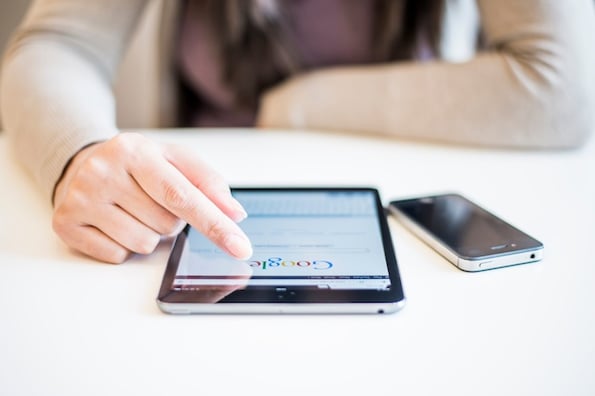 In an effort to make the user search experience easier and more direct, Google created SERP features, on-page content that gives users answers to their queries without requiring them to click into an organic result. Although on-page SERP features are optimal for the user, they can make it harder for marketers to get noticed in organic search results, even when they're ranking #1.
Search engines are smarter today than ever before. A few years ago, a search for "pizza" would result in a predictable mixture of restaurant websites, directories, review sites like YELP, and blog posts about the top pizza places in Boston.
Today, here's what you get when you search "pizza":
As you can see, the SERP first displays an advertisement, a map with nearby pizza restaurants, and a card pulled from Wikipedia containing pizza's nutritional information. This content all appears higher and more prominently on the page than any organic results, so even Pizza Hut, which ranks #1 organically, is hidden below the SERP features.
What Does SERP Stand For?
SERP stands for Search Engine Results Page. A SERP is the web page you see when you search for something on Google. Each SERP is unique, even for the same keywords, because search engines are customized for each user. A SERP typically contains organic and paid results, but nowadays it also has featured snippets, images, videos, and location-specific results.
As a marketer, it's essential to stay up-to-date with new SERP features. Ranking #1 organically doesn't provide as much visibility as it used to, so it's imperative for marketers to take full advantage of Google SERP tools to learn how they can rank higher.
There's a marketing joke that goes something like this: "Where's the best place to hide a dead body? Page two of Google." Nowadays, a good place to hide a dead body is actually anywhere below these SERP features. Here's how you can keep up.
SERP Features
Rich Snippets
Paid Results
Universal Results
Local SERP
Vertical Search
Knowledge Graph data
Miscellaneous
Rich Snippets:
A rich snippet contains more information than a normal snippet does, including pictures, reviews, or customer ratings. You can recognize a rich snippet as any organic search result that provides more information than the title of the page, the URL, and the metadescription. Site operators can add structured data markup to their HTML to help search engines understand their website and optimize for a rich snippet. The Starbucks app, for example, includes customer ratings and pricing within the search description.
Paid Results:
Paid results are the ads and sponsored posts that appear at the very top of the SERP. Google differentiates paid from organic by providing a sponsored or ad label, as you can see below, or by boxing it off in a separate area of the page or using another visual cue.
Universal Results:
Universal results are Google's method of incorporating results from its other vertical columns, like Google Images and Google News, into the search results. A common example of universal results are Google's featured snippets, which deliver an answer in a box at the top of the page, so users ideally don't have to click into any organic results. Image results and news results are other examples.
Local SERP:
Local SERPs appear any time your search intent implicitly relates to location. For example, if you type in "restaurants", "gas station", or the name of a specific product sold in stores, Google will surface locations near you that match your query, and show you exactly where you can find them on a map.
Vertical Search:
Vertical search is the box that appears at the top of the page when your search requires Google to pull from other categories, like images, news, or video. Typically, vertical search relates to topical searches like geographical regions -- for example, when you search "Columbia, South Carolina," Google delivers a "Things to do in Columbia" box, along with a "Columbia in the News" box.
Knowledge Graph data:
When your search likely only has one answer -- "what's the weather", for example, or "who is married to Channing Tatum" -- Google will surface a Knowledge Graph: a box that pulls the answer to your query directly from an organic result and into a box at the top of the page.
Google SERP Tools
Now that you have a sense of the different SERP features, you're probably wondering how you can rank higher in SERP … and, ideally, how you can capture a feature like local SERP or universal results. Here are some of our favorite tools to help you evaluate your current standing in SERP, compare keyword ranking to competitors, and ultimately figure out how to rank higher:
1. WhatsMySerp
WhatsMySerp provides advanced SEO tools to scan and analyze your rankings for different keywords, as well as your overall website ranking on SERP. This tool allows you to search for up to 25 keywords at once, making it ideal for a quick-and-dirty overview of how your site is ranking in search engines.
Price: Free
2. RankWatch
RankWatch provides an in-depth analysis of your URLs, backlinks, keywords, and other SEO elements. The tool also conducts comparative analysis on your competitor's websites and the number of keywords they are ranking for, so you can strategize how to outrank other businesses in search results.
Price: $29/month
3. MozPro
It's good to know how you rank both nationally and locally for keywords, but it's undoubtedly more helpful to get actionable data and insights on how to improve. Moz Pro offers strategic advice on ranking higher, a major benefit to the tool. It also crawls your own site code to find technical issues, which will help search engines understand your site and help you rank higher.
Price: $99/month
4. SerpBook
If you're an SEO expert in charge of handling clients' rankings, SerpBook is a useful organizational tool for assigning groups of keywords to individual clients, scheduling which reports you want sent to which clients, and enabling clients to log into your account and check their ratings.
Price: $30/month
5. Moz Local
With 61% of local searches resulting in a purchase, it's important to ensure your business is optimized for local SEO. Moz Local scours 15 sources, including Google and Facebook, to check out how your business ranks locally. Similar to Moz Pro, Moz Local offers actionable advice for fixing incomplete or inconsistent listings.
Price: Free
6. SemRush
SemRush helps you compete for SERP features including featured snippets, local SEO, Knowledge Graph data, and Google News by figuring out which keywords your competitors are ranking for within these SERP features.
Price: $99.95/month
7. SerpWatcher
SerpWatcher is an easy all-in-one dashboard that delivers an overview of your SERP performance. Even better, you can create a list of custom keywords and track data on those alone, so you're not overwhelmed by data you're not interested in. SerpWatcher handily emails you whenever your keywords enter or leave page one of search engines.
Price: $29.90/month