In 2021, smart home systems and devices are more impressive and all-encompassing than ever.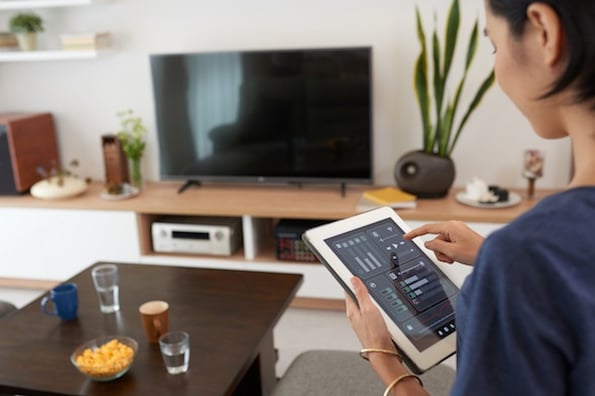 Using a smart system isn't limited to asking Alexa to tell you the weather or play that new Drake song -- now, you can use smart devices to grill chicken at your next family barbecue, turn the lights off in the living room while you're watching a movie, or vacuum your floors.
Your home devices provide a sense of convenience, but they can also tackle more serious tasks, like acting as your home security system when you're out of town. In other words, they aren't just for fun anymore -- they also fulfill some substantial needs.
The Difference Between Smart Devices vs. Smart Systems
Before we get into our list, it's important to define our terms. A smart system is the overarching command center that controls your individual products -- think Alexa or Google Assistant. Essentially, a smart system is what you speak to when you want something to happen. A device, on the other hand, is an individual product that reports back to that system -- think, Amazon Echo or Philips Hue lightbulbs.
Now, let's delve into our list of the best smart home devices and systems of 2021, so you can decide for yourself which systems and products will best enhance your life.
Best Smart Home Systems
When looking to purchase a smart-home system, you want to look into reviews and its integrations.
While the reviews will show you how good or bad the technology is, the integration information will show you how many products you can actually connect your system to.
As you're researching integrations, you should also consider any smart devices you already have that might be compatible or incompatible with the system. Today, most good smart home systems are powered by state-of-the art technology and offer a long list of third-party integration possibilities. For example, Amazon's Alexa and Google Assistant connect to smart thermostats like Nest or Ecobee -- not just thermostats made by their own companies.
If your devices all connect well together, work well, and are easy to use, your smart home experiences will run much more smoothly.
Here are four major smart home systems that we recommend.
With more than hundreds of millions of compatible devices, Alexa is undoubtedly one of the most comprehensive smart home ecosystems available today. While you have likely heard of using Alexa in Eco-speaker form ("Alexa, what's the weather today?"), you might not know that Alexa is now built into plenty of other smart products, including thermostats and TVs.
Alexa makes every aspect of your smart home easy to access and control. You can use Alexa to speak to apps like Spotify just as easily as you can ask her to turn off the lights. Since Amazon's ecosystem is one of the most prevalent in the industry, most smart products integrate seamlessly with Alexa, including products made by Philips, Samsung, Nest, and Schlage -- Alexa can now close your garage, lock your doors, and adjust your home's temperature. To know if Alexa will work with a certain device, just look for the 'Works with Amazon Alexa' tag.
Ultimately, Alexa's ability to integrate and speak to most other smart devices and apps makes her one of the best choices for your smart home.
If there's any true runner-up to Alexa, it's Google Assistant. Even though Google Assistant has less third-party integrations, it can often answer questions and complete commands Alexa can't, thanks to Google's major ownership of the search engine space. Google Assistant has an accuracy score of 92.9% while Amazon Alexa scores at 79.8% (ZDNet). Ultimately, Assistant wins when it comes to understanding how people naturally speak.
For instance, if you the Assistant "I don't like this song" on Spotify, it will skip to the next one, while Alexa will simply tell you, "Thumbs up and down are not supported on Spotify." Small differences like this could sway you towards Google, since it's often more helpful (and less literal) than Alexa.
Assistant can also integrate with products from most major brands, including Philips, Belkin, August, Nest, and popular apps such as Spotify and Uber.
Wink Hub is touted as the "first smart home hub designed for the mainstream consumer." Unlike Alexa or Assistant, Wink doesn't have any brand loyalty, allowing you to pick and choose different smart product brands and merge them seamlessly with one another.
Wink Hub 2 supports smart home protocols including Bluetooth LE, Kidde, Lutron ClearConnect, Wi-Fi, Z-Wave, and more. If you're looking to create a fully integrated smart home with kitchen and wall appliances in-sync, this might be your best option. You can also download the Wink Hub app and control commands, like light switches or garage door, from your phone on-the-go.
This Samsung system unites a wide variety of smart devices from different brands including smart thermostats, Wi-Fi router, lightbulbs, and security devices. Users with the smart system get a SmartThings Hub wall mount and can get full access to the smart devices connected to the hub through the SmartThings IOS or Android app.
Samsung's SmartThings Hub has been growing its own smart-device offerings for the past few years. In fact, the Hub's product lineup includes the addition of the SmartThing Wi-Fi plug, SmartThings Lightbulb, and SmartThings Cam.
Through the SmartThings Hub, you can also set compatible smart devices to do various actions like turning on or off when you walk in or out of a room. While you can give voice commands to the SmartThings wall hub or app, you can also integrate and Amazon Alexa or Google Assistant to the system.
Best Smart Home Devices
Amazon Echo (4th Generation)
Philips Hue
TP-Link HS220
Ecobee SmartThermostat
NetGear Arlo Q
Char-Broil Digital Electric Smoker, Deluxe
ConnectSense Smart Outlet
Ecovacs Deebot N79S
LG Smart TV
Price: $99.99
If you're looking for a relatively affordable device to cater to your everyday needs, you probably don't need to look further than Amazon Echo. The speaker connects to Alexa to play your favorite music, make phone calls or send messages, answer questions, and set alarms for you: "It's 6 p.m., time to head to your tennis lesson." It also connects to other smart products in your home, so you can use it as your liaison between you and your smart TV.
The speakers are capable of being synced for multi-room sound, and the Echo has advanced voice control. With the Echo, you can turn the TV on, order a pizza, and create a shopping to-do list -- without ever leaving your couch.
Price: $49.99/bulb
The Philips Hue bulbs enable you to control both intensity of light -- dimming or brightening on-command -- and the color of your lights. You can create special color-coordinated moods (i.e. choose the "energize" theme on your app for a specific room you're in, or sync it with your music). You can also set color-coordinated alarms, ensuring you wake up every morning to a bright pink bedroom.
These bulbs work with most smart home systems, making them arguably the most flexible option. If you don't want color, you can also purchase Philips Hue White.
Price: $18.99
Philips Hue bulbs and similar smart lights are fantastic and effortless -- until someone flips a light switch, in which case, your bulbs won't work until you flip it back.
For true ease-of-use, consider buying smart light switches, which you can control from your phone or smart home whether or not your physical light switch is up or down. Using the app Kasa, you can create scenes and smart actions -- for instance, you might tell the app you're "watching TV downstairs," and the switches will automatically turn off all upstairs lights.
TP-Link HS220 works with Amazon Alexa and Google Assistant, but you might need to consider other options if you primarily use Apple HomeKit, Wink, or another smart system.
Price: $249.99
Ecobee allows you to control air temperature with voice commands, but unlike other smart thermostats, it also works as its own Amazon speaker (rather than simply working with an Amazon speaker), so it can do many of the same things your Alexa or Assistant can do, including play music, shop, and control other devices. Of course, if you already own a smart speaker, you might want to consider a cheaper thermostat option.
Ecobee integrates seamlessly with apps and other home ecosystems like Alexa or Apple HomeKit. Plus, it's able to control the room you're in, rather than the room it's installed.
Price: $84.99
While some of these smart devices are more for convenience and entertainment, the NetGear Arlo Q is a truly useful tool for home security. The NetGear Arlo Q records high-quality video and audio, and even produces exceptional quality images of people in pitch-blackness.
You can customize whether your camera automatically records when you're not home or set it to a time-based schedule for when you're at work. While it's on the pricier side, it offers seven days of video and audio backup for free, making it a worthwhile investment compared to some of the other smart security systems.
Price: $299
Anyone who grills regularly knows the inconvenience of it -- walking in and out of the house to check the meat, hoping the temperature is hot enough but won't burn your steak, and adding coals or lighter fluid when necessary. This tool handles all that, alerting you on your smart device when your grill is preheated, what the internal meat temperature is, and when your meat or fish is fully cooked. The 725 square-inch cooking space and four internal chrome racks allow you to grill for both large and small occasions.
Price: $59.95
A smart outlet can help you control even your most basic appliances. During the initial install, you specify the device that will be plugged in so that you can control its functionality from the app. A small change like this can make a big difference in your home.
Price: $164.99
I'm personally willing to pay triple this price for any device that can vacuum my floor for me, but at this price, the Ecovacs Deebot N79S is a pretty impressive deal. It integrates with smart home systems and other apps, offers a manual steering option, and cleans surfaces surprisingly well. It also has a long battery life.
Price: Varies based on screen size and features.
LG was the company to offer Alexa and Google Assistant connectivity in its smart TVs.
With a smart TV, you can connect your streaming services like Netflix and Hulu, your cable box, and other video devices all in one place. Many smart TVs, like LG's products, also offer voice control capabilities that allow you to ask the TV to search for a movie or show.
If you're just starting to develop your smart home and only want a basic smart TV with integrations to major streaming services, you can purchase an LG TV with 4K, Google Assistant, and Alexa capabilities starting at $479.99.
Smart devices can enhance your productivity and make life more convenient. Plus, the technology is getting less expensive. A few purchases can make your home a smart home.
Editor's note: This post was originally published in June 2019 and has been updated for comprehensiveness.