With over 100 million daily active users, Snapchat provides the opportunity to reach a massive audience. Snapchat is also the most popular social media platform for teens ages 13-17 -- a hard demographic to reach through more traditional marketing efforts.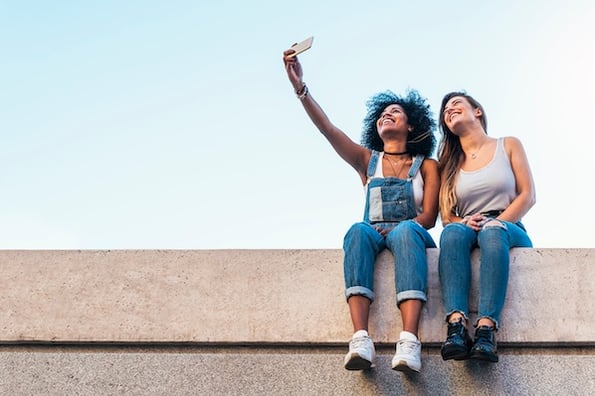 But how can your business best engage with Snapchat users? Sure, you can buy Snapchat ad space, but that won't allow your message to spread organically. To get the most out of Snapchat, you might want to check out Geofilters. A national Geofilter can typically be seen by 40 to 60% of the daily Snapchat audience -- that's 40,000 to 60,000 people. Local Geofilters have impressive scope, as well. Bell Media ran a Geofilter campaign for five hours at The Quad at the University of Alabama, and reached over 19,000 people.
A Geofilter is a location-based overlay you can find by swiping right on your Snapchat photo. It's a particularly useful tool for promoting your business. If you create your own Geofilter, anyone on Snapchat in your chosen location can use that filter on their Snapchat images and videos -- which means you'll attract a large audience without much effort at all.
To clarify what a Geofilter is, here's a picture of a Starbucks' Geofilter, which I can only find from my current location (near a Starbucks in Boston):
A Geofilter can help you alert foot traffic of your business's nearby proximity. It can also spread brand awareness to users both in and outside your chosen location, as users can send a Geofilter to anyone regardless of their location.
There are two types of Geofilters you can create -- personal or business. For our purposes, we'll focus on creating a custom business Geofilter to supplement your marketing strategy. However, you'll follow similar steps if you're creating a Geofilter for personal use, like a wedding or birthday party -- the only step you'll change will be the last one, where you'll select personal instead of business.
Disclaimer: You must abide by Snapchat Submission Guidelines when creating a custom Geofilter. Read these before submitting your filter.
How to Make a Snapchat Geofilter
Go to Snapchat's Create a Filter or Lens product page
Click "Create Filter"
Upload your own image, or create a design
Choose your dates
Select your location
Specify whether your filter is personal or business, and then check-out
How to Create a Snapchat Geofilter:
Creating a Snapchat Geofilter takes almost no time at all -- the only challenging aspect is the design itself. Take a look at the 12 steps you need to follow to create a Geofilter for business or personal use.
1. First, go to Snapchat's Create a Filter or Lens product page and click "Create Filter".
2. You have a few options for design. You can use a Snapchat pre-made template, create a custom filter using the Snapchat design tools, or "Upload" your pre-designed filter from elsewhere. For our purposes, I'll upload my design.
3. Canva provides pre-made Snapchat Geofilter templates for easy design, so I chose to use Canva. However, you could also use Photoshop, Illustrator, or virtually any other design tool, particularly if you've got something specific in mind.
4. You can use Canva templates to create filters for conferences, national holidays, birthday parties, weddings, or any other event. I created one for "HubSpot's Sponsored Weekend Market" (yes, this is fake … ). I chose a template and simply filled out the text boxes.
5. When you're happy with your Canva design, click "Download".
6. You need to download your filter as a PNG.
7. Your PNG image size must be 1080 x 2340 -- you can resize the downloaded image in Preview, Photoshop, or another tool.
8. Now, back on Snapchat's Create a Snapchat Filter page, click "Upload" and import your PNG file. You can add color, text, or other elements from within the Snapchat page, or click "Next".
9. Choose the dates you want your Geofilter to appear, or select "Run indefinitely". Then, click "Next".
10. Choose the area you want your Geofilter to appear -- your location cannot be more than 50,000 square feet. Then, select "Checkout".
11. Here, you'll specify if your filter is for business or personal use. If you select "Business", you'll need to include a filter name and a business name.
12. When you're satisfied with all your filter specifics, including dates, location, and design, input your payment information and click "Submit".
Snapchat Geofilters are one of your cheapest social media paid marketing options, so it's worth giving it a try if it fits with your target audience. If you're still a little hesitant, take a look at our complete Snapchat Marketing guide for further inspiration.