As marketers, capturing buyer attention is everything. Without it, we're just throwing more content, emails, ads, and offers into the abyss. Yet, there has never been a harder time to earn buyer attention.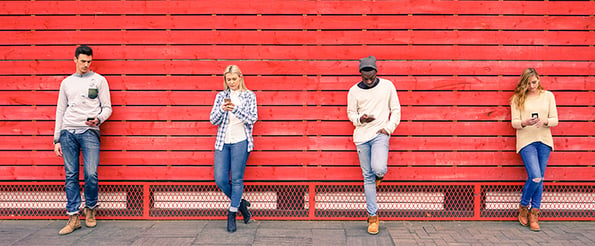 Thanks to advances in technology and the abundance of information on the internet, today's buyers have a lot more knowledge and power. They can learn about our companies and products through many channels -- online and offline.
Meanwhile, technology has made it much easier for marketers to create more content, push ads, and send emails, -- and we're doing it more, more and more.
The convergence of these two forces has resulted in diminishing returns for marketers. Our prospects are overwhelmed by the amount of content they're exposed to, and they are tuning us out.
Consider that the average office worker receives 121 emails a day. With that staggering number in mind, it's not surprising that people are unsubscribing from emails at higher rates. Research shows that the number one reason users unsubscribe from email lists is because they get too many emails in general, not necessarily because they don't like the content.
At Socedo, our nurture emails get a 1% CTR on average. A 2% CTR is now considered "good".
At this point, simply turning up the volume doesn't work anymore. As marketers, we need make sure that our engagement is more targeted and valuable.
To get there, we need to listen to our customers before we act.
Instead of pushing what we "think" customers want, we should wait for them to tell us what they care about. Instead of starting a campaign because a senior leader thinks it's a good idea, we can use customer data to inform the campaign strategy, content and execution.
What is Intent-Based Marketing?
Intent-based marketing is a methodology of listening to signals that show a prospect is researching a specific topic or problem area so you can send the right message at the right time.
It's the kind of marketing that aims to listen, learn, and then engage. For example, an intent-based email would be sent to a prospect as soon as they show interest in a relevant topic, and the email would reference the prospect's interest and provide relevant content.
While intent-based marketing has been around for awhile now, marketers have traditionally just focused on buying intent.
But intent-based marketing is not just about serving the right ad or message to trigger a purchase. It's about responding to people's intentions in the right way, wherever they are in the buying journey. It is this level of personalization and relevant engagement that will make people choose your brand versus your competitors.
You can start this process by gathering intent data from the broader web.
What is Intent Data?
Intent data is generated from actions that tells you what a potential buyer is interested in.
It includes internal data (collected from engagement with your owned digital properties, such as website clicks, email opens, downloaded offers, etc.) and external data (collected from activities outside of your owned digital properties, such as social media platforms, user reviews, competitor mentions).
At this point, marketing automation platforms have enabled us to nurture leads, and personalize our emails, website content and ads based on the data we've collected. This is a great start, but it's not enough.
If the only actions you're tracking are email clicks, webpage visits and other engagements with your company, you are only tracking leads that are "in-market", or actively in the buying process. In reality, the majority of the B2B buying cycle is over by the time a buyer lands on your website. According to Corporate Executive Board, prospects have made 60% of their buying decision before talking to a sales rep.
The buyer journey starts when someone starts to do research on the web to increase their understanding of a problem they want to solve. This is known as the Discover stage within the buying journey.
According to Forrester's Business Technographics Survey in 2016, buyers use 15 vehicles during the Discover stage. More than half of these vehicles are online, and thus represent sources of digital insight.
Source: Lenovo's presentation on Intent-Based Marketing at B2B Marketing Exchange 2017
Social Media-Based Intent Data
Social media is a good place to start because there is a wealth of intent data that exists within social media platforms and much of that data is public.
55% of B2B buyers search for information on social media and 84% of CEOs and VPs use social media to make purchasing decisions.
Social intent data includes any action potential leads take on social media. Today, many people go to social networks like Twitter and LinkedIn to learn about and discuss news and business issues in our industry. Some of us go on Quora to get perspectives on how we might tackle certain business challenges, or go on Meetup.com to find in-person events where we can gain a broader view of our industry.
On Twitter, we can identify potential buyers based on their tweets and following relations. On LinkedIn, we could find potential buyers by looking at people's group affiliations (i.e., specific product user groups), the influencers they are following, the articles they are sharing and commenting on. On Quora, we could do the same by looking at who is asking questions related to our product category. On Meetup.com, we could see people's profiles and their meetup attendance history.
At this point, there are data providers that can tell you which contacts or prospects in your marketing automation database are showing interest in your space, based on keywords present in social media conversations.
With contact/lead level intent data from social media, you can start to segment your leads, use this data to trigger personalized emails in real-time, and to score your leads.
How to Leverage Intent Data from Social Media
1) Start With Social Keyword Research
Finding the right keywords to use to target and trigger your marketing campaigns requires you to look at keyword research a little differently. You're not looking for the keywords leads are using to find your website, because that's only a small percent of their overall activity.
Instead, you want to know:
Which influencers your leads follow
What topics your leads research most
The events, news or keywords your leads care most about
Which competitors they're following
Other than your own social accounts, who else do your leads follow? This information will give you a mix of obvious influencers in your industry, but it will also reveal connections that you may not have realized existed.
2) Look for Keywords and Hashtags Mentioned
This is another important set of social intent data that will tell you what topics your leads are researching -- even if they aren't actively performing the research directly on your site.
Social intent data means you aren't limited to the keywords strictly associated with search research. Event hashtags, industry topics or other keywords could all indicate a good fit and need for your product or service -- especially from your more passive leads who aren't actively searching Google.
3) Identify Social Activity With the Greatest Opportunity
Unlike traditional lead scoring, where your leads' actions are limited by the amount of content you create and promote, tracking keywords and social actions in this way could give you hundreds or even thousands of results. You can track as many keywords as you want, but you don't want to create a campaign around every one. You want to prioritize the keywords where you see the most opportunity.
There are two main factors you should use to evaluate the opportunity of potential keywords:
Volume: How many users are engaging with each hashtag or keyword in a set timeframe?
Lead Engagement: How much do leads who take that social action engage with your company?
The first point is straightforward. The second point requires you to compare your social keywords with the lead scoring you already perform. If leads using a particular keyword also tend to visit your website, engage with your emails and download your offers, then other leads using that keyword are likely people you want to market to.
On the other hand, if a keyword has been used by a lot of leads in your system, but that's the only thing these leads are doing and they don't have a high lead score, you should not spend time crafting content on that topic.
Here is a sample report you can run to compare the minimum lead score of the different keywords identified in step 1. By comparing the keyword research above with your existing lead scoring you can gain an even better idea of which social activities indicate qualified leads. Eventually, you can incorporate social actions into your lead scoring model alongside email clicks and form fills, to keep your pipeline full with the most qualified leads.
This sample report has dummy data:
Next, look at how many leads are using a specific keyword or social activity to know whether or not you should focus on it. We'll talk about measuring and improving this list in the last step, but this data will give you a good place to start.
3) Conduct a Content Audit and Start Planning
When you perform research on social keywords, you may learn things you expect, i.e., your audience is engaging with a social keyword you're already creating content around. You may also find a few surprising keyword opportunities that you weren't focusing on at all. The least surprising keywords are where you want to start.
Before you begin creating campaigns, you need to determine what content you'll use to educate and nurture the leads taking these specific social actions. This process begins by auditing the content you already have.
For each potential keyword, ask:
Do I already have content on this topic?
How does that content perform? Does it need to be rewritten or revised?
What's my specific message or call to action for people who are interested in this topic?
What new content do I need to develop for this audience?
At the end of this process, you should have a clear idea of the buyer personas you're targeting for each keyword and the message you want to send to properly nurture them. Your keywords will end up in one of three buckets:
Keywords you've actively targeted and rank for. These have always been your main SEO focus. You have good quality content on the topic and know the best way to target the audience.
Keywords you create content for but haven't made a priority. Before this research, you may have known there were opportunities here but didn't realize how valuable they were. The content created probably needs revisions and you may need to create some new content to support it.
Keywords you didn't know your audience cared about. These are the ones that really surprised you. You currently have no content to support these campaigns and need to develop the right messaging to approach this new audience.
All these keywords still present strong opportunities. As you begin creating campaigns, you'll be able to test out the process on keywords you know you have strong messaging for while you build out your content and messaging for the rest.
4) Leverage Social Intent Data in Your Email Nurturing Campaigns
Once you have the social actions that indicate a qualified lead, you can create marketing campaigns around lead actions like following a relevant influencer, mentioning a specific keyword, or using a relevant hashtag.
Start by focusing on two to three of your strongest keywords, and build campaigns around those. Based on your content audit in Step 3, you should be able to identify a few "low hanging fruit" keywords where you already have good content to share. Your early concern shouldn't be building out long sequences either. Create one to two follow-up emails per campaign and see how they perform.
Once you feel like you are getting good results in terms of email open rates and click-through rates, you can expand these initial campaigns and move on to other keywords where you already have content to promote.
Here at Socedo, we are currently sending 500-1000 real-time emails per week that are triggered solely from social media actions. Here's an example of the email we send out when a lead uses the keyword #ContentMarketing, a topic we blog about frequently:
This email averages a 38.8 % Open rate and a 4.8% click through rate. It performs twice as well as our typical nurture emails.
Depending on how broad each social action is, you may need to further segment your campaign or send it to everyone who uses that hashtag. For example, we found that while leads using a keyword like #ABM had a variety of job titles, almost all the leads following particular accounts are senior decision makers.
Consider Leveraging Social Intent Data
By turning to intent data from the broader web and social media, you can understand your buyers, segment your accounts and prospects into the right campaign tracks, trigger real-time emails and more accurately score your leads.
Use these five steps to start your intent-based marketing campaign but remember to constantly return to each step to further improve and refine your campaigns as you learn more about your audience and the right way to target them.