If you're a marketing team of one or a marketing manager with various responsibilities ranging from social media to blogging, you know how daunting and time-consuming some tasks can be.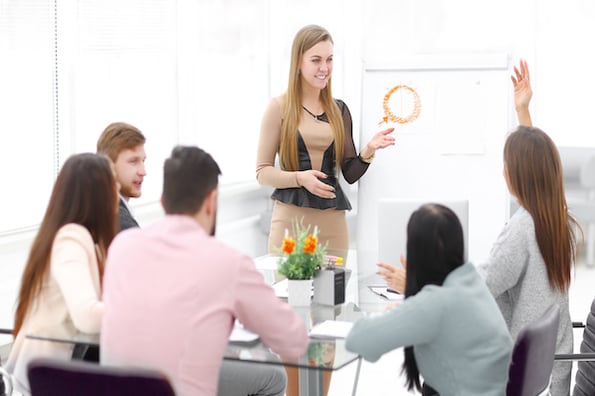 Namely, planning out a social media content calendar.
That means figuring out an entire month of fresh content that needs to be engaging, stand out, and make consumers identify with your brand on social media. While that is a lot for a small team, it's even more when you find yourself stuck in a rut.
Are you worried you're going with the same old, same old when it comes to social? Try these content ideas to re-vamp your posting game.
Social Media Content Ideas
Post your new blog on your Instagram Stories.
Conduct a poll on Instagram.
Share user-generated content on Twitter.
Engage with audiences on Twitter.
Create and share website content on Facebook.
On LinkedIn, post articles/stats about your industry.
Highlight milestones of your company on LinkedIn.
Create graphics for Instagram and Facebook.
Show the faces behind the company on Snapchat or Instagram.
Use the times to your advantage.
1. Post your new blog on your Instagram Stories.
To build traction on your website, try migrating customers towards your blog by putting it in an Instagram Story. Making the Story function in a "Swipe up to see more" fashion makes it easier for followers, since they don't have to close the app to visit your website.
Take this story from WordPress's Instagram account. The visual is a compelling lede, enticing readers to read the blog post. Followers like Stories because they go away after 24 hours, making the essence of the moment all the more thrilling.
This is how different types of content can work together — you can use one platform to promote another.
2. Conduct a poll on Instagram.
Using Instagram Stories is amazing for audience engagement. Hosting a poll on your Story is an interactive way to get your followers involved in making content choices for you.
Asking a question in a poll like, "What do you want to see us post next?" and giving them a couple of choices ensures that the content they pick will delight your followers. Alternatively, you can use polls as a chance to prove credibility.
Take this example from HubSpot:
Asking a question you can answer with a statistic or content like a blog or ebook proves that your business knows its industry. As a consumer, I would trust a company that's knowledgeable about their industry more than a brand with no educational content.
This proves that otherwise "boring" content can still be engaging in the way it's shared. And, if followers want more information, you can always link back to your sources, boosting CTR for you.
3. Share user-generated content on Twitter.
Apparently, Taco Bell has a blog.
It's right there, under the Delivery button (where my Taco Bell search usually ends). This post, from the official Taco Bell blog, (Taco Blog?) is a round-up celebrating user-generated content.
@tacobell my brother just sent this to me! It's.....it's beautiful pic.twitter.com/Zx4nQl32Ai

— Jason (@_Js0n) June 25, 2019
UGC not only fills timelines with content, but shows followers they're being listened to, and that brands are interested in what their customers have to say. A round-up blog goes beyond a simple retweet, like, or reply, and gives other customers an incentive to submit their own content.
4. Engage with audiences on Twitter.
Instagram isn't the only platform with polls, so if you don't have an account or it doesn't fit into your content strategy, you can use another platform, like Linkedin or Twitter. Here, LinkedIn is using the time of year to engage with their audience:
New year, new you! What's your New Year's work resolution?

— LinkedIn (@LinkedIn) December 30, 2019
Not only that, but check out the account's reply under the tweet. It responds to the winning answer of a poll with a blog that reflects that answer. This shows that LinkedIn planned their poll with the foresight to link to a post that led to more information.
This is a sneaky version of asking followers what they want to see. By framing the question this way, followers can see the dedication your brand has to engage with their opinions. LinkedIn positioned themselves to swoop in and save the day with this poll.
5. Create and share website content on Facebook.
Facebook is for more than silent videos and long-form posts. Although those are the site's bread and butter, you can do so much more with Facebook to engage with different audiences than those you would find on, say, Instagram or Reddit.
Take this post about crazy internet tools that actually work, from BuzzFeed:
It's an approach that's working for BuzzFeed, considering 74% of its social traffic is from Facebook, with Twitter in second place with around 8%.
Thinking outside what content is most popular on Facebook might be a win for you, too. Blog content is also a smart idea to post long-form content you already own, leading to a boost in lead generation.
6. On LinkedIn, post articles/stats about your industry.
Stuck about how to post LinkedIn content? Or what LinkedIn audiences want to see?
Think about what makes your company reputable. While other social platforms can show off brand personality, you can leverage LinkedIn as the tool for meaning business. Statistics are fabulous content pieces, as well as a definition guide of marketing terms that might be a little less known than say, SEO.
Check out this post from HubSpot, which gives a quick, but useful vocabulary lesson on social commerce:
By putting a CTA at the end, the post invites followers to think. Not only will your brand be in their mind as a connection to this term, but it also incentivizes those early on in their buyer's journey to check out the website for more terms or stats that might be helpful to them.
7. Highlight milestones of your coworkers on LinkedIn.
Here's a cool way to use LinkedIn to build your brand: highlight employees or colleagues.
Drift dedicated a post to their colleague after that colleague was chosen for a professional award. This is wonderful content for LinkedIn, because the platform is centered around professional growth.
Whether colleagues get promoted, just celebrated a birthday, or spoke at an event, this shows others, like competition or job seekers, that you care about employee achievements.
8. Create graphics for Instagram and Facebook.
I love this content idea for Facebook because it goes beyond the "typical" content brands might choose for the site.
For instance, Canva is a visual company, so posting content on platforms like visual-heavy Instagram is fairly typical, but Facebook can be used for stunning visuals, as well:
Additionally, Canva syncs their social accounts so content stays the same:
There's a lot of second guessing about syncing social content and diversifying it, but it all depends on what works for your business. Some businesses thrive with synced content across all platforms, some don't, and some only sync a couple.
Syncing content saves time as a marketing team of one, so starting out that way is a good idea. Plus, graphics can be engaging across all platforms since they're easier for followers to digest than text-heavy content..
9. Show the faces behind the company on Snapchat or Instagram.
Instagram, Snapchat, and even TikTok are social platforms with an emphasis on video content. Your brand can use these social platforms in creative ways that stays relevant to your company or industry. One of those ways is by showing the personality of your brand, like Buffer did, here:
Buffer gives quick tips from a human, rather than words on a screen, which provides consumers with a stronger sense of connection to the brand.
It also shows consumers that your brand knows how to be social media literate, boosting reputation. Especially if social media is a huge part of your product, finding interesting ways to use its tools appeals to leads.
Above all else, customers feel connected to personality more than a stat on a white background. However, you don't need a big budget to create content that resonates with your audience. "A Day in the Life" of an employee, something compelling for Instagram Stories, or a Snapchat geo-filter for your next event are all opportunities to demonstrate your brand's appeal.
10. Use the time of year to your advantage.
Look at the calendar.
Are there any holidays coming up — even funny holidays, like National Burger Day? Think about how you can use that to your advantage, like how Southwest Airlines used seasonality for this tweet:
Sand or snow?

— Southwest Airlines (@SouthwestAir) January 12, 2020
If you're thinking about local marketing, this is a great content idea for you. Using the seasons shows that you care about the lifestyles of customers, a key demographic in identifying your target audience.
You can use the calendar more than you think — for instance, National Dog Day can be a celebration of your colleagues' favorite furry friends on Instagram Stories. Building brand awareness starts with what you have and how you use it!
Creating fun content for consumers doesn't have to be a dreaded task that happens every couple of weeks. With proper planning and understanding of target audiences, it can be a cool way to interact with those you wouldn't otherwise.
Keep these ideas in mind as you're thinking about how to execute strategy for your next campaign.he level of engagement you'll see might surprise you.