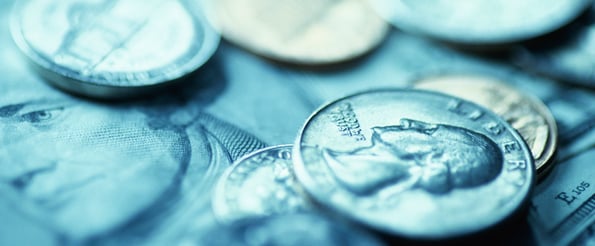 When we think of marketers, we often think of using social media to promote content and engage with consumers online. But this isn't the reality for all marketers (even though it should be).
When you're working within the highly regulated finance industry, there can be legal implications for companies that are seen as being "over-promotional" on social networks like Twitter and Facebook. The result? Many finance marketers have hesitated to adopt social media, saying the risk isn't worth the investment.
The reality, though, is that even financial companies' customers are spending a lot of their time online -- and these customers expect to be able to reach brands through social media.
Not only are people willing to do business with finance-related businesses online, they're actually more likely to do business with you if you offer engagement online. Plus, social media is resulting in more and more qualified leads for businesses (both B2B and B2C) as well as other beneficial functions like amplifying the brand at a low cost, customer support and public relations (showing off corporate social responsibility, charitable donations, fundraisers, sponsorships, and so on).
Investors are among the few members of the finance community to embrace social media. According to a digital survey of investors, people still look to companies for information to inform their investment decisions. More and more, they're looking for that information on social media. Nowadays, 81% of high-net-worth investors are using social media.
Will other branches of the finance industry join investors and find a way to commit to social media?
For many finance marketers, the first hurtle is knowing where to begin. First, run your website through HubSpot's Marketing Grader. Once you've done that, it's time to think a little more big-picture. In this post, I'll go through three things finance marketers can do to get started on social media.
1) See what your competitors do well on social.
What better way to start than by competitive analysis? If this is your first full venture into a comprehensive social media strategy, take a look at what everyone else is doing -- and do it better.
First, dive into your website analytics and decipher which social media channels your own traffic is coming from. This will help you to eliminate spending time researching your competitors on channels that aren't currently working for you. You'll get to those, don't wory -- but only once you've nailed down the top-priority channels.
Next, list your top ten competitors and evaluate their social media channels. Take notes on what you find good and bad.
What do people engage with?
What day/time seems to be more effective? (You can use the "analyze" function in a tool called Followerwonk to figure this out.)
Which topics resonate with their audiences?
Which images, hashtags, tones of voice do they use?
What types of images are they using as their header image/profile photos?
How do they describe themselves?
Get a real feel for the experience a visitor to these companies' social media channels has.
Here are a few tools that will help you with this step.
Twitonomy (For Twitter)
The detail in this app is unbelievable for a free tool. It's well worth spending time dropping your competitors' handles in here and seeing what conclusions you can draw for your own plans.
Likealyzer (For Facebook)
Likealyzer isn't as thorough for Facebook as Twitonomy is for Twitter, but it has the added advantage of a dropdown list of industries so you can peruse the best and worst pages easily in the vertical you care about. Plus, it's also free.
RivallQ
For a deep-dive/holistic competitive overview, RivallQ is an excellent resource, despite being a paid tool. Type in your competitors URLs, and drill down into all the major social networks except LinkedIn. You can find out meta descriptions, bios, level of content engagement, and more.
At this point, you should have a good idea of your competitors' activity and have a better sense of what you can achieve via your own social media channels. (For more information on how to get customers from social media, check out our ebook How to Acquire Customers on Social Media.)
2) Develop a social media usage handbook and crisis plan for your employees.
It's no secret that finance marketers are restricted by stringent rules and regulations, terms and conditions, standards, and provisions, no matter what their sub-industry. Indeed, the recent guidelines published by the Financial Conduct Authority (FCA) set out guidelines by which U.K. financial marketers need to follow when it comes to social media promotion.
Different regions around the world have different guidelines, so make sure to familarise yourself with any guidelines appropriate to you. Then, ask yourself: How can I get around these restrictions in 140 characters or less? Here are a few tips.
Talk more about your customers than you do about yourself.
One of the golden rules of social media is not to use it for purely self-promotional material. This is especially true if you're bound by the regulated social media policies. Nobody's interested in the person at the party that only talks about him/her self. Social media results rely on being social.
It's also often a good idea to have your more prominent company personalities available on a channel or two of social media. Take a look at the difference between these profiles:
The @MoneySavingExp account was set up in May 2009, while @MartinSLewis (the human behind @MoneySavingExp) was set up in 2011. His personal account has 2X the followers and vastly more engagement than the generic business account.
The takeaway here? A real face and a real voice is more trustworthy than a branded account alone. Plus -- the business account only publishes updates about itself.
So, how do you decide on what to post on the company social media accounts? The 10-4-1 rule is good place to start. For every 15 social media updates you post from a given account, 10 should be pieces of other people's content, 4 should be your own blog articles, and 1 should be a landing page. Aim to be helpful and educational, not salesy.
Point followers to your company's terms and conditions.
There's little space for the vast list of required terms and conditions on social media posts. One way to get around it is to accompany your social media posts with an image that includes a message that terms and conditions apply, and where they can find them.
Of course, all the better if your can include this in the main message (which you can do on Facebook). But for networks like Twitter that's restricted to character limitations, the image solution works well.
You'll want to check out the social media guidelines in your region for best practices. If you want to see an example from the U.K., here's a link to Section 1.13 of the UK's social media guidelines for the finance industry.
Be wary of implying misleading promises.
It's nice to get people excited with amazing statistics and enticing graphs. But it's not-so-great when it can be misinterpreted as factual rather than merely possible.
This is a common way compliance rules are broken. To avoid this, stick to stating truth and making people aware of potential losses. This doesn't mean you have to be boring, just make sure to choose clarity and avoid misleading language.

Join the conversation on topics aligned to your company, rather than specifically about your company.
Find conversations happening around topics associated with your industry. Foller is a pretty new tool than can give you some pretty great insights into what people are talking about on Twitter within your industry. All you have to do is pop in your competitors' handle and see which conversations they're contributing to.
For example, Allied Irish Bank's social media team builds their Twitter campaigns around what their financial services enable people to do, not around specifically bank-related topics. Some of the hashtags they've used often include #thetoughest, #onegoodidea, #startup, #finals, and #savingselfie. They tweet about things their customers are interested in -- like school and final exams. Try intregating some of the hashtags your competitors are using into your own Tweeting and become part of the conversation.
Stay nimble.
Staying current on social media can be a huge challenge for finance marketers. It's rare that you would get pre-approval to post tongue-in-cheek updates on social media during major events like the Super Bowl, for example.
For finance marketers, being responsive and current on social media usually means one thing: winning trust from the compliance department. Once you have their trust, you can grow the capacity to be more lenient over time.
Sit down with your compliance team and develop a thorough social media policy and guidelines document together. (Here are a few examples of good ones.) Follow these guidelines to the letter, and make it clear that you're doing so. After a couple of months of doing this, you should find it much easier to get quick pre-approval for your updates.
Planning is absolutely key in finance. You should try to plan your content calendar a month in advance, which gives your compliance team time to approve any social media updates that need approving without any bottlenecks. (Here's a great social media calendar template if you don't have one already.)
3) Plan regular training and crisis reaction sessions.
Unfortunately, employees' public social media accounts can sometimes be construed as speaking for the brand. This is why it is important to train in new employees, and to have training sessions when changes in the social media platforms' rules are implemented.
Here are a few tips:
Recommend to your employees that they either make social accounts private or add a disclaimer to the bio stating, "Views expressed in this account do not reflect those of [Your Company Name]."
Advise employees to see what items the company account is tweeting to get familiar with what bandwagons are acceptable to jump on, and what should be avoided.
Lay some ground rules for the kind of content the company social accounts are allowed to curate and reshare/like/upvote, as well what's NOT allowed to.
Appoint a go-to person you'll reach out to if you're ever faced with a difficult scenario on social media, and don't act until you have their advice on the next step.
Have social media monitoring set up to catch negative messages before they get out of hand. (HubSpot customers: Monitoring is already a part of HubSpot's Social Inbox tool.)
Using social media in the finance industry can be challenging and frustrating. However, it should be seen as a vital part of your digital marketing strategy. Embrace it, use it, and use it well -- while remaining within the confines of the law.
Need some more guidance on how to integrate social media into your digital marketing plan as a finance marketer? Check out HubSpot's new ebook, which is tailored specifically to marketers in the finance industry.