Tell someone to write a poem, and chances are, they'll freeze up. Tell someone to write a haiku, however, and we bet they'll bang one out in less than 10 minutes.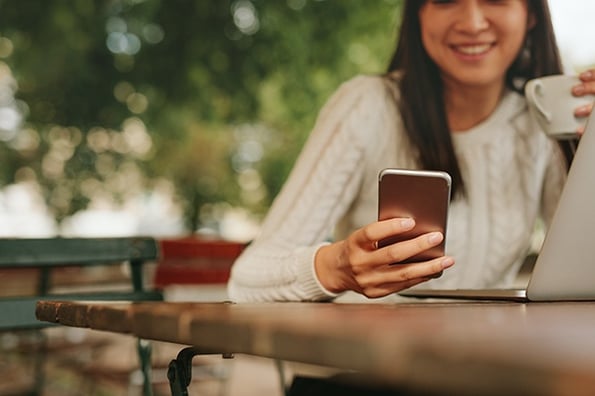 The reason: constraints unleash our creativity. But how can you translate that to the complex world of content marketing?
The below diagram will help you do just that.
The Story Funnel-Matrix
The funnel-matrix has two dimensions. The first maps loosely to the stages of a typical marketing funnel: awareness, consideration, and acquisition.
What stories you tell will depend on your current relationship with your audience --where you are as a couple, to use the obligatory marketing-dating analogy.
When you first meet someone, your conversations tend to be around things that you have in common -- your shared interests and values. This is why so many people make small talk about the weather. It affects everyone, so it's something we all have in common.
You probably won't dive into your health problems the first time you meet someone. You probably won't share intimate details about the people in your life.
But after you meet, you might start sharing some of those things, especially if the first date goes well. You might start to paint a picture of your dream life: where you want to live, your ideal career, where you want to travel. Though you shouldn't hit them with a marriage proposal at this point, you'll start to share more about yourself -- what you care about and what you want.
By the third or fourth date, you'll naturally be sharing more personal stories than before. This is the way a relationship progresses. (Notice how storytelling is such a big part of what we do when we're dating. It's good for more than just marketing and publishing!)
This brings us back to our storytelling funnel-matrix. In the beginning of a relationship, you should tell stories about shared interests and values. As things progress, you can tell stories about the people in your life (like your customers or employees). Finally, as things start getting more serious, you tell stories about your products and services themselves.
The second dimension of the funnel-matrix adds an extra bit of planning help to your content creation strategy. This comes straight from the playbook of newsrooms.
The idea is to divide the stories you tell into three more categories based on time: timely stories that are pertinent based on news or current events; seasonal stories that are relevant because of the time of year; and evergreen stories that will be valuable no matter when the audience sees or hears them.
Take our client American Express, for example. Amex's OPEN line of credit cards wants small business owners to know that they care about them. Building that trust is a key element of their B2B branding, so they tell stories in various places, most notably on OPEN Forum, a content hub and newsletter that attracts millions of small business owners each month. They're mostly interested in staying top of mind, not driving conversions or talking about Amex's products.
Instead, they tell stories about how small business owners handle challenges like hiring and growth. These are examples of evergreen stories.
Sometimes Amex OPEN Forum spots something relevant that happens in the news and writes stories about how it affects small business owners, like new overtime laws and tax policies. These are timely + top-funnel stories.
And one day a year, American Express sponsors a holiday called Small Business Saturday, where it encourages consumers to shop at local businesses instead of big ones. To promote the upcoming holiday, Amex creates videos about small businesses around the country that are making a difference in their communities. These are seasonal stories.
Shinola's stories of its factory workers and their mission to transform Detroit are about both values (saving American jobs) and its company/people. So they are evergreen + top/mid- funnel.
GE Reports, which tells stories of how GE invents really cool products (but doesn't try to get you to buy those products), are mid-funnel and often timely—as the company reports on new innovations—but also evergreen because many of the stories are still interesting after the news is over.
The Groupon stories we talked about fit into the category of timely + bottom-funnel. They're stories about product deals Groupon wants you to buy on one specific day.
Zady's stories about the Indigo Skinny Jeans are evergreen + bottom-funnel. They'll be around whenever you are ready for them.
The smartest brand storytellers are constantly on the lookout for data to tell them what their audiences are interested in during each stage of the funnel and each segment of the Bullseye. They obsess over it. And that's because they know it's their secret advantage.
This is an excerpt from the Amazon #1 New Release, The Storytelling Edge: How to Transform Your Business, Stop Screaming Into the Void, and Make People Love You" by Joe Lazauskas and Shane Snow, available today.