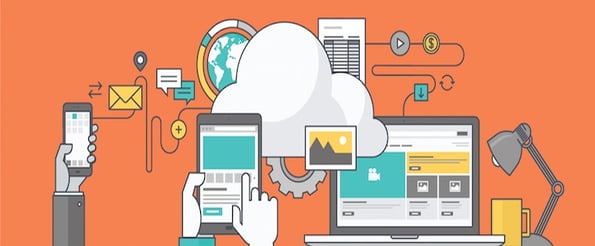 Did you know that Twitter was launched less than 10 years ago? Or that Instagram is only five years old?
One of the most exciting things about the internet is the pace at which innovation happens. New products can quickly become an important part of the everyday lives of hundreds of millions of people in the blink of an eye.
The story is no different when it comes to marketing on the internet. While many of us are familiar with "tried-and-true" ways to acquire and retain customers online -- paid search, email marketing, etc. -- there's a whole new wave of exciting technologies that are emerging right now.
What are they? And more importantly, how can you leverage them? To find out, let's take a look at some of today's most promising new technologies for earning new customers online, and how these new channels can influence retention.
3 New Technologies for Earning Customers Online
1) Native Advertising
Native ads are designed to "look and feel" like they belong with the content on the rest of the page.
According to research from Dedicated Media, native ads are viewed 53% more than banner ads. In other words, native ads give you a better chance of getting the visitor to look at your ad and visit your page. Not to mention, spending on native advertising is expected to grow to $21 billion in 2018, rising from just $4.7 billion in 2013.
Source: Business Insider
More specifically, sponsored content is a form of native advertising that aligns with the subject matter and design of the page in which it is displayed. It serves as an excellent way to engage site visitors by crafting material that they're genuinely interested in reading about. In fact, when done correctly, it can even be difficult to figure out which content is sponsored.
Here's a version of the Buzzfeed homepage which was highlighted in August 2014 in TechCrunch:
Can you spot the ads?
Were it not for the small yellow tags which read "Promoted By," it would be nearly impossible to distinguish between ads and the rest of Buzzfeed's content, right?
Here's another example from The New York Times of how Allrecipes.com leverages sponsored content:
See how the advertisement adheres to the card design used on the page to blend seamlessly into the rest of the content?
"Many publishers like Allrecipes are also offering native advertising products, which are increasingly seen as an effective way to reach consumers. Excluding ads on social networks, the research firm Forrester estimates that native display ads will increase to about 15 percent of the online display ad market by 2020 …The goal is to give consumers something that feels less like an ad and more like content they would choose to read or watch," explains advertising and marketing reporter Sydney Ember.
Native ads are also becoming increasingly popular on mobile. For example, Deadspin -- a popular sports website (and a favorite of yours truly) -- intersperses sponsored content with the rest of its articles:
This ad fits both Deadspin's formatting and writing style exceptionally well -- it has the same layout, some type of graphics, and same writing style.
2) Social Sharing
Social sharing has the potential to dramatically increase the reach of your important posts. And while we can all agree that the concept of sharing content on social media is nothing new, I want to focus on the impact that it can have on customer acquisition. This involves a bit more strategy.
Because social networks are constructed to help individuals share content with friends, they present a unique opportunity to reach new audiences. I like to call it the "Multiplier Effect."
Let's say that your business has 1,000 followers on Twitter. Those followers alone are greatly valuable; with each one of your posts, you earn up to 1,000 impressions at virtually no cost.
The Multiplier Effect comes into play when your followers retweet or share content about your business. Now let's say that you send out a tweet asking for retweets or shares, and 50 of your 1,000 followers take part. Keeping in mind that the average Twitter user has 208 followers, that means that 10,400 individuals would have had the opportunity to see your tweet. In this example, that's more than 10x your followers alone.
As you've likely realized, the most important variable in the above equation is the number of people that choose to share your message. While I hope that your content is so good that people are naturally inclined to share it, there's another powerful way to increase sharing rates: give your followers a reason to share in the first place.
Recognizing the power of the Multiplier Effect, many businesses have started to provide small rewards -- points, discounts, prizes, etc. -- to earn more retweets or shares.
Here's an example that Twitter referenced where a business promises a compelling discount once a certain number of followers retweet their message:
While Twitter's example is effective, the only issue is that Alternative's message is about a sale, not the business itself. In other words, it doesn't necessarily educate viewers, but simply attracts people in search of a deal.
As another option, there are some companies out there that can help you increase the reach of any of your social media messages -- not just those that promise a discount. For example, at Swell, our service allows you to offer a small financial incentive to your followers and site visitors in exchange for follows, shares, retweets, posts, etc.
Lastly, consider trying "influencer marketplaces" such as Speakr and TapInfluence, both of which connect companies with influential social media personalities to boost reach.
Keep in mind that you should be willing to pay for posts from influencers based on how many followers they have (and how many impressions you'll earn in return.)
3) Buy Buttons
Today, many people see products on social media, only to have to go to a separate online store to learn more about it and make a purchase. As a result, ecommerce businesses have it tough, considering they lose revenue when people don't click over to their site or abandon their cart.
The solution? Buy buttons.
Buy buttons let consumers make that purchase directly from the social media platform they're on in just a couple of clicks. Here's a look at how they're used on Pinterest:
Source: Shopify
To give you a better idea of how buy buttons can reshape your customer acquisition and retention strategy, consider these benefits:
They reduce the friction that normally occurs between finding and actually purchasing a product. Clickthrough rates become obsolete with buy buttons, because the visitor doesn't need to click to another page to view the product ... they're already there. Instead, it's simply a matter of going from impression to conversion. Expect conversion rates to increase too, as stored credit cards remove the hassle of having to enter payment details.
They improve the mobile shopping experience for users. "Buy buttons bring discovery-based e-commerce to mobile via social apps," explained Shopify CMO Craig Miller at this year's INBOUND event. Put differently, buy buttons allow a user to explore products they might be interested in on the social network(s) they're already on, and then buy directly from their phone.
Have a Shopify store? As of July, you can purchase buy buttons to turn your Pins into Buyable Pins on Pinterest.
Want to sell your products directly on Twitter? This September, the payment processor Stripe got into the buy buttons game as well. Using its Relay tool, users can connect their Twitter to their ecommerce system. (Right now the tool only works if you use SAP Hybris, but expect more technical integrations to come soon.)
What New Technologies Mean for Customer Retention
While the above examples focused more on customer acquisition, retaining your customers is of equal (or greater) importance.
By encouraging people who buy once to buy again, you can substantially increase revenue and decrease marketing expenses: returning customers spend 5X more than first-timers, and it costs 7X more to acquire a new customer than it does retain an existing one. The good news is that many of today's emerging technologies are better suited for repeat purchasing.
For example, social media is an incredibly valuable way to communicate with customers who have already signaled their devotion by liking your Facebook Page or following you on Twitter. In fact, Twitter has some interesting stats which show just how powerful social media can be as a medium:
74% of people who follow small-to-medium sized businesses (SMBs) do so to get updates on future products.
85% of Twitter users feel more connected to a business after they begin following them.
Now, let's take the notion that social media is a good way to talk to your customers, but add the concept of a buy button. This is just one example of how things are going to get really interesting for marketers -- both now and in the future. We're reaching a point where not only will you be able to communicate with your customers directly on the social media platforms they love, but you won't even have to make them leave the page to take action.
By making it easy for your existing customers to reengage and make another purchase from your brand all in one shot, customer retention just got a whole lot easier.
What Did I Miss?
The landscape for digital marketers is certainly undergoing some exciting changes at the moment. For marketers in organizations of any size, the key will be to find the mix of technologies that work for your business; it's not necessarily about dropping what's worked for you in the past, but about determining whether there's anything else worth adding in.
Which technologies you've tried for customer acquisition and retention? What's working? Let us know in the comments section below.