The word "voice" has taken on many meanings over the years.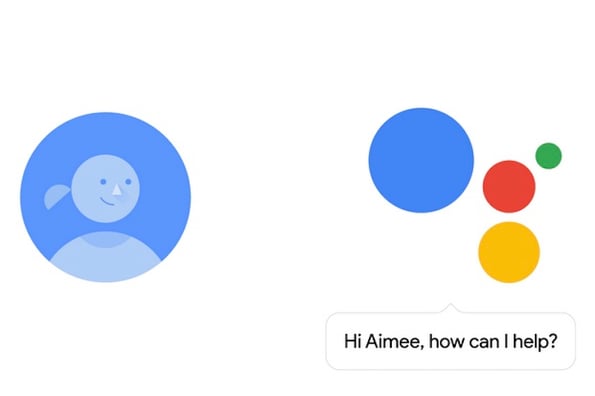 At its core, "voice" is the audible sound made by humans to utter the spoken word. But it can also describe how something feels. How you imagine a written word to sound, in your own mind. It can describe unification.
Whatever definition the word "voice" conjures for you, know this: It's likely to becoming increasingly used and important over the next year.
Around here, we most frequently use the word "voice" to describe the way people search for information or execute tasks that, thanks to artificial intelligence (AI) and other technology, can now be completed digitally. Rather than going to an online browser bar and entering a search query, we can now press a button on our mobile devices or speak a command to a voice assistant to get the information we want.
Source: Google
You might even be on a first name basis with some of these voice assistants -- "Hey Siri," "Alexa!" and "Okay, Google" have become part of the daily vernacular for many of us (present company/author included).
But looking ahead to 2019, how many of us are really taking advantage of this technology -- of using voice assistants, buying the hardware (like such smart speakers as the Amazon Echo or Google Home) that they equip, and even gifting others with them? And where we do use our voices in this capacity, what are we using them to do?
We asked over 3,400 people across the U.S., UK, and Canada to weigh in. Here's what we learned.
The State of Voice: Looking Ahead to 2019
The Prevalence of Voice Assistant Use
Most People Say They Don't Use a Voice Assistant
In response to the question, "Do you use a voice assistant, like Alexa, Google Assistant, or Siri?", there was a close split between those who indicated that they do use a voice assistant (52%) and those who do not (45%).
Data collected with Lucid

Out of those who do use voice assistants, most do so on their phones, suggested that the smart speaker market has a but of a road ahead in terms scale or becoming mainstream.
There also still remains some confusion about what defines a voice assistant, with about 4% of people answering that they aren't sure what it is.
That awareness somewhat informs use cases for voice assistants, which is what we examined next.
The Privacy Issue
One barrier to scaling voice assistant use could be privacy. When we asked survey respondents what their reasons are for not using a voice assistant, most answered that they have privacy concerns about the technology.
Data collected with Lucid
The issues of privacy and personal data protection have been front-and-center in 2018, with headline after headline appearing about how personal details from users' online accounts have have been either improperly harvested or otherwise misused.
Where that particularly manifests in the realm of smart speakers became particularly relevant when Facebook -- who faced one privacy-related crisis after another this year -- launched a video smart speaker, Portal, which came equipped with a camera.
How People Use Voice Assistants
Then, we asked survey participants: "In the past 30 days, what have you used your voice assistant -- like Alexa, Google Assistant, or Siri -- for the most?"
Here, fewer respondents indicated that they don't use a voice assistant (about 40%).
Data collected with Lucid
As for the use cases among those who do enlist the help of voice assistants, they were somewhat fragmented, with a fairly small percentage of users falling into each category. The highest number, however, said they use the technology to check the weather, with shopping following close behind.
The State of Voice Shopping
Given that shopping was one of the highest-indicated use cases for voice assistants, we want to drill down into that behavior and find out just how prevalent it was among users.
We asked: "Have you ever used a voice assistant -- like Alexa, Google Assistant, or Siri -- to buy something online?"
Data collected with Lucid
While nearly half of respondents said that they don't use a voice assistant at all, nearly a quarter of those who do said they have used the technology to make a purchase online.
When Amazon's virtual assistant, Alexa, and the hardware it supports, Echo, first launched, that was one of the key selling points in the company's narrative: Got your hands full? Now you can reorder dog food on Amazon, just by asking this speaker to do it for you.
The Future of Smart Speakers
Finally, we wanted to know what people's plans are for purchasing a smart speaker: the hardware that's supported with various voice assistants to execute commands much like the ones we asked about in our use case question.
Data collected with Lucid
Exactly half of respondents indicated that they have no foreseeable plans to buy a smart speaker. Out of those who do, most said they plan to buy one for themselves -- not someone else -- within the next six months.
The Year Ahead
Looking ahead to 2019, voice search shows some promise for growth. Over two years ago, Search Engine Land reported that 20% of all Google search queries are made by voice. With the amount of Google-Assistant-equipped devices -- like the Google Home and Home Hub -- having launched since then, that number is likely to have increased in the time following that statistic's publication.
The same could be true of a mainstream presence of smart speakers. After all, our above research shows that 37% of people plan to buy a smart speaker either for themselves or someone else within the next 6-12 months -- and about 14% of people said they have already made such a purchase.
What's key to remember about the growth of both voice assistant use, as well as the hardware it will support, is how it will inevitably be used for marketing purposes as the technology permeates more households.
The New York Times recently published an article titled, "Marketing Through Smart Speakers? Brands Don't Need to Be Asked Twice," which explores ways that businesses are creating user experiences on these speakers -- not to be confused with creating paid ads on them, since neither Google Home nor Amazon Echo will run them (yet).
To think about the best experience to create, have another look at the data on use cases. First, where does your audience fit in -- and second, how can you help users who are new to or unfamiliar with voice assistants navigate this technology? As many predict, voice commands could feasibly go toe-to-toe with actions executed on desktop computers and mobile devices.
"These are still early days for marketing on voice devices," writes Sapna Maheshwari, author of the aforementioned New York Times story. "But over time ... voice interactions will begin to replace many of the activities that people are conducting on screens."