"Unriddled" is HubSpot's mid-week digest of the tech headlines you need to know. Each week, we highlight the top stories in a quick, scannable way and break it all down. It's tech news: explained.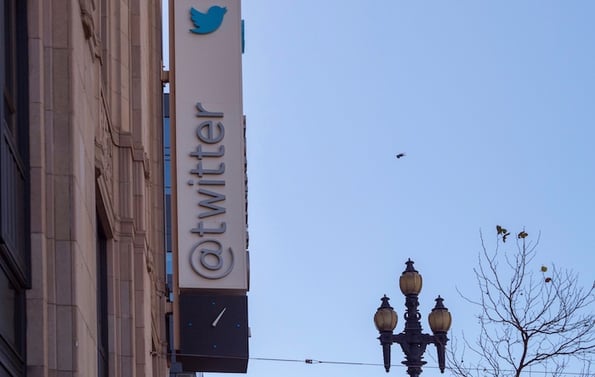 Unriddled: The Tech News You Need
1. Twitter (and Facebook) Takes Washington
Twitter CEO Jack Dorsey made not one, but two appearances before U.S. lawmakers last week to testify on foreign interference on social media, as well as the company's algorithms and content moderation policies.
Dorsey was joined by Facebook COO Sheryl Sandberg for the former -- held before the Senate Select Committee on Intelligence (SSCI) -- where it was revealed that between October 2017 and March 2018, Facebook deleted 1.3 billion fake accounts -- an eyebrow-raising figure given the company's current metric of "2.23 billion monthly active users on Facebook as of June 30, 2018."
"How can 1.3 billion accounts account for only 3 percent to 4 percent of 2.2 billion users?" asks Siva Vaidhyanathan in a New York Times op-ed, noting the statistics from Facebook's own transparency report. "The answer is that such pages are going up faster than Facebook can swat them down."
Twitter also plans to release a revamped version of its own transparency report, Dorsey said during his latter hearing before the House Energy and Commerce committee -- one that will disclose data on harassment reports and violations taking place on the platform.
The new report "will make that data more public," Dorsey said, "so that all can learn from it and we can be held accountable."
Thank you Chairman Walden, Ranking Member Pallone, and the committee, for the opportunity to speak on behalf of Twitter to the American people. I look forward to our conversation about our commitment to impartiality, transparency, and accountability.

— jack (@jack) September 5, 2018
Since the hearings, both platforms have announced new initiatives to combat many of the issues about which Dorsey and Sandberg were questioned by lawmakers. After weeks of various excuses for not doing so, Twitter banned the notorious conspiracy theorist Alex Jones from its platform (following in the footsteps of peers Apple and YouTube), and Facebook announced more transparency tools to allow brands to see where their video ads might appear.
Google, meanwhile, was notably absent from the morning's hearing, despite the SSCI's wishes for CEO Sundar Pichai to testify, as well as an invitation extended to parent company Alphabet Inc.'s CEO Larry Page. The day prior to the hearing, a new report from the Campaign for Accountability revealed the ease with which Google's safeguards against spreading misinformation can be manipulated and compromised.
Tony Romm and Craig Timberg of The Washington Post covered the day's events in more detail. Read full story >>
2. Also From Facebook: New AI for Content Review
One of Facebook's seemingly endless sources of grief (not to mention, controversy) is content moderation: finding the right and sufficient human resources, battling implicit biases, and varying shades of what does (not) violate its community standards.
Now, Facebook has unveiled Rosetta: a new AI technology that can extract text from images and video frames (in up to 24 different languages). It then feeds the text into a recognition model, which helps process and understand the combined context of both the text and image.
Why is this important?
First, let's account for volume. Rosetta is equipped to process over one billion images and video frames on both Facebook and Instagram on a daily, realtime basis -- likely far more than even the most efficient human content moderation can do in the same time period.
"Taking into account the sheer volume of photos shared each day on Facebook and Instagram," the company explains in a blog post, "the problem of understanding text in images is quite different from those solved by traditional optical character recognition (OCR) systems, which recognize the characters but don't understand the context of the associated image."
Source: Facebook
The second point is the nature of the visual content historically used by foreign actors in coordinated misinformation and election interference campaigns. Much of it is comprised of memes: images with overlaid text. That could explain the emphasis on this combined context, which Rosetta could potentially detect more proactively than human review. Read full statement >>
3. 5G: Coming Soon (Maybe) to a Home Near You
5G -- the latest generation of wireless technology -- has been a hot topic among the mobile tech circle for at least a year. February's Mobile World Congress, for instance, was something of a showdown among numerous wireless carriers to claim the title of the "best" 5G provider.
Now, 5G could be coming to a neighborhood near you. Starting today, customers within communications company Verizon's four 5G launch markets -- Houston, Indianapolis, Los Angeles and Sacramento -- will be able to enroll in its 5G internet service, which is scheduled to launch October 1.
Customers can check FirstOn5G.com to see if their neighborhoods are covered.
Verizon's 5G internet service shouldn't be confused, however, with 5G mobile service -- the goal of which is to support the rising number of mobile internet users. However, it should still (in theory) provide better speed and handle more data than previous generations of internet service.
"Verizon 5G Home customers should expect typical network speeds around 300 Mbps," the company wrote in a statement, "and, depending on location, peak speeds of nearly 1 Gig, with no data caps," making it "ideal for consumers looking to 'cut the cord' or upgrade from their current cable service."
Ina Fried of Axios has more. Read full story >>
4. Twitter Makeover
Twitter is reportedly testing a a new look for its desktop site -- which, if fully executed, would include the ability to bookmark tweets (a feature currently only available on its mobile app), as well as new options for embedding content elsewhere.
Love to use Bookmarks and want it on web? Into scrolling through Explore to see what's happening?

We are testing out a new Twitter for web, which a small number of people will see today. Love it? Missing something? Reply and tell us. Don't have the new experience? Stay tuned. pic.twitter.com/w4TiRrVFHU

— Twitter (@Twitter) September 6, 2018
The company announced that it's testing the redesign via -- what else? -- a tweet, which confirmed only a "small number of people" would be privy to the new look and features. Insider got a look at some of the changes. Read full story >>
5. Yesterday, Apple Told Us: It's About More Than a New iPhone
It's been over 11 years since the first iPhone was released. At yesterday's Apple event -- where a suite of new products and features were announced -- we saw how that history has manifested. Read full story >>