Here's a fun little challenge for you: name three marketing strategies you'd recommend to someone who's getting their start in the field. Easy, right?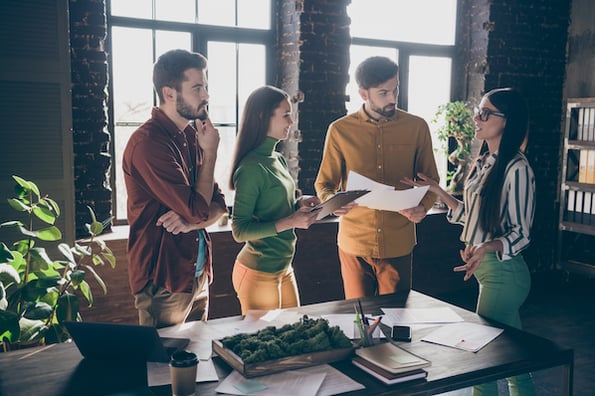 This is what I'd suggest — social media marketing, email newsletters, and content offers.
As marketers, we can pretty much list useful, tried-and-true marketing tactics like clockwork. We know what works. But when delighting customers is a top priority, the "same old, same old" can seem redundant to your audiences.
For that reason, thinking outside of the box when conducting marketing strategies is essential. You don't want to bore your customers, and you don't want to get bored creating the same campaigns, either.
If you're looking for marketing strategies that aren't making an email list or writing a blog post, you've come to the right place.
Here, we're going to introduce some marketing strategies that you might've seen before (or maybe not), but that you haven't seen popularly implemented in years.
11 Underrated Online Marketing Tactics You Should Use
Create and distribute infographics.
Conduct interviews with industry thought leaders.
Invest in a video series strategy.
Introduce apps into social content planning.
Host a webinar.
Use SEO in other areas.
Refer to metrics for decision-making.
Consider micro-influencer partnerships.
Use forums to your advantage.
Quiz your audience on different platforms.
Diversify with interactive messaging.
If you can't take much more of the same, your audience probably can't, either. Let's talk about some interesting, less-raved about ways you can spice up your marketing plan.
1. Create and distribute infographics.
19% of marketers use infographics as part of their content marketing campaigns, but they are very useful for audiences. If you're distributing data on social media, infographics present the complicated information in a simple, fun format:
Visual content is more engaging than text, and still presents the information in a useful way — plus, people who may not have the time to read a full report (or might have difficulty finding takeaways from the data) will likely find an infographic fun and quick.
Plus, infographics can be an awesome content piece for visual platforms (and are pretty fun to make). If you've never made an infographic before and are looking for a template or two to get started, why not 15 you can download for free right now?
2. Conduct interviews with industry thought leaders.
Industry thought leaders are likely to have a following of their own, especially on a professional networking site like LinkedIn. Interviewing one diversifies content on your blog, gives you the chance to expand your network, and connects you with a different audience.
It can seem like interviews aren't a home run idea, but, a properly optimized post with an industry thought leader grows your connections and provides helpful content to readers.
Check your network for thought leaders to interview — you might already have some awesome connections to work with. When you post and share the interview, make sure to tag the thought leader and the industry, so a broader audience has a chance of finding you organically.
3. Invest in a video series strategy.
Are you investing in your content marketing strategy? If you are, or plan to, and don't yet produce videos or a video series, video content is a great place to start. In fact, 88% of marketers say video content gives them a great ROI.
Videos can be about anything related to your brand. For instance, maybe you've found that your audience responds really well to posts that spotlight colleagues. If this is the case, your first video series could be a quick Instagram Takeover where your staff answers audience questions on your business account's Story.
Alternatively, if your business has its own course content, consider uploading them to YouTube and sharing it with your customers. That way, content is accessible in multiple areas for your audience.
4. Introduce apps into content planning.
Conversational marketing is an important base to cover because it informs professionals how to best reach audiences. For some companies, the best conversational channel is through email or chatbots — but what about an app with marketing and business tools?
For example, WhatsApp is the #1 messaging app in the world and has an accompanying Business app. It lets you interact with customers on a more personal level from a Business page. Customers can text the page with questions, or they can visit your online storefront and check out the products or services you offer.
If you want to offer a more personalized experience to customers, using apps that customers likely already know how to use is a great start. They can even be used as an accessory to a new product launch or a promotion — because sometimes, don't you just wish you could text a sale reminder to customers?
5. Host a webinar.
Webinars are another method to solidify industry expertise for your business. They're also a way to connect your audience with the people behind your brand. A webinar provides its viewers with an educational presentation online, and is a cheaper, easier option than planning a conference.
Are you unsure of how a webinar will look for your business? Think of larger topics that can be discussed by two or more people at your company. For a marketing company, for example, this might look like "social media marketing," or "lead acquisition."
For example, LinkedIn's webinars are focused on professional development:
Inviting customers to join your webinar gives them an event to look forward to. Plus, they're usually live events, with recordings released after. A "one-time-only" event gives customers more of an incentive to attend, so they're not the last to know.
6. Use SEO in other areas.
SEO is great for building traffic, but you can also use it for other areas of your business. For instance, keyword research can help you name new products so leads have a better chance of finding them.
As another SEO tactic that serves customers, you can use previous data you've collected to create a customer-centric strategy that caters to every part of their buyer's journey. If you've noticed that you're generating enough leads, but aren't converting enough customers, SEO data could help you figure out where that gap is and how to fix it.
Those are just two ways SEO can help you, but for more ideas, look at our post for using SEO for marketing decision-making.
7. Refer to metrics for decision-making.
Did you know that only 35% of marketers believe that understanding metrics of previous campaigns is important? Ultimately, understanding the metrics and ROI of completed campaigns can heavily influence how you structure the next one.
For instance, ROI data is one of the indicators that can tell you if you met your business goals. Additionally, analyzing what works for audiences and what doesn't leads to better ad spending and content planning. Knowing how your customers respond to campaigns gives you better ideas of how to target them.
8. Consider micro-influencer partnerships.
Yes, influencer marketing is extremely effective — but it can also be extremely expensive. Maybe you don't have the budget to plan a partnership with that influencer with 5 million Twitter followers, but what about the influencer with 8,000 followers?
The smaller audience of a micro-influencer means those figures have more bandwidth to engage with their audience, so you can expect to find a healthy balance between the number of followers one has and their engagement.
Plus, micro-influencers tend to have more of a targeted audience. For example, let's say that you work for a software development company and you want to partner with an influencer for your newest gaming computer launch. Partnering with a celebrity influencer with millions of followers can earn you great exposure, sure — but only a portion of them will be interested in gaming computers.
Alternatively, if you partner with 3-4 micro-influencers in the gaming community, with 4,000 followers each, you still have the chance to be exposed to large, active audiences that are interested in gaming and gaming software.
9. Use forums to your advantage.
Online forums are platforms where users can ask and answer questions about various topics. At first, forums may seem as if they have little to no connection to marketing, but they're actually a great brand awareness tool.
For example, let's say you are a marketer for a web design company, and you're scrolling a forum, such as Reddit or Quora. Eventually, you come across a question about the best tools to use for building a website. You can answer the question using your expertise and recommend your company, like this answer to "What's the best video maker?":
That way, you can introduce the user to your company's brand, but it goes a little further, too: anyone who comes across the question will have the chance to see your answer, and if it's a great one, it might earn enough recognition to stay at the top of the thread. Ultimately, forums work like search engines — the best, highest rated, and most helpful query answers get displayed first.
10. Quiz your audience on different platforms.
If your engagement with social media audiences starts and ends with comment sections, there's so much more room to try out new growth opportunities. A quiz is one way to actively engage your followers.
Quizzes can take form in a blog post, an Instagram story poll, a Twitter poll, or in video. The quiz can be personality-based, a way for your audience to test their industry knowledge, or an introduction to your colleagues.
Try out a few online quiz makers and see what you can come up with for your next campaign. Is there room for a quick "What Your Favorite Social Media Platform Says About You" quiz in your future?
11. Diversify with interactive messaging.
Similar to posting quizzes, getting your followers involved in the creation and distribution of your content is a huge way to build customer relationships. What's more, most online platforms and channels have their own tools to make that easier.
For instance, you can use a template to make an eye-catching visual to pair with a question you ask followers on Facebook, or hold a contest and ask users to create their own content using your branded resources, like this beauty company did:
We know the basics of user-generated content, but are you thinking outside the box? If you lead social media efforts for a boutique fashion company, you could ask social media followers to style an outfit with one of your pieces — but the catch is that the outfit has to be only one color.
Some of these strategies aren't new, but coming up with new ways to use them is part of knowing how to reach your audience. Some tactics, however, tend to be overlooked in favor of strategies that companies lean on for success.
If you're finding trouble delighting your followers, try thinking outside of your marketing comfort zone. You never know what new strategies might delight your audience.