Welcome to Wednesday, and the latest edition of "Unriddled": the HubSpot Marketing Blog's mid-week digest of the tech news you need to know.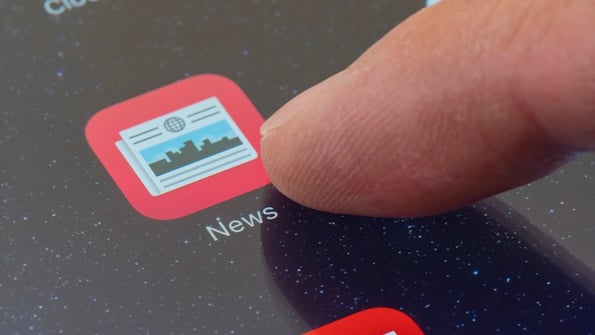 Sorry we missed you last week -- we were in Washington, D.C. for Mark Zuckerberg's congressional hearings. (Feel like catching up? Check out our coverage here.)
This week, we continue to wade through the very crowded pool of tech news items to help you decrypt what's happening in this vast, often complex sector. And believe it or not: Once again, it's not all about Facebook this week.
It's our Wednesday tech news roundup, and we're breaking it down.
Unriddled: The Tech News You Need
1. Apple Could Be Launching a Subscription News Service
Less than a month after Google announced its "Subscribe With Google" service for news publishers, Bloomberg is reporting that Apple could be launching its own subscription news service.
The story follows Apple's March acquisition of Texture: a digital magazine app through which users can subscribe to a selection of more than 200 magazines for a flat fee of $9.99 a month. While this tool might sound familiar, its model is actually different from Apple's discontinued Newsstand app, which provided a central place for iOS users to individually subscribe to and read content from a number of publications.
Now, the iPhone manufacturer offers what's looking to be the more simplified Apple News, which aggregates news stories from publishers that a given user chooses to follow in a single place. And paired with the Texture acquisition, some are predicting that Apple could launch its own news subscription service modeled after Texture.
Source: Apple
Rather than providing a central place where users can individually subscribe to a number of outlets, it seems, Apple could be moving in the direction of offering an original flat-rate subscription service that allows users to access unlimited content from the publications offered on this platform. Those publishers would receive a cut of the subscription revenue.
Bloomberg reports that this new model could launch within the next year.
It comes on the heels of Google's own announcement that it will be building a news subscription model of its own, though it differs from Apple's expected service in a few ways.
Instead of providing an aggregation app where users can subscribe to content from a number of outlets for a single, monthly fee, Google says it's working to make it easier for users to manage and pay for individual subscriptions through their Google accounts. That way, they can read premium content across any device on which they're signed into Google, without having to get through a paywall every time they click to read articles.
As for publishers, Google says, this new feature will help supply them with better analytics and tools to identify and convert potential subscribers.
Source: Google
2. Twitter's Big Push for Live Video
If you've recently opened the Twitter app during a major event -- like last week's Congressional hearings with Mark Zuckerberg, for example -- you might have noticed the option to watch it live right from the app.
After Digiday reporter Kerry Flynn tweeted the discovery of this feature, Matt Navarra (formerly of TheNextWeb) noted that Twitter might be experimenting with the display of a live video "carousel" front-and-center of the app.
Twitter is now highlighting live videos at the top of your Home tab in a carousel https://t.co/8HA0lhQJKu

— Matt Navarra (@MattNavarra) April 17, 2018
As Flynn noted, it's somewhat reminiscent of the earliest days of Facebook Live, when the social network wanted to make sure users were aware of the feature by visually promoting live video content within the app.
But for Twitter, it has more to do with the promotion of Periscope: the live video streaming app that Twitter acquired in 2015. But since then, despite its best efforts, Twitter's live video capabilities -- along with the Periscope branding -- could be described as lackluster. Other platforms often took the spotlight for live streaming, including Facebook and YouTube Live, with Twitter sometimes serving as an afterthought for watching events in real time.
That's not for a lack of promotional efforts by Twitter, as is well known by those who receive its frequent email notifications of live sporting events that will be streamed on the network. On its blog, too, Twitter often tries to play up the experience of a live event (such as the Academy Awards) on its platform.
But what Flynn identified as the "mobile integration" of these capabilities is still somewhat new -- and its success is to be determined.
3. A New QR Code Feature for Facebook Page Admins
In late March, rumors emerged that Instagram was testing a feature similar to Snapchat's Snapcodes feature, which allows users to scan codes to find profiles or content on the app. Instagram's version was rumored to be called Nametag, and would give content creators a similar method of discoverability by letting prospective followers scan a visual QR-like code (on print or other materials) that would lead to their profiles.
Now, it appears that Facebook has rolled out such a feature -- first discovered by computer scientist Jane Manchun Wong -- for Page administrators, who can now print a QR code for followers to either Like the Page, check in to its physical location, or take action on an offer.
Right now, it appears that the feature appears under "Publishing Tools" on the Page admin dashboard.
It also comes with insights that can help admins track how many times the QR Code has been scanned -- though it's not clear if any further analytics are provided beyond scans.
Nametag is yet to be confirmed (though Instagram did roll out a new "Focus" setting within its Stories service last week), and its launch could be contingent on the success of Page QR Codes.
4. And Now: Dogs in Slow Motion
Okay, so this item isn't exactly hard-hitting news -- but it is adorable. And in the midst of stories about data leaks and competition, sometimes, the mood calls for a slow-motion video of a dog drying itself off after a swim.
That's what sites like The Dodo and BuzzFeed have often been used for -- and now, both brands have partnered to create content promoting the Super Slow-mo features available on the Samsung Galaxy S9 and S9+ mobile devices.
"Partnering with BuzzFeed and The Dodo is a natural fit," said Younghee Lee, CMO and Executive Vice President of Samsung Electronics in a statement, "and a great way to showcase how consumers can make everyday moments epic by using the Galaxy S9 and S9+'s Super Slow-mo camera."
Beyond that, the story really speaks for itself -- so without further ado, here's that video.
What Else Is Going Down in Tech Town?
More of the Latest From Facebook
With 10 hours of testimony behind us, it was understandably hard to keep tabs on last week's Congressional hearings with Mark Zuckerberg. Luckily, we recapped each day of the proceedings -- as well as an overview of what we still want to know.
On Tuesday, Zuckerberg testified before a joint hearing held by the Senate Judiciary and Commerce, Science, and Transportation Committees, where there were some key, recurring themes among the lawmakers' many (and often repetitive) questions. Read full story >>
At Wednesday's hearing before the House Energy and Commerce Committee, the questions were a bit more challenging for Zuckerberg to answer and slightly more detailed in nature. That might have been the result of inquiries from House lawmakers that represent more niche constituencies -- or simply the byproduct of better preparation. Read full story >>
And even after 10 hours of hearings, there were still things left largely unanswered by Zuckerberg and Facebook alike. Wired counted 43 outstanding items on which Zuckerberg promised lawmakers answers at a later date, and since then, Facebook has only publicly commented on one item in detail: how it collects data on browsing behavior outside of the network. By the end of the week, here's what we still wanted to know. Read full story >>
Meanwhile, Facebook also released a statement earlier this morning outline some of the steps it's taking toward GDPR compliance. Read full story >>
That's all for today. Until next week, feel free to weigh in on Twitter to ask us your tech news questions, or to let us know what kind of events and topics you'd like us to cover.