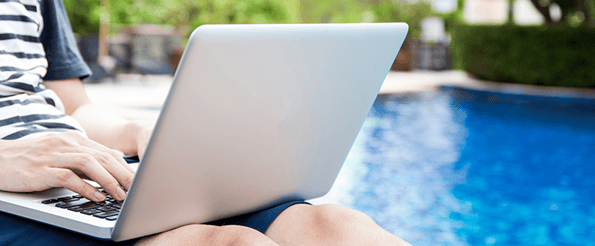 I wrote this post by the pool. Not by my pool -- I don't have one -- but by a pool. It was 104 degrees. Since I recently left behind big New York agency life to focus exclusively on writing and consulting, I'm able to do that -- work by pools. I can work when I want, how I want. And I've noticed I get more done, better.
It got me thinking about the nature of remote working, yes, but not in a trendy way.
We've all seen the stats. We know cloudworking is a growing phenomenon, and it's here to stay. Last year, 37% of workers telecommuted some of the time. That's quadruple the number that did so a decade ago. Right now, research suggests around 63 million members of the U.S. workforce work remotely. That's 43%.
It got me thinking not about the productivity part -- a robust body of research clearly shows that flexibility is a boon to productivity.
It got me thinking about the creativity part.
Is a virtual work environment simply more conducive to creativity? Is the distributed agency, therefore, an innately more creative business model?
I didn't want to rely on data to answer this question. Data is persuasive, but it doesn't always convince. Stories convince. And I wanted to hear about the relationship between telework and creativity first-hand.
So I reached out to some top distributed business leaders to get their take on it.
Now I know what you're thinking: These people run distributed companies. They're biased. And full disclosure, I once ran a 100% distributed Manhattan agency. But I don't do that anymore. And if you want directions, you ask the people that have been there.
This is what I learned: Remote workers are up to 20% more creative, and there are probably three primary reasons why.
You're Only as Good as the People You Work With
Creativity begets creativity. To reach creative potential, one must surround one's self with creative people. And virtual agencies have the edge when it comes to recruiting and retaining top creative talent.
Jason Fried, CEO and co-founder of Basecamp, has employees in more than 32 cities globally. "I keep hearing about the 'talent wars, and how no one can find great people," Fried said.
The talent war, or rather, the war for talent, is a term created by Steven Hankin in 1997. A Harvard Business Press book immortalized it in 2001. But more recently, the war for talent has become a lot more aggressive.
"The reason no one can find great people is that they're all looking in their own backyards," Fried said. "We find the best people in the world, not our own zip code."
"There's always someone better suited for the job whom you can't bring on board because they live elsewhere," says Abdullahi Muhammed, CEO of the content marketing agency, Oxygenmat. "Being fully distributed means … city and time zone become mere data to know about your team, not selection criteria."
Matt Mullenweg, CEO of Automattic, the creator of Wordpress, sums it up well: "Our company can recruit from a global talent pool that is greater in aggregate than any geographic subset, even Silicon Valley."
The ability to fish in a bigger pond -- heck, a sea! -- is worthless, however, if the fish aren't biting. But they are.
Highly-flexible work practices are a potent recruitment tool. Employees wouldn't be taking advantage of them in such exploding numbers if it were otherwise. Telework is particularly attractive to millennials: 68% of them say the ability to cloudwork vastly increases their interest in an employer.
Teams With a Singular Perspective Get Stuck
Creativity feeds on diversity. One study on the subject illuminates five primary reasons this is true. Greater diversity:
Opens access to novel ideas.
Offers the opportunity to think opposably.
Encourages workers to re-evaluate their creative habits and look at their processes differently.
Opens doors to normally inaccessible information.
Promotes a willingness to leverage ideas from unfamiliar sources and places.
Diversity's impact on creativity was well known to all the leaders I interviewed.
Fried captured the dynamic nicely: "Flexible work practices help you create a team with a broader perspective. If you're only hiring people from your own 'echo-chamber,' they're all going to think relatively the same. When you have people that think the same, that stifles creativity. When you hire people from all over the place, you have a shot at a team of different perspectives, and that's invaluable for creativity."
Quality of Life Influences Creative Output
Despite the romanticized trope of the super-artistic malcontent, research indicates happiness enhances creativity. And people who work remotely are happier.
One study scored workers on a scale of 1 to 10. Teleworkers scored an average of 8.10, while traditional workers averaged only 7.42.
Buffer formalizes the notion of encouraging happiness to encourage creativity in its culture. "One of our core Buffer values is 'Live Smarter, Not Harder,'" says Hailley Griffis, who does communications for the maker of social media management tools. "And with that, we say, 'You choose to be at the single place on earth where you are the happiest.'"
"It's about eliminating things that are soul-sucking," Fried said. "Our employees can see their kids grow up. They don't have to spend three hours a day commuting. The ability to work remotely improves the overall quality of life ... and I can't quantify it, but I'm sure that improves creativity, too."
The data is there, but so are the boots-on-the-ground stories. And that's something agencies can't afford to ignore. Working remotely does appear to enhance creativity.
And I hope I've convinced you working by a pool does, too.