I won't lecture you on the importance of incorporating virtual reality (VR) into your marketing strategy. What I will do, however, is share a few fun facts about VR and show you seven examples of how this technology is used for marketing a product or a brand.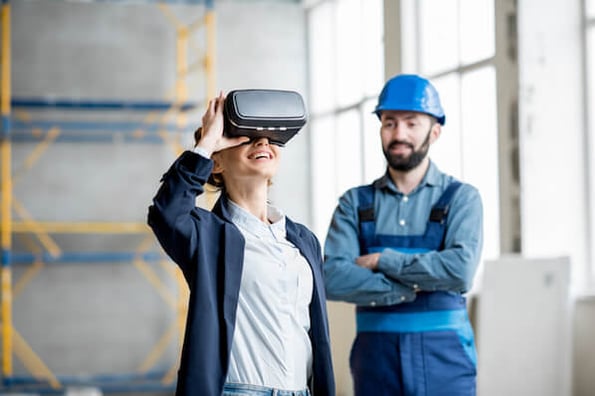 Let's start with some facts and figures you should know about VR:
Consumer and enterprise VR market revenue is expected to reach $6.71 billion by the end of 2022, and $12.9 billion by 2024.
Augmented reality, virtual reality, and mixed reality market size worldwide are expected to jump by more than 220 billion dollars between 2021 and 2028.
By the end of 2022, it is estimated that virtual reality hardware and software sales will generate more than $6.4 billion dollars in revenue.
By the end of 2020, the number of VR headsets sold is predicted to reach 82 million — a 1,507% increase from 2017 predicted totals.
VR is growing in its adoption, and adding it to your marketing channels in the coming year is at least worth considering.
What is VR?
VR, short for virtual reality, is software that immerses users in a three-dimensional, virtual interactive environment — usually by headset with special lenses — to simulate a real-life experience. Many VR experiences take place in 360 degrees.
Businesses can use VR to demonstrate and promote their products to potential customers. In fact, many industries have used VR to transport people to places they might otherwise have to travel to or simply imagine.
Before we dive into some examples of businesses that have used VR for marketing, it's worth noting that virtual reality has a few key differences from another term you might've heard before in the same sphere: augmented reality. The video below runs through the key differences.
Seeking inspiration for your own VR marketing campaign? Look no further. Below are seven of our favorite VR marketing campaigns and how they served the company's marketing strategy.
Virtual Reality (VR) Marketing Examples
Gucci Town
Etsy Virtual House
Nikeland
Wendy's Metaverse Restaurant
Samsun 837X
McDonald's VR Zodiac Exhibition
A Tribal Past: Bear River, a Nation: What Can Eeling Teach Us?
1. Gucci Town
High-end fashion house Gucci recently launched Gucci Town, a virtual world within the Roblox metaverse. Players can explore the town, learn about the house's history, and connect with other people in the game.
The interactive elements of Gucci Town are the mini-games, the browsable art exhibitions, and the Gucci store where people can purchase clothes for their Roblox avatars. When users wear the clothing they've purchased, they can spark conversations with others that are curious about the unique items and, as a result, are inspired to visit and discover what the town has to offer.
2. Etsy Virtual House
In 2021, Etsy debuted its virtual home feature that allows shoppers to "walk through" a virtual house filled with curated Etsy items. The homes are individualized and include photorealistic and true-to-scale renderings, seamless navigation, and 360-degree visuals.
For now, the Etsy Virtual House is available to shoppers during the holiday season. Each one-of-a-kind home is filled with holiday decor, gifts, Etsy Design Award winners, furniture, artwork, and other items.
Everything in the house is shoppable. All shoppers have to do is hover over an item, and a pop-up will appear with additional information and a link to purchase. The goal, according to Etsy, is to help shopping picture how the items would look in their home.
Image source
3. Nikeland
Nike took its first step into the metaverse by partnering with Roblox to create Nikeland — a virtual world, modeled after the Nike headquarters in Beaverton, Oregon. Nikeland consists of Nike buildings, fields, and areas where players can compete in different minigames.
Image source
Real-world movements power online play, and movements are tracked by accelerometers on users' mobile devices. For example, motion in real life can translate to long jumps or speed runs in Nikeland. The virtual space also includes a showroom where players can buy Nike's latest digital products for their avatars. The products include Nike's Air Force 1, Nike Blazer, Air Force 1 Fontanka, and Air Max 2021.
Image source
4. Wendy's Metaverse Restaurant
In March, 2022, Wendy's launched Wendyverse — a virtual restaurant on Meta's Horizon World's Platform. In a blog posted to Meta, the restaurant chain said users will be able to "walk behind the counter, interact with friends, and embark on a mouth-watering adventure." Visitors to Wendyverse can play games like basketball and find easter eggs that include surprises like free food.
"For years we've been meeting our fans in unexpected ways and places with our unique approach to social media, gaming and engagement," said Carl Loredo, Chief Marketing Officer for The Wendy's Company. "We're excited to take this to the next level by launching the Wendyverse in Meta's Horizon Worlds and bringing a totally new dimension of access to our fans."
Image source
5. Samsung 837X
At the start of 2022, Samsung launched its own immersive virtual world called 837X. The world is modeled after its flagship store in New York City. The world has since evolved to include a customization-focused quest called "You Make It." Described by the company as a "choose-your-own-journey" quest, You Make It consists of bright colors, various detailed landscapes, and three magical characters to join the user on an adventure.
Image source
6. McDonald's VR Zodiac Exhibition
From Jan. 31 to Feb. 15, McDonald's created a virtual reality hall showcasing the Chinese Zodiac. The restaurant chain collaborated with designer Humberto Leon, who is of Peruvian and Chinese descent, to create the virtual exhibition.
Leon praised the project for showcasing a piece of Asian-American culture.
"It was a dream come true for myself to work with McDonald's, because I feel like it's the quintessential pop culture brand," Leon said.
Visitors to the exhibition were able to explore and learn about each zodiac animal and get their fortune for the year. They could also download their signs' information and personal horoscopes.
Image source
7. A Tribal Past: Bear River, a Nation: What Can Eeling Teach Us?
In partnership with Oculus, Jessica Cantrell created a 360° film project where tribal members shared their stories and reconnected young people with their community's past.
It was a form of community storytelling that leveraged an emerging VR tool to market the story and to help members of a historically marginalized community learn more about their culture.
Navigating VR in Marketing
As you read this, you might be thinking, "Why should a small-business marketer like myself be learning about high-priced VR campaigns?"
Well, although VR might be too costly for many marketing budgets, it's getting more and more prevalent. As it grows, we're seeing a handful of brands leverage it for product promotion and virtual storytelling. And, while you might not be able to create a VR-based campaign, you can gather some great takeaways related to marketing innovation, content marketing, or visual storytelling — which can give you other ideas on how to better interact with your digital audience.
Want to see how other emerging technologies will impact your marketing? Check out A Practical Approach to Emerging Tech for SMBs: AI, Blockchain, Cryptocurrencies, IoT, and AR/VR.