This article is part of a series on how business is changing as a result of the COVID-19 pandemic. Other pieces in the series include HubSpot's Chief Customer Officer on Why We Need to Talk About Growth and our VP of Marketing's Content Marketing Playbook for Times of Crisis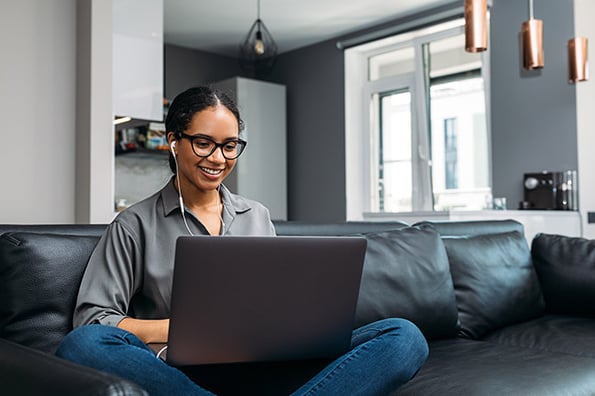 The COVID-19 pandemic has produced a plethora of paradoxes.
As the rate of employment has gone down, the stock market has surged. As we find ourselves more socially distant from one another, we're connecting more than ever with friends and family. And as growth has slowed for many companies, their digital transformation has accelerated. Dramatically.
Companies in nearly every industry have urgently adopted remote tools to allow them to support employees working from home. Millions of marketers have quickly signed up to automation software to help them move their entire marketing strategy online. And brick-and-mortar retailers have hastily acquired website management systems to enable them to spin up ecommerce sites.
Plans for gradual, carefully managed digital transformation have been torn asunder by the pandemic, and the changes that many leaders thought would take years to implement have taken place in a matter of weeks. Entire industries are now waking up in a digitally transformed world awash with new opportunities ... and unknowns.
Is a remote workforce a threat to productivity or a boon for hiring? Is a fully online marketing strategy going to bring companies and customers closer together, or drive them further apart? Are rapidly adopted tech tools going to stimulate internal alignment or drive a wedge between teams?
These are the questions that companies are asking themselves as they rewrite their go-to-market strategies and charge headlong into the new economic era. The answers will largely depend on whether they welcome the tides of change or attempt to row against them. Because, with change always comes opportunity, and the businesses that view this period of upheaval as a chance to create efficient new processes, upskill employees, and better serve their customers are the ones most likely to thrive in the coming years.
To help businesses navigate their digital transformation journey with success, we've put together a list of five key ways in which go-to-market strategies are changing, along with advice on how to adapt to each.
1. Outside Selling ➜ Inside Selling
The pandemic has turned outside sales teams into inside sales teams overnight. And while some companies may view this change as temporary, most will witness first hand the benefits that come with inside selling and commit long-term to the model.
In the digitally transformed world, prospects and decision-makers are less likely to be located in the same office — or even in the same territory — making it all the more difficult for outside salespeople to arrange meetings. Inside selling, however, gives salespeople the opportunity to connect with prospects at any time, from any location.
Tools like live chat, 1:1 asynchronous video, and sequences — which allow sellers to schedule personalized follow-up emails to prospects — are now available as standard with many sales software products. These features enable salespeople to adapt how they sell to the way prospects want to buy and allow them to increase their productivity without losing the personal connection that comes with outside selling. In fact, inside sales teams make 43% more phone calls, leave 10% more voicemails, and send 9% more emails than organizations predominantly made up of outside sales people.
On top of that, 85% of consumers now conduct online research before making a purchase decision, meaning salespeople's time is better spent building relationships and providing prospects with helpful information online rather than placing the majority of their focus on running in-person demos.
To successfully adapt to an inside sales model, companies should seek out sales software that's user-friendly enough to allow their salespeople to get started quickly, while also powerful enough to provide them with a centralized view of customer data — an essential ingredient to delivering a personalized experience to prospects, even without meeting in-person. Sales leaders should also provide training to their teams on how to run effective demos online and set up webcams in a way that's professional without being impersonal. According to Gong, using a webcam in sales calls increases the likelihood of closing a deal by an eye-catching 41%.
2. Offline Marketing ➜ Online Marketing
If there is one image that illustrates the fact the marketing world is moving from offline to online during the pandemic, it's that of empty billboards. From Tokyo to Toronto, outdoor advertising canvases that were once in high demand have been left blank as marketers pour all of their resources into online channels. And in most industries, it's likely to remain that way.
When a marketing strategy is fully online, it enables marketers to manage their budgets and strategies by metrics. Everything from webpage traffic and email open rates to social media engagement and digital ad ROI can be measured accurately, giving marketers a deep insight into which channels are the most effective at engaging customers. It also allows marketers to keep pace with rapid shifts in consumer behavior and adjust messaging and budgets in a matter of hours — something that takes weeks, or even months, to do with offline channels like TV and outdoor advertising.
Never have these benefits been more visible than in recent months. As many offline channels have gone quiet during the pandemic, online engagement between consumers and companies has reached record heights. According to HubSpot data, website site traffic increased by 16% from Q1 to Q2, and marketing email open rates were 18% above pre-COVID-19 levels by the beginning of Q3. Companies that were already invested in these channels have not only been able to stay engaged with customers throughout the current crisis, they have been able to quickly adjust the tone of their messaging to reflect the times and communicate important information to their audiences in a timely manner.
Companies that are embracing fully online marketing strategies for the first time should be cautious, however, to not open up too many new digital channels all at once. Doing so could overwhelm marketing teams as they're coming to terms with new tools and tactics, and create a disjointed experience for customers. Instead, marketers should prioritize a small number of new tactics, set goals for each, and implement a system to measure progress. For example, instead of setting up accounts on every social media channel at once, which could be difficult to manage, marketers should choose one or two platforms that suit their brand and seek to build an engaged audience there before branching out. Similarly, teams seeking to implement an email marketing strategy for the first time should choose software that includes analytics features like A/B testing in order to closely monitor what's resonating with audiences.
3. Traditional Customer Service ➜ Self-Service
During the pandemic, the volume of customer-initiated chat interactions has increased by 45%, and self-service options like this will go from being a "nice to have" to a "must have" in the eyes of consumers in the digitally transformed world.
When a business empowers its customers to self-serve, everyone wins. Automated chat, for example, helps customers find solutions to issues more quickly than if they had to email or call a helpline, while also freeing up customer service staff to work on more complex customer issues. Businesses that had a chatbot on their website prior to the pandemic were well-positioned to manage the increased volume of queries that accompanied the crisis, and from here on, customers will expect to be able to have their questions answered in minutes without having to pick up a phone. After all, according to Nuance Enterprise, 67% of customers prefer to use self-service options instead of speaking with a company representative.
Automated chat is just one of a number of ways businesses can provide self-service options to their customers. Companies should also consider building a knowledge base — a collection of resources that offer guidance on common queries — and creating product training videos for new customers. HubSpot's version of this, HubSpot Academy, saw traffic double between March and May, highlighting the growing desire of customers to engage with high-quality, on-demand video that enables them to become more skilled with the products they use.
4. Funnel ➜ Flywheel
According to research conducted by HubSpot in the midst of the pandemic, consumers cite "customer care" as the single greatest influence on their sentiment towards a company. As more companies come to see customer experience as the key to growth in the post-pandemic world, many will abandon the funnel model in favor of the flywheel.
While the funnel focuses exclusively on acquiring customers, the flywheel is built to delight them over the course of their entire journey with a company. When companies embrace the flywheel, it enables them to place the customer at the center of everything, from how they attract and engage customers to how they help them achieve long-term success. Thinking of the customer journey in this way helps companies to identify the areas of their business in which they can remove friction and apply force in the name of delivering an experience so delightful, customers can't help but tell others.
There are three key steps to take when adopting the flywheel model.
Firstly, companies should identify their core business metrics so that they can monitor progress and identify areas for improvement. Secondly, they should look for the parts of the flywheel in which they can add more force, in other words, the aspects of their business that have the greatest impact on key metrics. At HubSpot for example, we increased force by introducing a self-purchase option for prospects, expanding our knowledge base, and creating a dedicated customer marketing team to ensure that outgoing communications were consistent.
As a third step, companies should identify points of friction that counteract force in their flywheel. A good starting point for companies seeking to reduce friction is to analyze the experience a customer has when they move from being the responsibility of the sales team to the customer success or service team. Does their new point of contact at the company have historical information about their purchase experience and pain points? If not, there could be an opportunity to remove friction by introducing a process or system that shares new customer information between different teams.
5. Bloated Tech Stack ➜ Lean Tech Stack
As companies accelerate their digital transformation, many are rapidly adopting a vast array of new technologies. The ample choice of powerful tools available at companies' fingertips is unquestionably a positive thing, but there are potential downsides to consider. For example, when a businesses rushes to move its entire operation online — as many are now having to do — they run the risk of taking on a host of disparate tools that don't work well together, leaving them with a bloated tech stack that creates data silos, increases administrative work, and makes it difficult for teams to stay aligned.
In the digitally transformed world, we will see an increase in companies seeking to shed their tech debt and construct a lean suite of tools that enables them to move quickly in the post-pandemic era.
When building a tech stack, companies should select a system that gives all internal teams access to a single source of truth on customer data. Without this, customer-facing staff will be working off different information, making it monumentally difficult to deliver the type of seamless, contextual experience that customers now expect. Additionally, businesses should consider how easy or difficult it is to integrate additional tools with their platform of choice. In order to keep a tech stack lean, companies need the freedom to build it in a way that suits their unique needs.
The Great Acceleration
The 1930s brought with it the Great Depression. Ten years ago, the Great Recession took hold. As an optimist, I hope this time will be remembered by businesses as "The Great Acceleration" — a time when companies in every industry and region underwent a rapid digital transformation that defined a new economic era.
The go-to-market playbook for this era will be one made up of inside selling, online marketing, and self-service options for customers, underpinned by a flywheel mindset, and powered by a lean tech stack that enables them to keep pace with customer expectations. Companies that embrace these new strategies are the ones most likely to navigate these times with success and thrive in the post-pandemic world. And it is my hope that in years to come, businesses will look back on The Great Acceleration and remember it not for the economic stagnation that took hold, but rather for the rapid progress that took flight.