Research shows that content marketing costs 62% less than outbound marketing, yet produces 3X as many leads.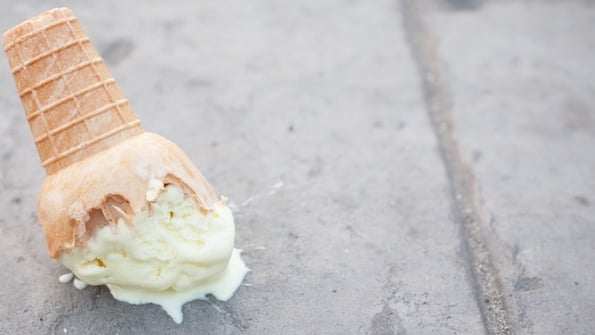 Because the rewards for executing effective content marketing are so high, it's no surprise that in a 2016 study, it was found that 70% of B2B marketers were planning to create more content in 2017.
If you consistently publish quality content that helps and informs your target audience, you'll likely see your KPIs rise over time. However, even if the long-term trends of your content marketing look positive -- you can't guarantee each individual piece of content will be successful.
Sure, you can research the type of topics your readers are interested in, use emotive titles and optimize your blog for sharing. But at the end of the day, it's still a gamble whether or not a new post will generate engagement -- and there are countless factors that determine its success.
If a post underperforms, most marketers shrug their shoulders and move onto the next piece in their busy editorial calendars. But in my opinion, it's always worth trying to revive an underperforming post. Even if you're unsuccessful, you should try to learn what exactly you did wrong so you can serve your audience more effectively in the future.
Here are some of the steps I take when a piece of content fails.
6 Key Steps to Take When a Content Piece Falls Flat
1. Leverage Influencers
Content marketing is a social game. Even if you're a fantastic writer, it's very difficult to succeed in a vacuum.
In a 2015 study, 67% of marketing professionals stated that they engage with influencers, for example, specifically for content promotion. If you've been able to build relationships with influencers in your niche by sharing their content and replying to their posts, you may want to call in a favor the next time you publish a piece of content and it falls flat.
If you've been sharing an influencer's content for months and have helped promote his or her brand, there's a chance that this person will share your content, too -- if you ask nicely.
As an even better alternative, search for influencer quotes that you can insert into your underperforming piece of content -- then, kindly ask for a share.
Influencers love the validation of being mentioned as an expert in someone else's article. Sharing your content with their audiences can help to improve their reputations, so keep that in mind when reaching out.
2. Post at Ideal Times
Ask 10 different marketers when the best time to post your content is, and you'll likely receive 10 different answers.
In an analysis of 20 studies on post times, CoSchedule found that the best times to post on Facebook were between 12-1 p.m. on Saturday and Sunday, whereas the best times to post on Twitter were between noon and 5-7 p.m. on Wednesday.
For email marketing, Kissmetrics found that open rates are the highest during the weekend.
All of this information is useful, but ultimately, you'll receive the best results if you post when your audience is the most receptive. This means digging into your social media engagement data and forming your own conclusions.
For Facebook, the best place to start is Facebook Insights.
Click on the 'Posts' tab, and you'll be shown which days and times your followers are most active on the platform. You can also compare different days of the week to determine behavioral trends -- for example, comparing activity on Saturday or Sunday to a weekday.
Source: Facebook
Under the 'All Posts Published' menu, you can see engagement data for each post as well as the time and date the post was published. See if there are any commonalities in timing for your most popular posts.
To discover the best posting time for your audience on Twitter, I recommend using the tool Tweriod. There, you can sign in with your Twitter account, and the tool will perform an analysis of your followers and tweets. When complete, it will send you a complete report of the best times to post based on the data.
3. Make it Easy to Share
In order for a piece of content to generate maximum engagement, you need to make it as easy (and as worthwhile) as possible to share it. I recommend including bright, visible social sharing buttons directly beneath the post -- and, if possible, in your sidebar.
For the most compelling quotes and statistics in your post, make them stand out and consider using something like Click To Tweet to turn them into tweetable links. This tool also provides full analytics data, so you can compare the performance of your links.
If your new piece of content is an infographic, include an HTML code to embed it beneath the infographic, so that other bloggers can easily insert it into their site -- a tactic that can also be beneficial for SEO purposes.
4. Consider Facebook Ads
Depending on who you talk to, it's easy to come to the conclusion that pay-per-click (PPC) advertising and quality content marketing are two conflicting ideologies that cannot coincide.
But in my opinion, PPC advertising can be extremely effective for improving the reach of your content.
If you spent a few hours on a blog post and it falls flat, it isn't a big deal. But if you've invested a significant amount of both time and money into a piece of premium content, like an infographic or animated video, you simply cannot afford for your efforts to be wasted on low engagement.
In this kind of situation, I recommend putting a small investment into Facebook advertising, to try and boost your engagement.
After you publish a post to promote the content on your business page's timeline, click the "Boost Post" button. Start small and place $5 into advertising per day, then check Facebook's engagement statistics to see if it's worth investing more.
If you have a decent sized Facebook following (10,000 Likes or more), you can achieve great results by boosting the post and targeting your followers. However, if your following is small, you might want to try promoting the post to people who like Facebook pages related to your niche. You can find out the most popular interests within your niche by exploring Audience Insights.
Source: Facebook
5. Repurpose Your Content
If you've tried all of the previous tactics and can't seem to get any momentum rolling, the problem could be with the content medium. Perhaps you've posted your latest customer survey findings as a blog post that didn't generate a ton of interest -- but as soon as you convert the data into a colorful infographic, people become more engaged.
Research is one of the most time-consuming processes of content creation. When you repurpose content, you already have the raw data/information you originally included -- so, whatever you repurpose it as can take less time and energy to produce.
Here are some of my favorite repurposing ideas:
Turn internal or customer survey data into an infographic.
Turn a blog post into a whiteboard explainer video and publish it on YouTube.
Convert a list of related evergreen posts into a guide, and add new visual elements.
Turn tradeshow presentations into Slideshare presentations for the world to see.
Publish webinars as tutorials on YouTube.
As you're probably aware, video content is incredibly popular at the moment -- 45% of people watch more than an hour of Facebook or YouTube videos a week. And if you can repurpose text-based content into videos, you can put your brand's message in front of an entirely new audience.
Before you start repurposing, consider that your blog post might perform better with some rejuvenated visuals. Adding images (that you have permission to use) is a great way to break up walls of text and keep people engaged.
6. Survey Your Audience
If your engagement metrics are truly erratic and you're not able to predict (at least, to some degree) which pieces of content will be popular -- there is a likelihood that you just don't know your audience well enough.
You've probably heard that in order to be successful with content marketing, you need to give value. Unfortunately, many marketers forget that "value" is subjective. You might think, for instance, that you're giving value by publishing a new blog post that promotes your products and services. But what your readers really want is educational content that helps them to solve their pain points.
If no value is received by your audience, then you didn't deliver value -- regardless of how hard you worked on creating the content.
Don't assume you know what your audience values -- find out for certain. In the digital age, there are no excuses for basing your marketing strategies on assumptions. And with such tools as SurveyMonkey, you can whip up a survey for your email list in minutes. Ask your customers about their values, desires, favorite types of content -- and most important, their pain points. With this feedback, you can make inferences about what types of content you should deliver in the future.
I'm a firm believer in the law of reciprocity. When sending out a survey, I always like to appeal to the reader's self-interests. Offer them a free giveaway or discount code in exchange for filling out the survey, and you might find that your readers will be more passionate in their responses. And the better you know your audience, the higher your chances are of generating engagement when you publish new content.
If you've published a new piece of content and it fails - it doesn't mean that the content is bad. It could just mean that you posted it at the wrong time, you didn't promote it effectively, or the content could receive more engagement when repurposed as a different medium.
You don't need to throw in the towel when a piece of content underperforms. Try these tactics to revive it, and you might be pleasantly surprised.