When I was job hunting and in the process of interviewing, one of the scariest questions I came across was this one -- "So, Caroline, where do you see yourself in five years?"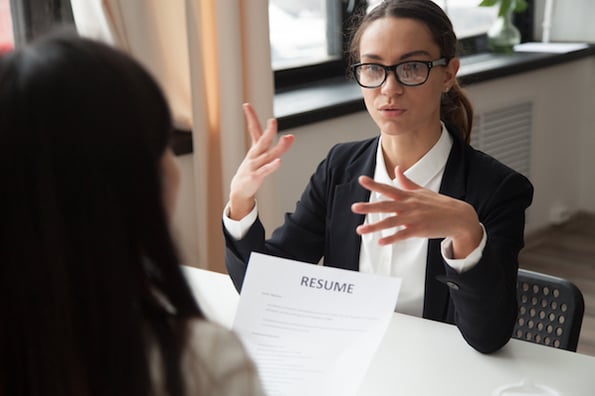 At the time, I was a month out of graduation. I barely had an inkling of an idea what I wanted to do in six months, never mind five years.
I struggled to find the line between honesty, genuine confusion, and fantasy.
I wondered if I should say, "I hope to be at your company, perhaps leading the marketing team!", to suggest my steadfast loyalty to the company for which I was interviewing.
Alternatively, perhaps I should let them know my biggest fantasy -- "In five years, I hope to be traveling and writing a book."
Sometimes, I simply settled for the truth -- "In five years … huh. I have no idea."
However, none of these responses are answers you'll want to copy for yourself. Here, we're going to explore what interviewers actually want to know when they ask you that question, and how you can answer it to demonstrate your value as a candidate.

Why Interviewers Want to Know "Where You See Yourself in Five Years"
When an interviewer asks you, "Where do you see yourself in five years?", they want to know one thing -- whether your goals align well with the potential career path of the role for which you're applying.
Ultimately, they want to hire a candidate who they can hire and train for the long-haul. They're asking this question to gauge whether you'll likely want to stay with the company for a long time, and whether the company can fulfill some of your long-term needs.
You might be thinking -- "Okay, but so what if I quit after a year or two? I still put in my hard work during that time."
Unfortunately, it's more expensive to replace an employee, and bring a new hire up-to-speed, than you might think. In fact, the average company loses anywhere between 1% and 2.5% of their total revenue on the time and effort it takes to train a new hire.
Additionally, companies don't want high turnover rates, which can decrease team morale and productivity.
For instance, let's say you're applying for a customer service position but tell the interviewer, "In a few years, I'd like to get more involved in SEO and marketing analytics."
This can be a great answer, if the company has a department for that.
But if the company outsources for their SEO needs, then the recruiter just learned you'll likely become frustrated by the lack of opportunities internally, and leave the company within the next few years.
Of course, if this is the case, she'll choose to hire a candidate who's long-term growth plan aligns well with opportunities her company can offer.
Now that we've clarified that, let's take a look at how you should answer, "Where do you see yourself in five years?"
How to Answer, "Where do you see yourself in five years?"
To ensure accuracy, I spoke with internal HubSpot recruiters to find out what type of answer they deem most appropriate for this question.
Holly Peterson, a Senior Recruiter at HubSpot, told me, "A good answer to this question is an honest one. If you don't know where you see yourself in five years -- that's okay, but you should have something prepared, to at least share your thoughts surrounding the question."
Peterson further noted, "Responding 'I have no idea', isn't ideal, but saying something like 'I'm not sure the exact role I want to be in, but I want to continue on a growth trajectory in X field -- whether that develops into a people management role, or functional expert, it's hard to say at this point in time. Overall, I want to make sure no matter what position I'm in, I'm constantly seeking growth opportunities in and outside my role.' That way, whether you have a concrete goal or not, you set yourself up as someone who has a growth mindset, i.e. you're a continual learner. All employers want to hire this type of person."
HubSpot Recruiter Rich Lapham also advises candidates to avoid making a statement if they can't back it up. He told me, "Whatever your answer, think through the follow-up question, 'Why?'. When candidates can't articulate their why it often feels as though they aren't presenting their authentic self, and to me that's a red flag. For instance, if I ask a candidate and they respond with 'I want to be a manager' and I ask 'Why?', you can usually tell the difference between people who are really interested in management versus people who say it because they think it is the right thing to say."
Additionally, Olivia Chin, a Technology Recruiter at HubSpot, said, "I like to hear tangible, measurable answers that show candidates have done their research and also have personal drive. i.e. 'I noticed a lot of Tech Leads at HubSpot started as Software Engineers. I am interested in people management and it'd be great to develop those skills on the job.'"
Chin, who recruits for both entry-level and senior, also mentioned, "I always appreciate honesty. If a candidate doesn't have a set plan or timeline, a good answer might be, 'As a junior-level candidate I want to learn as much as I can, and in a year or two I'll have a better idea of what I want next'."
Finally, Glory Montes, a HubSpot Associate Campus Recruiter, told me, "Before answering this question, think about the size and culture of the company you're interviewing for. Are they a fast-paced startup? If so, make sure your answer aims high! If they are slower-paced, make sure you are staying realistic about what kind of progress you can make in that organization. Also, the focus doesn't always have to be on job titles. You can also focus on hard or soft skills you want to develop, relationships you want to make, or even personal goals to give the recruiter a better idea of your priorities."
Sample Answers to "Where do you see yourself in five years?"
1. "As a social media manager, I'd like to focus short-term on developing my skill set to become incredibly proficient on the job. Then, in five years' time, I'd like to have become adept at design and know how to use programs like Photoshop -- ideally, I'd take online or evening courses to help with this. I have an interest in video marketing, and I think there's a compelling alignment between social media and video and it could be interesting to figure out how to intersect those passions long-term to help grow your social media audience."
2. "In five years, I'd like to have completed your leadership training course. I read about it on your website and think it's a phenomenal program. Once I've completed that course, I'd like to develop my skill set to eventually become a project manager for my team."
3. "My goal is to find a company where I can grow my career and develop new professional skills. In five years, I imagine I'd like to be in a leadership position -- additionally, I'm interested in learning more about the content strategy side of the business. However, I find it most important to find a company that encourages continuous learning, as yours does."
4. "Right now I'd like to continue to develop my writing skills, which is why I'm excited about the opportunity to be a blogger at your company. In five years, I would be delighted to see this role turn into a bit more of an editorial position, where I also help edit other writers' work, and offer ideas for the editorial strategy of the team."
5. "In five years I'd like to have developed a deep expertise of video strategy and how to use video to promote brands, which is why I'm excited about this position. I know my role will require me to become a master at video, which aligns well with my long-term goals. Additionally, in a few years I could see myself enjoying the project management aspect of video strategy, as well."