Starting a business can be a daunting task, especially if you're starting from square one.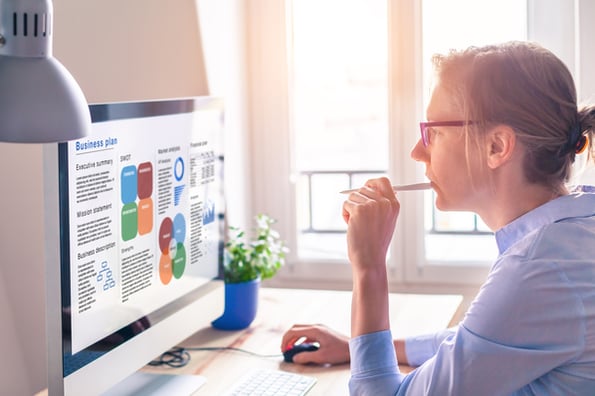 It's easy to feel stuck in the whirlwind of things you'll need to do, like registering your company, building a team, advertising, the list goes on. Not to mention, a business idea with no foundation can make the process seem incredibly intimidating.
Thankfully, business plans are an antidote for the new business woes that many entrepreneurs feel. Some may shy away from the idea, as they are lengthy documents that require a significant amount of attention and care.
However, there's a reason why those who take the time to write out a business plan are 16% more likely to be successful than those who don't. In other words, business plans work.
What is a business plan, and why does it matter?
In brief, a business plan is a roadmap to success. It's a blueprint for entrepreneurs to follow that helps them outline, understand, and cohesively achieve their goals.
Writing a business plan involves defining critical aspects of your business, like brand messaging, conducting market research, and creating pricing strategies — all before starting the company.
A business plan can also increase your confidence. You'll get a holistic view of your idea and understand whether it's worth pursuing.
So, why not take the time to create a blueprint that will make your job easier? Let's take a look at six reasons why you should write a business plan before doing anything else.
Six Reasons You Really Need To Write a Business Plan
Legitimize your business idea.
Give your business a foundation for success.
Obtain funding and investments.
Hire the right people.
Communicate your needs.
It makes it easier to sell your business.
1. Legitimize your business idea.
Pursuing business ideas that stem from passions you've had for years can be exciting, but that doesn't necessarily mean it's a sound venture.
One of the first things a business plan requires you to do is research your target market. You'll gain a nuanced understanding of industry trends and what your competitors have done, or not, to succeed. You may find that the idea you have when you start is not likely to be successful.
That may feel disheartening, but you can always modify your original idea to better fit market needs. The more you understand about the industry, your future competitors, and your prospective customers, the greater the likelihood of success. If you identify issues early on, you can develop strategies to deal with them rather than troubleshooting as they happen.
It's better to know sooner rather than later if your business will be successful before investing time and money.
2. Give your business a foundation for success.
Let's say you're looking to start a clean beauty company. There are thousands of directions you can go in, so just saying, "I'm starting a clean beauty company!" isn't enough.
You need to know what specific products you want to make, and why you're deciding to create them. The Pricing and Product Line style="color: #33475b;"> section of a business plan requires you to identify these elements, making it easier to plan for other components of your business strategy.
You'll also use your initial market research to outline financial projections, goals, objectives, and operational needs. Identifying these factors ahead of time creates a strong foundation, as you'll be making critical business decisions early on.
You can refer back to the goals you've set within your business plan to track your progress over time and prioritize areas that need extra attention.
All in all, every section of your business plan requires you to go in-depth into your future business strategy before even acting on any of those plans. Having a plan at the ready gives your business a solid foundation for growth.
When you start your company, and your product reaches the market, you'll spend less time troubleshooting and more time focusing on your target audiences and generating revenue.
3. Obtain funding and investments.
Every new business needs capital to get off the ground. Although it would be nice, banks won't finance loans just because you request one. They want to know what the money is for, where it's going, and if you'll eventually be able to pay it back.
If you want investors to be part of your financing plan, they'll have questions about your business' pricing strategies and revenue models. Investors can also back out if they feel like their money isn't put to fair use. They'll want something to refer back to track your progress over time and understand if you're meeting the goals you told them you'd meet. They want to know if their investment was worthwhile.
The Financial Considerations section of a business plan will prompt you to estimate costs ahead of time and establish revenue objectives before applying for loans or speaking to investors.
You'll secure and finalize your strategy in advance to avoid showing up unprepared for meetings with potential investors.
4. Hire the right people.
After you've completed your business plan and you have a clear view of your strategies, goals, and financial needs, there may be milestones you need to meet that require skills you don't yet have. You may need to hire new people to fill in the gaps.
Having a strategic plan to share with prospective partners and employees can prove that they aren't signing on to a sinking ship.
If your plans are summarized and feasible, they'll understand why you want them on your team, and why they should agree to work with you.
5. Communicate your needs.
If you don't understand how your business will run, it'll be hard to communicate your business's legitimacy to all involved parties.
Your plan will give you a well-rounded view of how your business will work, and make it easier for you to communicate this to others.
You may have already secured financing from banks and made deals with investors, but a business' needs are always changing. While your business grows, you'll likely need more financial support, more partners, or just expand your services and product offers. Using your business plan as a measure of how you've met your goals can make it easier to bring people onto your team at all stages of the process.
6. It makes it easier to sell your business.
A buyer won't want to purchase a business that will run into the ground after signing the papers. They want a successful, established company.
A business plan that details milestones you can prove you've already met can be used to show prospective buyers how you've generated success within your market. You can use your accomplishments to negotiate higher price points aligned with your business' value.
A Business Plan Is Essential
Ultimately, having a business plan can increase your confidence in your new venture. You'll understand what your business needs to succeed, and outline the tactics you'll use to achieve those goals.
Some people have a lifetime goal of turning their passions into successful business ventures, and a well-crafted business plan can make those dreams come true.