A keen sense of direction isn't really something that runs in my family.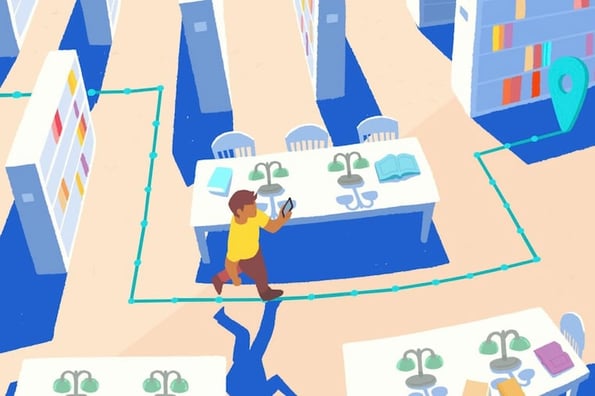 Great cooking skills? Yes. A penchant for the written word? Certainly. But instinctively knowing where we're going -- not so much.
That's why, even in its earliest days, we were thrilled by the prospect of GPS technology. Sure, paper maps were fun to explore -- at least, they were when I was a kid -- but now, the previously-held position of Chief Road Trip Navigator could transition to Chief Car DJ.
The concept of getting where you need to be with ease is one that's become even more prevalent -- and popular -- as GPS has arrived on smartphones: a mobile device now possessed by roughly 2.5 billion people globally (just shy of 33% of the world's population).
But even in today's hyperconnected climate, GPS doesn't always get it right -- especially when, as the Wall Street Journal's David Pierce recently documented -- one might be emerging from a subway station, or first setting foot in a city.
That's why, in situations like these, it would be particularly helpful to actually see where you're going -- in a perfect world, perhaps, with giant arrows superimposed on your surrounding environment that say, "Turn here, dummy."
As it turns out, Google is working such a feature -- minus the name-calling of its users, that is, and with the use of a smartphone -- and it's all thanks to augmented reality (AR). Here's a look at some of the first experiences with the technology, and what it says about the future of AR.
AR for the Real World
First, a quick vocabulary refresher: Augmented reality (AR) essentially overlays a person's real-life, physical environment with some sort of digital imagery that's typically generated by a mobile device.
One of the more notable examples of AR is the mobile app/game Pokémon GO, which uses the players' GPS locations to help them "find" and "catch" digital creatures.
But Pokémon GO was a recreational AR use case -- and, while popular at first, lacked the motivation of practicality and carried the barrier of seasonality, as users were likely less inclined to venture outside to capture digital creatures once weather turned cold.
The intersection of practicality + permanence points to what makes the development of the Google Maps AR navigation so practical. Unlike a recreational game, for instance, needing to know where you're going doesn't come with novelty that will eventually where off -- nor is it a seasonal need.
Here's how it works.
Navigation in AR
Google Maps AR navigation isn't available to everyone yet -- just a small group of what the company calls Local Guides: "a global community of explorers who write reviews, share photos, answer questions, add or edit places, and check facts on Google Maps."
The technology itself is smaller-scale version of the "perfect world" navigation scenario above. Once the user taps a "Start AR" option within Maps, the traditional static map view is replaced by the camera's live capture of her real-world surroundings. Using a combination of GPS/location data and Street View images collected by Google, the app is able to visually recognize where you are, and overlay an animated AR display of step-by-step directions in real time.
Credit: Emily Prapuolenis / The Wall Street Journal
The aforementioned Wall Street Journal columnist David Pierce is one of the select use who got to use the feature while it's still undergoing testing -- which won't be released for public consumption until "Google is satisfied that it's ready."

But when Pierce had a chance to take the AR Maps feature for a test drive (no pun intended -- the feature is designed and available for walking directions only), he likened it to a drawing of his "directions onto the real world, though nobody else could see them."
As practical as this application might be, however, its scope is intentionally limited -- such as when you find yourself asking, "I'm getting off the subway, where do I go first?", as Google User Experience Lead Rachel Inman told Pierce.
In fact, the length of use is so deliberately limited that, when using AR mode, Maps will send the user a message to lower her phone -- likely for safety-related, don't-text-and-walk reasons -- and when she does, the app defaults to the static version of the Map.
But some users might not even be holding up the map long enough to receive such messages. When I asked my colleagues for their take on the feature, some thought that practicality of the application, while helpful, wouldn't be necessary past the initial step of figuring out which way to turn.
"This application of AR technology solves a very common problem: the 'which way do I start going' issue with GPS Maps," says HubSpot Senior Manager of Marketing Operations Mark Metcoff. "But after that initial start, it doesn't seem like it's that helpful -- or, at least, I don't often get lost once I've started heading in the right direction."
The Future of the Overlay
As Pierce notes himself, the yet-to-be-widely-released AR Maps feature could merely be a predecessor to its most effective future use case: Real time, navigational overlays used via AR glasses, which superimpose the same visual effects without the use of smartphones, and instead with wearable devices.
And while wearables are becoming an increasingly talked-about and showcased category of technology -- at CES, for instance, they comprised one of the largest emerging technologies on display.
But AR glasses are not a new concept, and have historically flopped when even big-name companies have tried to push them into the mainstream -- namely, Snap Spectacles, as well as Google's own Glass, which is experiencing a revamp for an enterprise-centric purpose within X, a research and development organization under Google parent company Alphabet.
Credit: X
Given this history, use of wearables like AR glasses may be difficult to scale -- and AR use cases like real time Maps navigation could be more widely adapted using a device that most people already own, like a smartphone.
But these developments could lay the groundwork for a higher use volume of something like AR glasses -- especially as practical experiences that become more diverse and readily available.
At last December's VRX, an annual VR industry conference and expo, AR was described as a "gateway drug" by EndeavorVR Founder and CEO Amy Peck during a panel discussion on the ubiquity of digital reality technology.
That particular choice of words was a nod to the idea that, while not a fully immersive experience, AR can give users a preview into the world of VR and beyond, in part because it leverages technology and devices that many of us already use on a daily basis -- like our smartphones.
"Mobile AR is taking something the user already knows and introducing a new use case," said panelist Stephanie Llamas, VP of Strategy and Head of XR SuperData, at the same panel discussion, "that then will help them become more comfortable with" with latter technologies -- like wearable AR glasses.
In any case, it would appear that the development of features like AR Maps points to what Llamas at the time called an "opportunity" for consumer and business use cases alike -- one that more companies are beginning leverage.
Take, for instance, the direction of Glass into a business-centric market: one that the company says allows employees to visually communicate with colleagues in a way that helps them "see what [they] see," without the distraction of a secondary device -- and execute other tasks with voice-powered AI.
"Mobile AR is taking something the user already knows and introducing a new use case."

- Stephanie Llamas, VP of Strategy and Head of XR SuperData
The opportunity for most marketers and SMBs might not be with creating intricate AR hardware and applications. But there still exists one to be a first-mover in creating an engaging, practical experience using the technology, especially in the low-risk way Llamas described -- such as creating a Snapchat Lens overlay that can be created by almost anyone. (More on that here.)
"AR lets you have a quick, artful interaction with the tech on your phone," says HubSpot Principal Video Editor and Animator Matt Watkins. "That opens minds to the possibilities of other immersive technology."
Featured image credit: Google