The more you can automate, the more you can focus on delivering value for your customers. However, it can be difficult to create automated processes without diminishing the customer experience.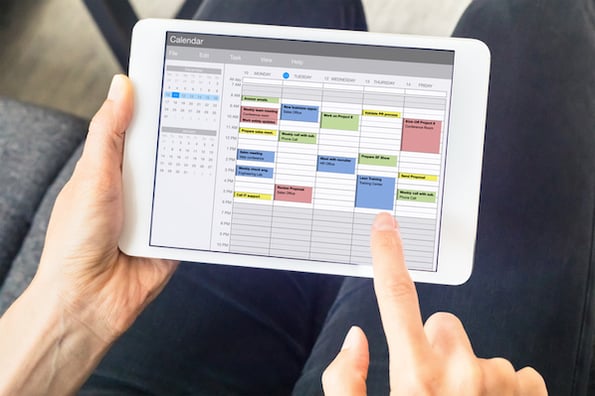 Fortunately, certain tools are able to provide both efficiency for you and satisfaction for your customers -- and one of those tools is a WordPress booking and scheduling plugin.
In fact, a myriad of WordPress booking plugins exist to help you save time while actually providing a smoother and more convenient experience for your customers.
Take a look at this list of WordPress booking plugins, which can help you free yourself up to focus on the more important aspects of your business by increasing your efficiency, eliminating stress, and providing clarity.
The 6 Characteristics of the Best WordPress Booking Plugins
How do you know which plugin is best for your business? Good WordPress booking plugins do the following:
Provide customers with your work hours and availability.
Allow them to choose a time.
Encourage customer input.
Save the input in a customer database.
Automatically save your event to the calendar.
Send confirmation notification to you and your customer, and tells you both if there are changes to your event.
If the tool does all of the above, you've got a keeper. However, each tool varies in their pricing structure, so make sure to find the one that best fits your needs.
The Top 15 Best WordPress Booking Plugins
HubSpot Meetings
Bookly
Booked
Team Booking
WooEvents
Booking Calendar
WP Simple Booking Calendar
Advanced Booking Calendar
WP Quick Booking Manager Pro
WooCommerce Easy Booking
EDD Bookings
Amelia
Event Booking Pro
WordPress Pro Event Booking Calendar
BirchPress
Price: Plans range from free to $3,200 per year, based on your needs
Hubspot Meetings is a simple yet powerful booking app that allows you to share your calendar and availability with anyone through a unique link.
It starts out for free, but on the paid tiers, you can also embed the calendar onto your site so clients can pick and choose bookings based on your availability, even if they don't have access to your unique link.
The app integrates with the HubSpot WordPress plugin, and it also pipes all the data directly into the HubSpot free CRM, making this a winner on the data integration and organization front.
Price: Free, or Pro for $89/month
Bookly is a WordPress plugin designed to smooth your scheduling system while simultaneously creating a customer database from the booked appointments.
The process is automated and is integrated with the WPML plugin to facilitate multilingual web pages. Optimized for mobile use, Bookly allows you to offer discounts and options for recurring payments and appointments.
Additionally, Bookly lets you do group bookings, so this service is perfect for companies offering appointment-based services such as tutoring, beauty appointments, massages, etc.
Price: $49
Booked is a frontend shortcode calendar for booking appointments with strong backend features to help you manage your bookings or appointments. This widget translates your calendars if needed, and enables you to customize the colors to match your branding.
You can show your availability as well as when you're on vacation -- additionally, you can build in buffers before and after every meeting, or for a certain amount of time after the present date to incorporate time to prepare.
The customer creates an account and selects their time, but you can manage your appointments from the backend and send out individualized notifications if needed. There's also an option for your users to "Add to Google Calendar."
Price: Pricing starts at $28/month
Team Booking is a customizable booking app that integrates specifically with Google Calendar. It allows you to divide your availability by room, employees, time, or service offered.
Team Booking is a collaborative tool and comes with shortcodes on the frontend, so it's user-friendly and easy to maintain a group calendar, as well as an individual one.
Calendar events are available times customers can book. Once the event is booked, notifications are sent to each party involved. Customers can pay directly with PayPal or Stripe, and once they book or fill out a reservation form, their information is saved in a customer database that you can download.
Team Booking is integrated with WPML and converts time zones to eliminate confusion with international companies or teams.
Price: Pricing starts at $39 per month
WooEvents is an event scheduler that lets customer sign up and schedule their own events based on availability, but also lets you sell tickets. It has a calendar function with email notifications for event changes, but also provides a mapping function for people to find the event location.
You can sell custom types of tickets, see your event status, and limit how many people can book. Once they've booked, their data is entered into a customer database.
WooEvents works with iCal and Google Calendar. You can manage all of your current events, delete past ones, and set up recurring events for the future.
Users can pay through the WooEvents widget as it boasts integrations with several companies like PayPal and Stripe, and it has short code for placing links on your site.
Price: Custom pricing based on your needs
Booking Calendar operates directly out of your WordPress site and allows you to manage reservations and bookings without leaving WordPress. Plus, it develops a client database once the booking is made.
Bookings are kept in your WP database, so there's no need to have a database management tool. It's optimized for mobile and can process payments through third-party services like Stripe or PayPal. It's one of the most-installed WP plugins out there.
Available functionalities for Booking Calendar depend on your needs, number of clients, and budget, but the premium version offers tons of features that are easily customizable to your business needs.
It's not just good for services, either -- huge hotel chains, equipment rental companies, and doctor offices can use this plugin for appointments or resource scheduling.
Price: Tiered pricing ranging from free to $139/month
WP Simple Booking Calendar is ideal for house or apartment rental companies. It's aesthetically pleasing with a simple, user-friendly design. Additionally, shortcodes are provided for you to embed on your site.
Users can see the unbooked dates for properties they're interested in, and managers can easily alter bookings from the backend as needed. WP Simple Booking Calendar allows for website translation, which is crucial if your website is booking international clients.
The free version should be more than enough for most people, but pricing goes up to $139 per month if you need more advanced services.
Price: The plugin is free, Pro is $56.10 USD for six months, or $72.93 USD for one year
Advanced Booking Calendar is an excellent mobile-optimized WordPress booking plugin, and works particularly well for hotels or B&B rental companies. It offers a calendar that displays availabilities, which allows you to adjust prices seasonally, per room, or for certain services.
It's a little different from others in this list because it works with your Google Analytics account to monitor a user's trajectory through your booking form. This enables you to identify warm leads and friction points.
Once a guest creates an event, every person involved receives a notification confirmation (email templates are provided) and customer data can be stored in the form of cookies.
Price: Pricing starts at $26 per month
The WP Quick Booking Manager Pro plugin has a strong administrative backend feature that makes this tool appealing for those who want more power over their calendar. Here, administrators can edit, add, confirm, decline, or delete events, and change the CSS from the backend.
This is an excellent plugin if you run a hotel or are renting out apartments and B&Bs because it allows for photo galleries, and also boasts a PayPal integration.
Additionally, there's no cap on the number of events or bookings created in the calendar, and you can book directly from the website, which shows your full calendar availability.
Price: Custom pricing
WooCommerce Easy Booking has many of the features of the other calendar plugins and widgets here, but its pricing structure is really what sets it apart. You can rent WooCommerce as needed, from daily to annually, an option which other products don't offer.
Visit the website and answer a few simple questions to calculate your individual price. The eCommerce toolkit works well with this, and both are optimized for the mobile experience.
Price: Prices range from $80 per year to $250 per year
EDD Bookings makes the dream of single-page admin design a reality. Each calendar can be customized by category, color, and time zone to reflect the needs of users, all of which is optimized for mobile.
Emails notify involved parties once the customer creates an event or appointment, and there's no cap on how many events can be generated. Events can be sorted by multiple filters, including length of session, price of service, etc., and activities can be assigned to certain employees.
On the backend, EDD Bookings provides an analytics dashboard and customer database, as well as accounting tools and payment integrations including PayPal.
Price: $59
Amelia is a round-the-clock WordPress booking service with a minimal, intuitive design made to smooth your booking workflow. The plugin requires as little as 2-3 clicks per booking, and offers online payment options. It has a dashboard explaining crucial KPIs to monitor, and an analytics tool to provide that data.
Amelia is simplistic and can be customized to reflect your brand colors. It's integrated with Google Calendar, WooCommerce, PayPal, and Stripe, and provides quick booking shortcodes for your web pages.
Your users can choose the time, date, place, service, employee, or other necessary filters to find the right time slot. Amelia sends SMS notifications to you and the customer, and you can manage appointments from the administrative dashboard if needed.
Amelia is unique in that it suggests demo sites with a WordPress theme for your site to emulate based off of your industry's standards, so that you remain neck-and-neck with your competition is terms of mobile optimization, service, and user-friendliness.
Price: $33 for six months, $170 for extended license over six months
Event Booking Pro is an exceptional WordPress booking plugin if you're looking for a solution that provides ticket-selling software. It's made with single-page bookings in mind to keep everything as simple as possible.
Shortcodes are given so you can embed your calendar or events on your website, which will display your calendar availability as well as which days you're unavailable.
PayPal works through the site so you can sell tickets and send coupons. You can sell tickets with Event Booking Pro, and you can customize notification emails that get sent to any user who books with you.
Price: $33 for the regular license, $125 for the extended license
WordPress Pro Event Calendar operates similarly to the other booking plugins on this list, but stands out in some critical ways -- one of which is the ability for customers to enter their individual events.
The plugin has an advanced filtering system that allows you to sort your customer database swiftly and efficiently. The event calendar plugin is integrated with Google Maps and Facebook, as well as in ICS format.
The plugin also enables you to embed calendars to your web pages and set up events on a recurring schedule. It also offers the ability to curate the events and edit as needed.
Price: Tiered pricing, ranging from free to $249 per year
BirchPress is a booking plugin that allows you or your customers to create events in a calendar by inputting their information into a customized form.
The plugin allows you to send customized emails to your customers without needing to use a separate email marketing system, and makes it easy for them to pay online with WooCommerce or PayPal.
Additionally, the admin capabilities make it easy to manage bookings -- whether they're changed, canceled, or rescheduled. It integrates with iCal and Google Calendar, and is very user-friendly for developers.
These are just the most popular WordPress booking plugins in 2019. Whatever tool works best for you and your business workflow is the one you should go with, because when you're running a business, time is money.
If you want a comprehensive booking tool that integrates with both WordPress and a free CRM, check out HubSpot Meetings.