During the summer of 2016, my husband and I were obsessed with the augmented reality (AR) game Pokemon Go.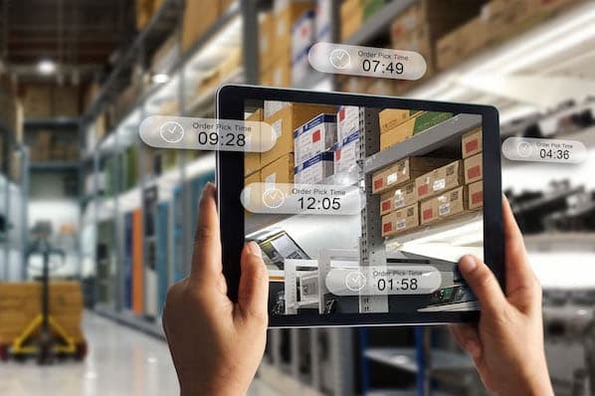 Like everyone else in the world, we started walking everywhere with family and friends so we could catch pokemon.
While this was the first time I saw AR being used to drive engagement and increase revenue for a brand, the strategy has grown even more since then.
In fact, forecasts project growth in both AR and VR headset sales, with both expected to sell over 30 million units by 2023.
That's why it's important to consider how your sales strategy can leverage AR and VR.
Below, let's review five early applications of AR/VR in sales.
How Brands Leverage AR/VR in Sales
1. Retail Virtual Stores
If you're in the retail industry, you might think AR/VR doesn't make sense for your brand since you're focused on the in-store experience.
However, AR and VR can both be used to improve an in-store shopping experience.
For example, one of the ways that retailers have leveraged AR/VR is by creating a virtual store app that can be used while shoppers are physically in your store.
One use of this app is to help customers easily navigate through your store and find an item they're looking for.
In the example below, Dent Reality created an AR experience for shoppers who need help navigating somewhere in a mall, airport, or retail store.
The technology can figure out where a shopper is and use virtual paths and arrows to help them find their destination.
2. Gamification
Using AR, your company can create a game to generate sales. For instance, users can play a game in a virtual space, but earn real-life rewards or points to redeem at your store.
One example of this is the myVegas app, which I use to fund my annual Vegas trips with my family.
On this app, you can play various slots games where you'll earn coins. The more coins you earn, the more prizes you can redeem. Prizes include free or discounted hotel rooms, buffet meals, or tickets to a show.
By using an AR game, the hotels partnered with this app are constantly engaging customers and keep them coming back for more.
3. Testing Your Product
With augmented or virtual reality, sales teams can show off their product in a more engaging way.
In my opinion, this is the top way that brands can use AR/VR to generate sales.
A great example of this is IKEA. IKEA created an app, IKEA Place, where users can see how a piece of furniture will actually look in their space.
It works by scanning the area to get proper measurements, and then placing various items in the picture to see how it would look.
This example reminds me of watching "Property Brothers" on HGTV. On this show, the designer Drew shows homebuyers what their house will look like once modifications are made through an AR app.
For B2B companies, salespeople can use AR technology to provide better product demonstrations that show customers how their product can actually help them and make their life easier.
AR/VR allows customers to truly preview and test a product to ensure they want to buy it.
4. Better Shopping Experience
Similar to the retail virtual store app, AR/VR can also be used to make the shopping experience easier and more convenient for customers.
For example, when Amazon started opening Amazon Go stores, they implemented a "no checkout required" experience.
This means that customers can go in, pick up a product, and leave without paying in-store.
It works by using an AR app that can detect when a product is taken. When you leave the store, your Amazon account is charged.
Another example of improving the shopping experience with AR is the Kinect fitting room for Topshop.
With this AR app, customers can see what an item of clothing looks like without trying it on. They can see their reflection and change their outfit with the touch of a button.
5. Traditional Advertising
Another way that AR/VR can be used to generate sales is by including it in your traditional ads.
For instance, if you have a print ad in a magazine, you can include an AR element.
A great example of this is the luxury brand Net-a-Porter. They made the popular PORTER magazine interactive by harnessing AR to unlock exclusive content. Readers could scan pages to find a fashion item and then place an order right from the page.
This helps increase sales made directly from a traditional ad.
AR/VR can help increase sales because it allows users to truly test your products and eliminate any doubts. Plus, it can help salespeople position your product against competitors.