If you're not on the Google Chrome extension bandwagon yet, you will be once you start using some (or all) of these tools.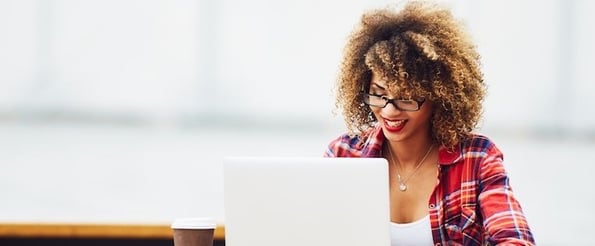 The Chrome Web Store is perfect for people who love new tools, toys, and productivity hacks. To help you get started, I've gathered a few of my favorite Google Chrome extensions for salespeople below.
Best Google Chrome Extensions for 2018
Google Chrome Extensions for Task Management
This extension allows you to easily save anything from the web as a to-do on your Wunderlist -- you can even save relevant text. It also syncs new items across your devices, which is especially helpful if you're browsing and would like to follow up on something later. Instead of looking into it right then, add it to your Wunderlist. You'll stay focused and on-task.
Price: Free with Wunderlist (Wunderlist: Free for Basic, $4.99/mo. or $49/yr. for Pro/Business)
Another beautiful tool for the Wunderlist enthusiast, Wunderlist New Tab displays all of your current to-dos every time you open a new tab. You can also quickly and easily add new to-dos or mark off items you've completed.
Price: Free with Wunderlist (Wunderlist: Free for Basic, $4.99/mo. or $49/yr. for Pro/Business)
If you are a Todoist user, this extension allows you to see your list and add to-dos quickly from your toolbar. The extension has the full capabilities of the desktop app, so you can assign tasks to a project, add links, and so on.
Price: Free with Todoist (Todoist: Free for Basic, $28.99/yr. for Premium)
For people who don't want to use a more involved to-do list but still want to stay on top of their priorities, Prioritab may be perfect. This simple interface opens with each new tab and gives you a breakdown of your priorities for the day, week, and month, as well as how far into each of those time periods you are.
Price: Free
Taco displays your to-dos from over 40 apps all in one place, and this extension makes them easily accessible every time you open a new tab. Popular supported tools include Asana, Evernote, Trello, Basecamp, Todoist, Slack, and more.
Price: Free
HubSpot Sales is downright the most useful extension for B2B sales professionals. It provides in-depth details about businesses and individuals on the web or whom you've exchanged emails with. You'll see their title, company, contact information, social profiles, and even recent social posts.
And it makes scheduling meetings a breeze. Simply share a link that allows both you and your prospect to select convenient times and eliminate all that back and forth.
HubSpot Sales also includes email tracking, which tells you which prospects opened your emails, where they were located, and whether or not they clicked on any links in your message. You can also create custom email templates to reduce the time you spend responding to emails, send pre-scheduled prospecting sequences, and track prospect interaction with content.
Price: Free for Basic, $50/mo. per user for HubSpot Sales Professional
Google Chrome Extensions for Collaboration
The HubSpot team is obsessed with Zoom. It's hard to find a reliable video conferencing tool, let alone one that's simple and intuitive. But Zoom is that unicorn.
With this extension, you can instantly start a meeting or schedule a future one. The meeting URL and relevant details are sent with the invitation, so your recipient can easily join.
Zoom lets you share your screen, give remote control to someone else (so, for example, your sales engineer can take over your computer to answer a tricky tech question), record the meeting (useful for reviewing how it went), and more.
Price: Free unlimited meetings for two participants and 40 minutes for multiple participants; $14.99/mo. per host for unlimited minutes and meetings
Point allows you to quickly and easily share websites or articles with co-workers, friends, or prospects, then discuss that content in a chat format while you both view the article in real time. Point is also helpful when sharing content via email.
Price: Free
Stay up-to-date with activity from Basecamp projects with the Basecamp Notifier, which alerts you of activity on projects or tasks that you are following. If your team uses Basecamp this extension is a must, and is the easiest way to avoid missing important notifications. (This extension does not yet support Basecamp 3.)
Price: Free with Basecamp (Basecamp: $99/mo. for businesses, free for teachers and students)
This extension provides one-click access to all of your Trello Boards, and allows you to create new cards on Trello while you're browsing.
Price: Free with Trello (Trello: Free for Basic, $9.99/mo. per user for Business Class, $20.83/mo. per user for Enterprise)
This extension is great for sales reps with files and folders scattered all across the cloud. Sync allows you to pull all your cloud-based files into Google Drive, so you can search and access all of your files in one place. cloudHQ syncs with Evernote, OneNote, Box, OneDrive, Gmail, SharePoint, Basecamp, Dropbox, and more.
Price: Free
Google Chrome Extensions for Productivity
If your organization runs on Google Apps, this extension is a must-have. Black Menu allows you to access any Google App from an easy-to-use dropdown menu with one click from your toolbar. You can customize which ones you see and even access little-known Google tools and shortcuts.
Price: Free
Bring together all of your devices and spend less time looking back and forth between your computer and cell phone with this extension. The most helpful feature is the SMS sync, which allows you to send, receive, and respond to text messages on your desktop. You can also easily send files and links between devices and see alerts from all your devices in one place. I love this extension because it allows me to work with headphones on and not check my phone constantly. I can respond to calls and messages without grabbing my phone or getting off task.
Price: Free
The Pomodoro productivity technique calls on you to work in 25-minute blocks -- known as "Pomodoros" -- with five-minute breaks, and Strict Workflow is an extension that makes doing so simple. You can time Pomodoros while blocking websites like Facebook, Twitter, or YouTube during your "focus" time.
Price: Free
You're not the only one who struggles to avoid Facebook, Reddit, ESPN (pick your poison) while you're working. Forest is one of the best Chrome extensions I've found for actually staying on task.
Whenever you want to be heads down, plant a tree. It grows while you work -- but if you open any sites on your "Blacklist," the tree will die.
Forest shows your planting history, which is a cool way to visualize your work sessions and feel a sense of accomplishment.
Price: Free, $2 for accompanying phone app
Knowing your prospect's latest company announcements and strategic moves helps you build rapport, gain their trust, and differentiate yourself from the (less-educated) competition.
The Skim.it extension makes it easier than ever to stay on top of news. It uses machine learning to extract the key points from text-heavy content, so you can read press releases, articles, blog posts, and more in half the time.
Price: Free
Improve your focus and block out distractions by putting on a pair of headphones and allowing Noisli to create a relaxed environment for increased productivity. You can customize a mix of different sounds or use a premade formula to drown out even the most persistent loud talker in the next cubicle or an entire coffee shop buzzing around you. Noisli works beyond the office as well -- use its premade "Relax" mix to get a better night's sleep.
Price: Free
Managing a busy schedule isn't easy, but this extension makes it a little easier. It allows you to see upcoming events with the mere click of a button. You can also add events right from your browser.
Price: Free
Google Chrome Extensions for Productivity
Say goodbye to a cluttered bookmarks bar and hello to organized and easily searchable notes for all your saved websites, articles, and quotes. Evernote Web Clipper allows you to clip and save articles straight to your Evernote, clip specific sections of webpages, add annotations, and control which notebook clippings are saved to.
Price: Free
If you're a Google maniac (and aren't we all), Google Keep is a great option for saving random content you want to come back to. Just right-click on an image, URL, or highlighted text, then choose "Add to Google Keep."
You can add notes or labels for easy categorization. Everything you save syncs across your platforms — from your web browser to your phone to your tablet. Plus, Keep is available offline, so your content is always accessible.
Price: Free
This tool lets you start recording yourself, your screen (or both) with a simple click. Introduce yourself to prospects, give sneak previews of your product, dive into detail for a single feature, and more. Once you've finished your video, share it via email or social media. You can also upload videos from the Gmail compose window.
You'll get notified when someone watches your video, letting you follow up while you're top of mind.
Videos are capped at 60 minutes -- and you can record as many as you'd like.
Price: Free
Loom lets you quickly capture and narrate videos for prospects. It takes one click to record and one click to finish, meaning the process is nearly effortless. In addition, your video is accessible by a public URL. Simply copy and paste that URL into an email, and your recipient can watch (and rewatch) the clip at any time.
I recommend using Loom to create product and/or walkthroughs and make your sales presentations more visual.
Price: Free
Everyone you email will assume you have perfect grammar if you use the Grammarly extension. The tool corrects your spelling and grammar whenever you make a mistake.
Price: Free
This is a tool for those of us who regularly use research and information from many sources. Instead of the normal list of links on a note somewhere, Lumio allows you to select specific quotes or videos and organize and rearrange them as cards that automatically save all the source information. Salespeople can use Lumio to aggregate third-party reviews, case studies, and related information to send to prospects.
Price: Free
Do you always have 10-plus tabs open? You need this extension, which shows you an easy-to-read list of your current tabs. Never waste precious seconds flipping through web pages again.
Price: Free
Google Chrome Extensions for Social Media
Create beautiful images with text overlays for social posts quickly and easily with Pablo. Simply highlight the text you wish to share and click the Pablo extension. In just a few clicks you will have a beautiful graphic optimized for the channel of your choice.
Price: Free
Crystal allows you to import contacts from Google or social media and run personality reports immediately. They run your contacts against the DISC assessment which uses four primary personality types to determine behavior. Is your new prospect dominant, influential, steady, or calculating? Find out and then get tips on how to communicate with them moving forward.
Price: Free (Enterprise begins at $5/mo. per user)
Want to send a truly personalized email to each prospect? Rapportive pulls up a contact's LinkedIn profile in a Gmail sidebar as you're composing an email. Comment on the weather in your prospect's city or refer to a mutual connection. Rapportive also pulls in links to any social media accounts or websites your prospect has linked to their LinkedIn account, so you can quickly and easily grab pertinent information to drop in your email.
Price: Free (Premium version available only with LinkedIn Sales Navigator)
Google Chrome Extensions for Fun
Sometimes the only way to spice up a sales email is to express how you feel with the perfect animated GIF. You can search whatever you need to say in GIF form, then drag and drop into your email compose window.
Price: Free (Value: Priceless!)
Lumosity subscribers can take productive breaks throughout the day. The extension pulls a new game each time you open a new browser tab, so you can keep yourself sharp throughout the day while doing something that doesn't quite feel like work.
Price: Free with Lumosity (Lumosity: Free for Basic individual plan, $11.95/mo. for individual plan, $5/mo. for a full-year commitment for individual plan, $3.75/mo. for a two-year commitment for individual plan, $299.95/lifetime for individual plan, $8.33/mo. for a full-year commitment for a family plan)
This extension is a simple tool to save articles for reading offline later. It's useful for stockpiling reading material before long flights or travel.
Price: Free
Sales is a high-stress job. Taking every opportunity to center yourself makes you more effective -- not to mention, less likely to burn out. That's where Google Earth's Earth View extension comes into play.
Every time you open a new tab, you'll see a beautiful new satellite image. Nature is scientifically proven to reduce stress, so this will boost your mental health throughout the day.
Price: Free
Editor's note: Alexandra Holmes contributed to a previous version of this article.