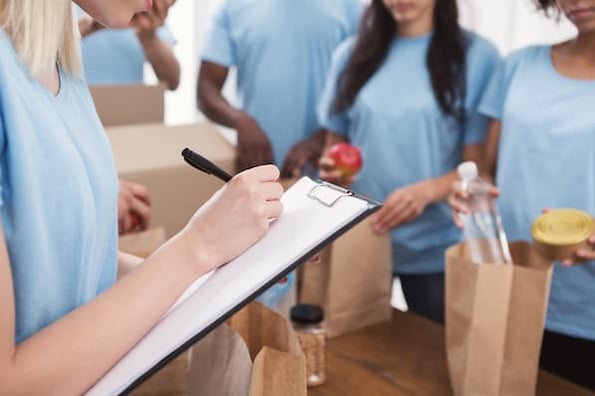 Be honest for a moment — are you still using spreadsheets to keep track of contact information for your nonprofit? How has that been working out? Chances are, your organization grew out of this method of contact management quickly, and the tedious task of manually tracking contact data can be impacting your fundraising efforts.
Spreadsheets can't meet the needs of a growing organization. To continue spreading the mission of your organization and growing to scale, you need a contact management solution that will grow with your nonprofit. Whether keeping track of donors, partners, or beneficiaries, contact management for nonprofits is very important and requires the right tools for success.
Implementing a constituent relationship management (CRM) tool can streamline your communication efforts, allowing you to save time while keeping your contact records up-to-date. Here are the best CRM software solutions for nonprofit organizations.
Best Contact Management Software Solutions for Nonprofits
HubSpot CRM
Neon
IMIS
Salsa CRM
NonProfitEasy by Fundly
Kindful
DonorPerfect
Virtuous CRM
CRM for Nonprofits by Bitrix24
Blackbaud CRM
Apricot
CiviCRM
Keela
ClearView CRM
Bloomerang
Best for: Overall contact management
Price: Free
HubSpot CRM is an easy-to-use contact management tool for organizations of all sectors and sizes. Your team can store necessary information for all of your organization's contacts including donors and beneficiaries.
Using HubSpot CRM, you can keep all communications with contacts in one place, allowing you to easily see all previous messages without having to dig through your inbox or track down information from former colleagues. HubSpot CRM also has an extensive ecosystem of integrations, allowing you to seamlessly connect your contact management tool to other pieces of software needed to run your organization.
You can also use HubSpot CRM's email marketing feature to bulk email your contacts to promote fundraising efforts or nurture relationships with donors.
Best for: Nonprofits looking to scale
Neon offers cloud-based software specifically for nonprofit management. Designed for teams of all sizes, Neon provides tools to help organizations maximize their fundraising efforts, manage donor communications, simplify and streamline event planning efforts, and engage with community members.
Notable features include automated communications tools, a mobile-friendly interface perfect for volunteers and event efforts, and flexible integrations. With a majority of their team coming from a nonprofit background, Neon aims to provide time and resource-saving tools to help your organization achieve success.
Best for: Driving nonprofit growth
iMIS nonprofit software by ASI is designed to enable organizational growth. By combining contact management and web publishing, iMIS allows organizations to have greater visibility of cross-functional data. Using this tool your team can manage contact data, track donor engagement, improve productivity, and manage your organization's web presence.
Best for: Nurturing contact relationships
The Salsa CRM platform has a robust set of features designed for nonprofit organizations. Notable benefits of Salsa CRM include in-depth donor profiles, donation tracking, automated direct mail creation for fundraising, and reporting capability.
Salsa CRM allows you to deepen your relationships with donors through the creation of workflows designed to track gift prospecting. Your team can also create custom workflows to support grant and member management.
Best for: Nonprofit communication and reporting tools
NonProfitEasy gives organizations the tools they need to take relationship management to the next level. With straightforward automated communication tools, NonProfitEasy makes donor connections easy to maintain. This tool also has robust reporting features that allow you to accurately track and analyze the data you need to make informed decisions for your organization.
Through NonProfitEasy you can also manage pledge and grant programs, giving you a central place to track grant applications and provide funding.
Best for: Fundraising and donor management
The CRM from Kindful is an intuitive tool created to help you amplify your fundraising efforts and spread your organization's mission. Kindful aims to provide automation support for some of the most important tasks related to running your organization, giving you and your team more time to maximize impact instead of working on tedious admin tasks.
Kindful also integrates directly with popular applications such as Mailchimp, Stripe, PayPal, and Shopify, making it easier for your organization to collect donations.
Best for: Centralizing fundraising data
DonorPerfect keeps all your vital donor data in one place, with a visual dashboard that can quickly align your team on the latest donation information. In addition to seamless data management, DonorPerfect offers fast donation processing, integrated online forms, and event management tools.
The full DonorPerfect platform is also available on mobile, making it easy for staff members and volunteers to pull up the information they need when they need it.
Best for: Creating a positive donor experience
Virtuous offers a responsive CRM for nonprofit management. With this tool you can personalize your donor communications with thoughtful automation, allowing you to reach more contacts and amplify your fundraising efforts while saving time.
Virtuous also has a built-in online giving platform, making it easy to seamlessly deliver personalized follow-up messages for donors to aid relationship-building.
Best for: Total nonprofit management
Bitrix24 offers free nonprofit management software that is free for unlimited account users. This software supports donor and volunteer management, task tracking, email marketing, and document management for nonprofit organizations. Within the Donor Management CRM tool, your team can streamline communication and relationship management efforts with your donors.
A notable feature of Bitrix24 software is a built-in HR tool that streamlines management of your team.
Best for: Large and enterprise-level nonprofit organizations
Blackbaud offers a robust CRM solution for large organizations. This tool combines CRM capabilities with top fundraising tools helping your team turn supporters into donors. Blackbaud CRM also has multichannel marketing tools that support dynamic communication efforts, direct mail programs, and an online content management system.
Best for: Case Management
Apricot by Social Solutions offers case management solutions for nonprofit organizations looking to centralize their case and client data. By offering a secure, high-touch case management tool, Apricot gives precious time back to nonprofit team members allowing them to spend less time on admin and more time spreading the mission of their organization.
CiviCRM is an open-source CRM that offers valuable features including contact management, membership tools, detailed reporting, peer-to-peer fundraising, and advocacy campaign resources. It is also fully customizable to meet the needs of your organization, so you can explore and benefit from the features you truly need.
Best for: Full-stack nonprofit management
Keela's nonprofit software solution is designed to help organizations improve donor relationships, streamline communication, and analyze relevant data. The CRM platform puts people first and revolves around relationship-building. Keela also offers nonprofit intelligence tools, putting robust data front and center to drive organizational decisions. A notable feature is the ability to assign a donor score, which ranks contacts based on engagement and activities tracked in the system.
Best for: Fundraising software
ClearView CRM provides nonprofit software focused on amplifying fundraising efforts. The donor database is a central place for your organization to manage all donor information to support current and future fundraising activities. ClearView also offers fundraising tools that integrate directly with your donor database to keep all information up-to-date for your entire team.
Best for: Donor retention
Bloomerang offers donor management software designed to support donor engagement and retention. Key features include a full-stack CRM for maintaining all contact records for your organization, an online payment processing tool, generosity cool for prospective donors, and social listening tools to monitor your organization's online presence.
Implementing the right tools can make all the difference in how you run your organization. To learn more about the importance of using the right CRM, check out this post.