Your CRM should be a one-stop-shop for all the information you need to manage your business. However, for many entrepreneurs and sales reps, using their CRM is less than enjoyable. I'm here to tell you, it doesn't have to be this way. And frankly, it shouldn't be that way if you're looking to bring in more revenue.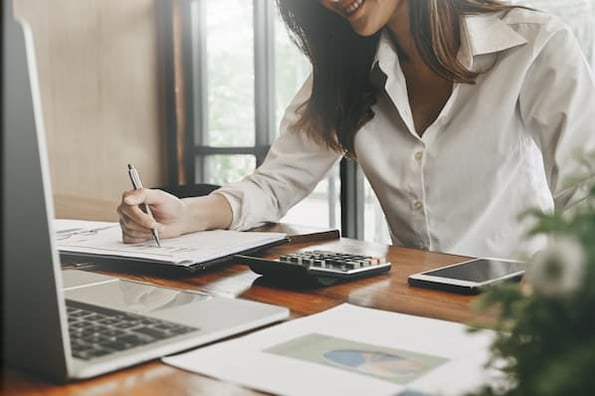 Speaking of revenue, how closely are you tracking the revenue sources for your business? Can you tie each dollar earned by your business to a specific deal or marketing campaign?
The answer to these questions is yes if your CRM and accounting software are working in tandem with one another.
Why Integrate Accounting Tools with Your CRM
The easiest way to understand where revenue is coming from is to integrate your accounting software with your CRM. Here are the top reasons why you should link these two tools together.
1. Save time on administrative tasks.
When your CRM and accounting software are operating separately, your team will have to spend their precious time manually uploading financial information to your CRM for tracking. This type of work can be incredibly time-consuming, especially for companies that use complex systems or have a wide range of products.
By directly connecting your CRM to your accounting software, you can streamline your invoicing and administrative processes through automation. For example, when a client pays their invoice, having an integrated system can match the details of the paid invoice to the appropriate CRM record.
2. Accurately record revenue sources.
In addition to properly aligning your company's financial information with customer records, having your systems in sync with one another makes it easier to trace revenue earned back to specific sales conversations, and marketing activities within your CRM.
This information is critical for companies looking to increase sales, making it easier to see where revenue is coming from, and what marketing, sales, and service efforts are responsible for contributing to the bottom line.
3. Eliminate chances for error.
In addition to the time spent on manual entry, setting up automation between your CRM and accounting software reduces the chance for human error, ensuring your data is constantly up-to-date and is more accurate.
Here are some accounting tools to consider connecting to your CRM.
CRM Accounting Integrations
Quickbooks Online
Xero
Nubox
Oracle NetSuite
Freshbooks
PayCove
Akaunting
Ordway
Sage Accounting
Recurly
Wave
Bill.com
Best for: Robust accounting support
Quickbooks is a top-rated accounting software that is the top choice of accounting professionals, and that's for good reason. This platform offers a robust set of accounting and business management features including tax deduction recommendations, receipt capture and organization, mileage tracking, advanced reporting, time tracking, and more.
Quickbooks is also a member of the HubSpot ecosystem, and connects directly to Sales Hub Enterprise.
Best for: Accounting software for small businesses
Xero's cloud-based accounting software for small business owners is easy to integrate with your CRM. With Xero you can automate daily business tasks including inventory management, unlimited payroll, purchase order creation, and asset management. Xero is also a highly visual tool, offering real-time dashboards displaying a clear financial picture of your business.
Best for: Easy-to-use accounting software
Nubox offers a suite of accounting tools and services for Spanish-speaking businesses. This online platform gives users a detailed snapshot of the financial health of their business at any given time. Nubox users can reduce the amount of time they spend on operational and administrative tasks with automated financial statements and analysis.
The Nubox Hubspot integration quickly and easily adds invoice data to relevant CRM contact records.
Oracle NetSuite is a cloud-based financial management tool that streamlines your company's financial processes. This platform offers visibility into various data points related to your company's financial performance, and can integrate with your CRM, inventory management system, and eCommerce platform.
Best for: Small business owners and freelancers
Freshbooks is accounting software for small business owners and entrepreneurs. This tool offers powerful automations to put your business on autopilot. Some of the notable features include custom invoices, payment processing, recurring invoices, cross-currency billing, rich proposals, and a conversion tool that can quickly turn estimates to invoices.
Best for: Automated proposals and invoicing
Paycove is an automated invoicing and payments tool that easily connects to your CRM. With Paycove, users can generate an unlimited number of quotes and invoices that are synced with CRM records for straightforward record keeping.
By using this tool, customers can receive personalized, branded documents and your sales and accounting teams can stay on the same page understanding what money is coming in and going out.
Best for: Easy-to-use software for invoicing, accepting payments, and tracking expenses
Price: Free
Akaunting offers free online accounting software that makes business management easy. Users can log in across mobile and desktop devices to manage cash flow, track expenses, quickly send invoices, and run reports.
Akaunting is also a HubSpot ecosystem partner, offering contact sync capability with your CRM.
Best for: Automating post-sale financial information
Price: Contact Ordway
Ordway is a billing and revenue management tool that creates better synergy between sales and finance teams through automation. This platform accelerates workflows related to business financials.
Key features of Ordway include reducing data lag between multiple platforms, automation of billing and invoicing, syncing billing and contact data, and more.
Best for: Visual small business accounting tools
Sage offers small business accounting tools that are easy to use, and provide visual insights to help you understand the financial health of your company. Sage Accounting can be used for forecasting, invoice tracking, and receipt capture and filing.
With two-way sync between Sage and your CRM, you can save time on manual data management and reporting. Connecting Sage to your CRM also offers up-to-date information on how each system you're using contributes to your company's bottom line.
Best for: Subscription management and recurring payments
Recurly offers billing software for companies that operate under a subscription model.The Recurly billing and accounting platform offers flexible billing functionality to help their customers offer competitive pricing options.
In addition to billing models, Recurly offers invoicing tools, tax calculation tools, and revenue recognition functionality to improve communication between sales and finance teams.
Best for: Entrepreneurs and solopreneurs
Wave is a robust accounting platform for entrepreneurs who want to manage all of their finances in one place. Their accounting tools are free and offer key features including expense tracking, financial reporting, and invoicing. Paid upgrades include payroll software, and pay-per-use payment tools that allow your business to receive online payments quickly and securely.
Best for: Automating accounts payable and accounts receivable
Bill.com is a robust tool for businesses requiring advanced accounts payable and accounts receivable support. With Bill.com, users can simplify their financial workflows to streamline operations. This cool also connections to CRM tools to keep customer and payment data in alignment for easy tracking.
By connecting your key business tools to your CRM, you can make the jobs of your sales reps and financial analysts much easier, ultimately creating the potential for more revenue. For more tips on getting the most out of your CRM, check out this article.