Implementing a CRM software is a clear indication that you are prioritizing scaling and growth for your business. For businesses of all sizes, spreadsheets and manual record keeping gets old quickly. Using a CRM makes your life much easier and helps your business grow — research shows sales reps that work at companies using mobile CRM software reached 65% of their sales quotas, compared to 22% at companies that don't use mobile CRM software.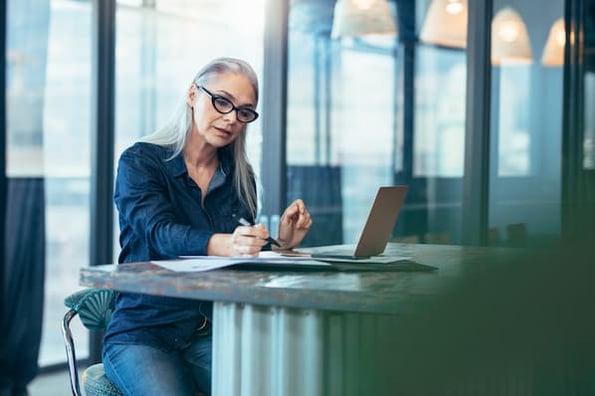 However, things get complicated as your team and contact list expand. The more information you're tracking in your CRM, and the more team members you have relying on the information stored in it, the more complicated tracking your prospect information can get.
Wondering how to keep systems simple as your company and contact list grow? The answer is CRM automation. We created this guide to help you improve efficiency by automating the functions of your CRM software.
CRM vs. Marketing Automation
Although CRM software can perform some marketing automation tasks, your CRM alone may not be the right solution to automate all of your marketing processes. Let's discuss the key differences between CRM and marketing automation software.
Marketing automation software
Systems geared towards marketing professionals are designed to deliver marketing campaigns. These tools help marketers attract potential customers through the automated delivery of content, streamlining the creation process to help marketers build engaged, targeted traffic that sales teams can convert to customers.
Here are four key features of marketing automation software:
Lead nurturing — Marketing automation software should seamlessly create templated emails to deliver content to the right leads at the right time. By creating an automated lead nurturing campaign, you can use your CRM to send out scheduled emails from the time a lead opts into your list, nurturing them through the lead qualification process.
Freemium delivery — Your software should automatically send gated content to new leads when they opt-in to receive marketing notifications from your company. When you set up an automation to take care of this, you do not have to manually send content to leads — your CRM software does it for you, beginning the lead nurturing process automatically.
Customized workflows — The software should also allow you to build targeted workflows that support marketing campaigns and can be easily customized to suit the audience and deliverable being offered.
Campaign analytics — Finally, marketing automation software should create automations that periodically measure data showing campaign performance.
Marketing automation streamlines the lead nurturing process. When the lead becomes qualified, integration with your company's CRM can smoothly support your sales team taking over to close the sale.
CRM automation software
While marketing automation software is designed to help marketers efficiently deliver content, CRM software is designed to help sales and customer service professionals track and manage their engagement efforts with customers.
If you want to save time, engage with more leads, and land the sale faster, here are four ways you can use CRM to automate your efforts.
Data entry automation — Salespeople spend 17% of their day on data entry. Implementing data automation through your CRM system is a huge time-saver that addresses a major pain point for those in sales.
Set up personalized email sequences — Using your CRM data to create email sequences for engaging with leads is a simple way to add personalization without manually re-creating content.
Log all customer interactions automatically — Your CRM tool should be able to automatically log phone calls and email interactions with your leads each time you engage with them. By keeping your contact records up to date through automation, you always have the most up-to-date information on where a lead stands during the sales process.
Customer service automation — If your company uses chatbot software to engage with leads and customers for service-related issues, this information should be automatically logged in your CRM for greater visibility into service-related inquiries.
Now, let's address whether your company needs just one automation solution or both CRM and marketing automation to thrive.
Does your organization need separate CRM and marketing automation software?
The short answer is, it depends on your company's unique needs. As a sales organization, you should at minimum have a streamlined system in place to manage customer data and communication. We recommend starting with a CRM your team is fully comfortable using before implementing other systems. Your CRM should serve as the foundation upon which all other automation is built.
If your organization has a widely adopted CRM, here are some signs you could also benefit from having marketing automation:
Leads are slipping through the cracks — If, during the lead hand-off from marketing to sales, you find there is not a structured way for your marketing team to share lead information and context with sales for a thorough follow-up, you may benefit from adding marketing automation to your CRM.
Reporting becomes tedious — For many sales reps, reporting and administrative tasks can be a huge time suck. However, with CRM automation, this doesn't have to be the case. In the event that sales reps are spending hours each week running reports or managing data manually, creating an automation that periodically exports data from your CRM could be a simple solution that will pay dividends when it comes to saving time.
CRM with Marketing Automation
While CRM software often lends itself to sales professionals, many platforms offer functionality that streamlines processes between marketing and sales teams, creating better synergy between opposing organizations.
When all marketing and sales information is stored separately, it can create a break in communication which can cause both organizations to miss the mark on their goals. In fact, companies that have sales and marketing teams working in alignment have 36% greater customer retention.
Incorporating marketing automation capabilities with your existing CRM software allows your marketing team to access information about your sales pipeline, so they can create content and collateral that will attract the right leads in alignment with sales priorities.
For example, after spending years outsourcing their email services and feeling disconnected from their customers, United Supermarkets began using HubSpot to develop an email marketing strategy.
When they implemented their digital strategy and began using automated workflows, they transitioned from sending mass communications that lacked engagement, to implementing targeted automation with the creation of their popular customer loyalty program.
With their updated approach to marketing automation, United Supermarkets is improving their existing customer experience and reaching new potential customers.
How to Set Up CRM Automation
Now let's discuss what processes you should start automating. Here are our recommendations for the best time-saving CRM automations to start with.
Trigger new CRM entries from online form submissions and purchases — If a potential customer fills out a form on your company's website or makes a direct purchase, have their information automatically added to your CRM.
Automatically segment contacts to specific email lists — Having one giant contact list can be a headache to sort through. Try setting up an automation that segments contacts to relevant lists based on past purchases and product interests.
Nurture new CRM contacts — Build relationships with potential customers with automatic welcome campaigns.
Create follow-up reminders — If you like to have periodic check-ins with prospects and customers, you can set up automatic reminders for yourself to reach back out and engage with them.
Your CRM software should have built-in integrations with other tools that can create automation to make your job easier. If you find there is automation that you are not able to create through built-in integration, use a platform such as Zapier to connect your favorite tools to your CRM. Here are some of our favorite CRM integrations:
Using automation features with your CRM software can help you get so much more out of the platform. If you're ready to take your CRM usage to the next level, check out this list of CRM features and integrations.