Important Sales Reports
Contacts Report
Lifecycle Stage Funnel Report
Revenue Reports
Companies Report
Wins/Losses Report
Custom Reports (One and Cross-Object)
Many salespeople spend their time focusing outward on prospecting. However, the most successful salespeople also look inward -- at the wealth of information just waiting in their CRM.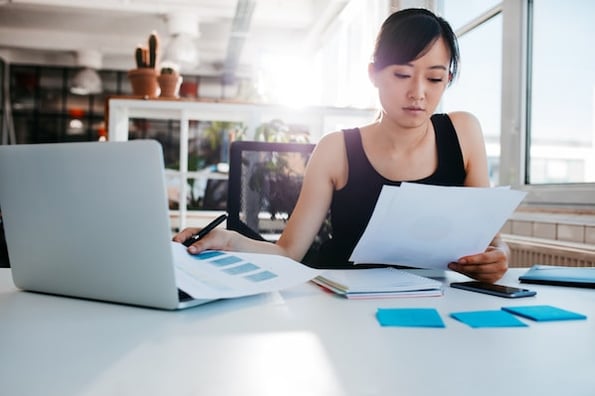 Salespeople often struggle to understand lead behavior across different channels. Yet the solution to this challenge -- scheduling meetings, follow-up tasks, delegating various jobs, goal tracking, and more -- are all in one place: your CRM software.
Subsequently, CRM reports enable you to capture, monitor, and understand your contacts and leads en masse. Reports won't look the same in every CRM, but most modern platforms will offer some variety of the following essential reports.
1. Contacts Report
Anyone in sales can attest -- your contacts are your most valuable asset. Your contacts are your potential customers and networks to more leads and potential customers.
A contacts report gives you a bird's-eye view of which contacts are in your database, and detailed filters by deal pipeline stage, original source, industry, job title, date of last contact, and other attributes.
These reports can help you identify new opportunities, find networking connections, or spot weak points in your funnel.
2. Lifecycle Stage Funnel Report
A report breaking down the details of your leads shows you exactly which stage every lead is in your pipeline. You can drill down this report further by product or source channel in order to compare various groups and their progress.
You can also create funnel reports to depict the conversion rates of your leads as they head down the funnel to identify the areas where you are being inefficient. This provides impetus to get your marketing and sales team to talk to one another about strategies to ensure as many leads are getting qualified by marketing, and closed by sales, as possible./p>
Of course, in order to get an accurate read of where your leads are coming from, your CRM database will need to be integrated with compatible marketing automation software.
3. Revenue Reports
Create versions of this report by specific time period to measure your progress against goals and new revenue broken down by source, product, and even sales rep.
This will help you understand the original source -- social media, email marketing, paid or organic search, etc. -- are driving the most sales and where you need to double down on your efforts. Within HubSpot, there are already a number of canned reports that visualize many of these foundations metrics sales executives and other relevant stakeholders look for viewing progress. Meanwhile, Sales Managers can organize their dashboard and use filters in a way that speaks to the customized nature of their specific line of business.
You can also use a revenue summary to forecast and set new goals based on your current close rates.
4. Companies Report
A list of individual leads can become increasingly messy when two-plus leads come from the same company. A companies report is an excellent conduit to ensure you're correctly tracking leads, revenue, and behavior by monitoring buying companies versus individuals in those companies.
These types of reports are a must for account-based sales (and marketing) strategies. Combining individual lead scoring with account/company-level reports is a great way to keep your ABM on track and target the most promising opportunities.
Depending on how you structure your ABM initiatives in your marketing automation platform, you can use the properties you create to report on this further in your CRM.
5. Wins/Losses Report
Wins/losses reports display which deals you're winning or losing in real time, the reps responsible for said deals, and how your close rate measures against industry benchmarks or your team's goals.
6. Custom Reports
The five reports above are essential to any successful sales strategy, but you'll also want to consider more customized reports that reflect the nuance of your product line or buying cycle. Once you get comfortable with the basic or canned reports, it will become easier to develop custom reports to delve even deeper into your data.
Other metrics you can include in a custom sales report might include:
Average deal size
Lead-to-close time
Customer acquisition cost
Individual sales rep performance
Revenue by challenge faced by customer
Average number of activities by sales rep
Closed won/closed lost reason
The more you study your data, the more you'll be able to improve your numbers. If you're already using CRM software, you don't have to look far to find critical insights that will make your company and your sales team more efficient.
To learn more, read our suggestions for getting more out of your CRM.